Plan Your Perfect Valentines Day Getaway 
Picture this: sandy beaches with winter temperatures warm enough to brown your skin, gorgeous scenery, upscale shopping, tasty restaurants, and luxury hotels to indulge in. This is Vero Beach! Vero Beach sits on the Central East Coast of Florida, located between Melbourne and West Palm Beach. As the start of the tropics, it offers the perfect South Florida climate. Since Vero Beach is a highly sought after Florida destination for couples, it is your ultimate Valentine's day or weekend trip.
Four Star Accommodations 
The Kimpton Vero Beach Hotel & Spa is one of the most popular oceanfront luxury hotels in town. For Valentine's Day, treat yourself to their 'For the Love of Food & Wine' special offering which includes a four course prix-fixe menu for $75, or $95 with wine pairings. Take a dip in Vero Beach Hotel & Spa's heated waterfront pool or savor small bites and happy hour specials (from 4:30-5:30 PM every day of the week). Enjoy a private dining experience, perfect for Valentine's Day, complete with an enchanting pergola and cozy fire pit. The gorgeous Vero Beach Hotel & Spa has everything that you need plus a front row seat to magnificent sunrises and sunsets. Best of all, you do not have to leave Fido at home; Vero Beach Hotel & Spa is pet-friendly. Condé Nast Traveler named this hotel one of Florida's Top 15 last year.
Romantic Dining Spots
For such a small town, Vero Beach packs a powerful punch in the way of really good restaurants. For Valentine's Day, visit two of the best dining options located on Ocean Drive: Citrus Grillhouse and Polo Grill. The Citrus Grillhouse is home to top rated Chef Scott Varricchio. He procures a specialty menu that foodies will fall in love with. The salads are creative, risottos perfection, steaks mouthwatering, and the mini-bites dessert trio is ultimate. Ask your server if Miyazaki Beef is available. Though not on the menu, this will be the best bite of beef that you have ever eaten; you will definitely win over your special someone with a succulent dish like this. The Polo Grill is an another romantic option. This upscale bistro has a polished look and casual feel where you can devote your entire attention to each other or the beautifully plated dishes. Their Veal Piccata and Pork Schnitzel with cherries, a perfect marriage of flavors, are highly recommended. If you are looking to save a few dollars, try their early bird dinner menu featuring seven dinner choices, including salad, for under $22 each.
It's all about Brunch
Most locals' favorite brunch spot is Baci Trattoria. Located in the heart of downtown, Baci Trattoria is an Italian-American cafe with a huge specialty breakfast menu, sure to please any palate. Sip coffee with your special someone, dine on their covered outdoor patio, and savor every bite of Baci's wonderful dishes. Too many choices? Order the Heaven 'n Hell Eggs or any of the Benedict.
Romantic Eco Adventures 
Take a breathtaking ride on a Cessna 206 Treasure Coast Seaplane. With three tours to choose from, they all allow a birds eye view of Vero Beach's gorgeous coastline and introduce you to its bio-diverse lagoon ecosystem. All tours include a water landing at Blue Cypress Lake, a fascinating place to see! A more economical activity is to test your paddle boarding skills or go kayaking on the Indian River at the pristine Round Island. Warning: you may see manatees (local gentle giant marine mammals), dolphins, tarpon, snook, and sea turtles so keep your cameras close-by.
Have a Cocktail
Two great spots to take in libations in Vero Beach are Southern Social, for their hand-crafted cocktails, and Bungalow Bar, for beer. At Southern Social, a chic gastropub, try their inventive cocktails such as the Garden to Glass and Green Giant, followed by a small plate of Bacon & Eggs. 'Sexy' is the best word to describe this genius creation with crispy pork belly with a soft egg yolk. The Bungalow Bar is a beer lover's happy place and proof that Vero Beach does have a nightlife scene, often featuring live music.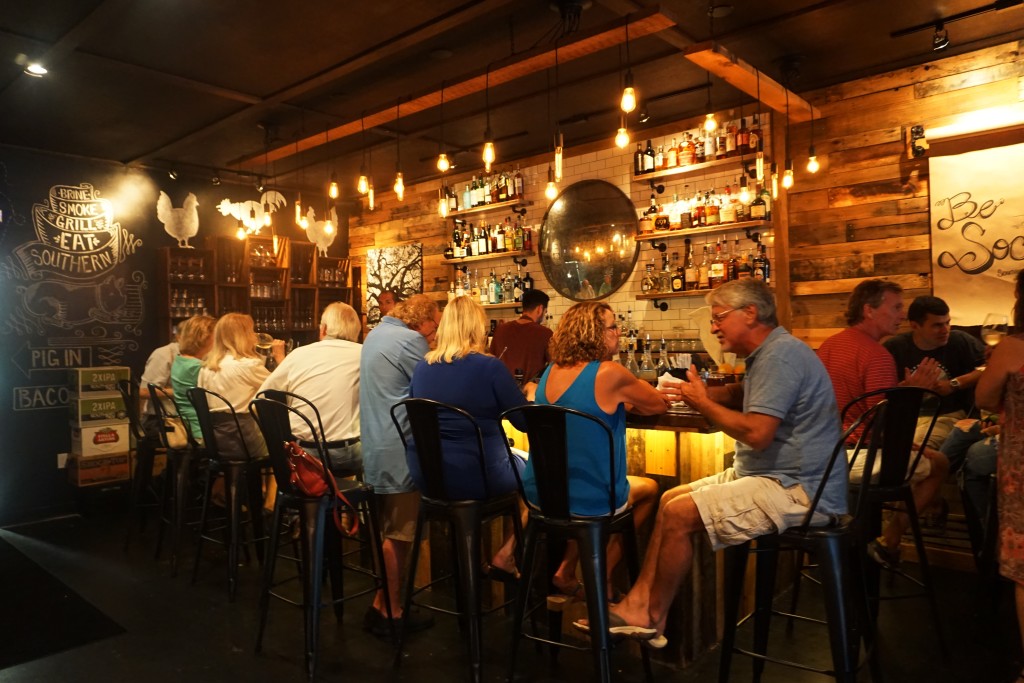 A Night on the Town 
Need more convincing? The arts scene in Vero Beach is just the ticket. Visit the Riverside Theatre, Vero's first-class performing arts venue, offering two Valentine's Day weekend activities. First is Noel Coward's "Private Lives", a highly witty and fun play. "Howl at the Moon", one of Vero's riveting music shows features live outdoor music, drinks, desserts, and dancing. How romantic is that? No matter if you want to spend some downtime with your significant other, enjoy a night out on the town, or have a killer meal, Vero Beach has something for every couple.

Melody Pittman, Writer of the Wherever I May Roam Blog