Healthy Travel Information
The health and safety of our visitors and residents is our top priority. We are closely monitoring the rapidly evolving COVID-19 situation and working with the Indian River County Emergency Management Agency, the Florida Department of Health in Indian River County and VISIT FLORIDA to gather and share the latest developments.
Social Distancing in Indian River County
We're closely monitoring the evolving COVID-19 situation with your health and safety as our highest priority. We'll be sharing activities, tips, and tricks to help keep you in a Indian River state of mind during these unprecedented times.
Current Status of Cultural and Recreation Facilities
Riverside Theatre, Vero Beach Museum of Art, the Citrus Museum, Mel Fisher's Treasures, McKee Gardens and the Jackie Robinson Sports Complex are closed until further notice. CareerSource Research Coast career centers are also closed to the public and implementing virtual services.  Check their website for more information.
Indian River County has announced that the Intergenerational Center, County Fairgrounds, North County Aquatic Center and Gifford Aquatic Center are closing today and will not reopen until further notice.  Indian River County public libraries are also closed however library staaff wll remain on site at the Main County Library and the North County Library for limited services. The Environmental Learning Center is also closed to the public.
For questions related to COVID-19 in Florida, please contact the Florida Department of Health's dedicated COVID-19 Call Center by calling 866-779-6121 or emailing COVID-19@flhealth.gov. The Call Center is available 24hrs a day, 7 days a week.
Looking for Restaurant information?
Restaurants throughout Indian River County are taking additional measures to ensure the safety of all staff and guests. Local eateries are offering carryout, curbside pick-up, and delivery options to continue feeding patrons in the safest way possible.
We're all in this together. Restaurants need your support.
Visit our Dining at a Distance page to find what restaurants in the Indian River County area are open for take-out, curbside pick-up, or delivery during this time. The list is far from complete, so please let us know recomendations
We invite you to call one of our locally-owned restaurants to order a meal, or consider buying a gift card for a future trip to support our local businesses now when they need it most. Every effort counts!
CORONAVIRUS (COVID-19) UPDATE
Federal Centers for Disease Control and Prevention (CDC) nor the State Florida, declared any kind of travel advisories.   According to CDC's site, "the CDC does not currently have a COVID-19 travel health notice for Continental US," and therefore, the CDC "does not recommend canceling or postponing travel" within the Continental US. The CDC states that "travelers should always avoid contact with sick people and clean their hands often by washing with soap and water for at least 20 seconds or using an alcohol-based hand sanitizer with 60%–95% alcohol."
As a reminder, the Department of Health always recommends everyday preventive actions to help impede the spread of respiratory diseases, including:
Avoiding close contact with people who are sick;
Staying home when you are sick and avoiding contact with persons in poor health;
Avoiding touching your eyes, nose, and mouth with unwashed hands;
Covering your cough or sneezing with a tissue, then disposing of the tissue;
Washing your hands often with soap and water for at least 20 seconds, especially after going to the bathroom, before eating, after blowing your nose, coughing or sneezing;
If soap and water are not readily available, use an alcohol-based hand sanitizer with at least 60% alcohol. Always wash your hands with soap and water if hands are visibility dirty;
Cleaning and disinfecting frequently touched objects and surfaces using a regular household cleaning spray or wipe.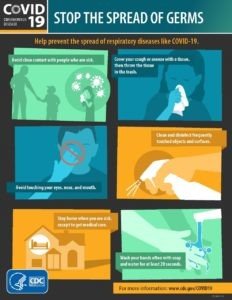 Small Business Recovery Information
State Resources
Important Documents:
Click Here to Download the FL Emergency Bridge Loan Application
Florida Governor Ron DeSantis encourages FL businesses to complete the Business Damage Assessment survey to assess the impact of COVID-19 on Florida's businesses. The survey, managed by the FL Dept. of Economic Opportunity, will evaluate businesses affected by COVID-19 and the impacts the virus has had on the local economy so actions to implement appropriate relief programs can begin.  For inquiries or assistance with the survey, businesses can contact Emergency Support Function 18 at ESF18@em.myflorida.com.
The Business Damage Assessment Survey can be taken online at https://floridadisaster.biz/.
Florida Gov. Ron DeSantis has also activated the FL Emergency Bridge Loan program, to provide short-term interest-free loans to Florida small businesses (2-100 employees) that are experiencing a negative economic impact from COVID-19.  Business can either apply online and upload required supporting documentation; or download an application, complete it and mail it with the required supporting documentation to:  the FL Dept. of Economic Opportunity, C/O Small Business Emergency Bridge Loan, 107 E. Madison Street, MSC-160, Tallahassee FL 32399-4120.  The application deadline is May 8, 2020.
Gov. DeSantis directed the FL Dept. of Economic Opportunity (DEO) to waive job search requirements for workers seeking re-employment. This enables DEO to no longer require a claimant to register with the state job search portal to actively seek employment. Click on DEO's website for more info and view their Frequently Asked Questions about Reemployment Assistance COVID-19, or visit CareerSource Rearch Coast.
Gov. DeSantis also directed DEO to waive penalties to employers, as related to unemployment insurance.  Currently, an employer is "charged" for every employee that is laid off and this cost is reflected in the employer's unemployment insurance paid to the state.