Undiscovered Foodie Treasures in Indian River County
Undiscovered Foodie Treasures in Indian River County has been an incredibly successful series, but we have expectations that this third and final post will blow your mind!  Not because we collectively created the concept but because YOU were the ones who contributed by voting. Over 250 people voted for these top three Undiscovered Foodie Treasures.  We love to see your input and best of all, the food and learn the story behind each establishment.
Now let's dive right in and see all the amazing dishes that Tom tasted over the past few weeks while creating this article!
---
Post & Vine – Vero Beach
Front Entrance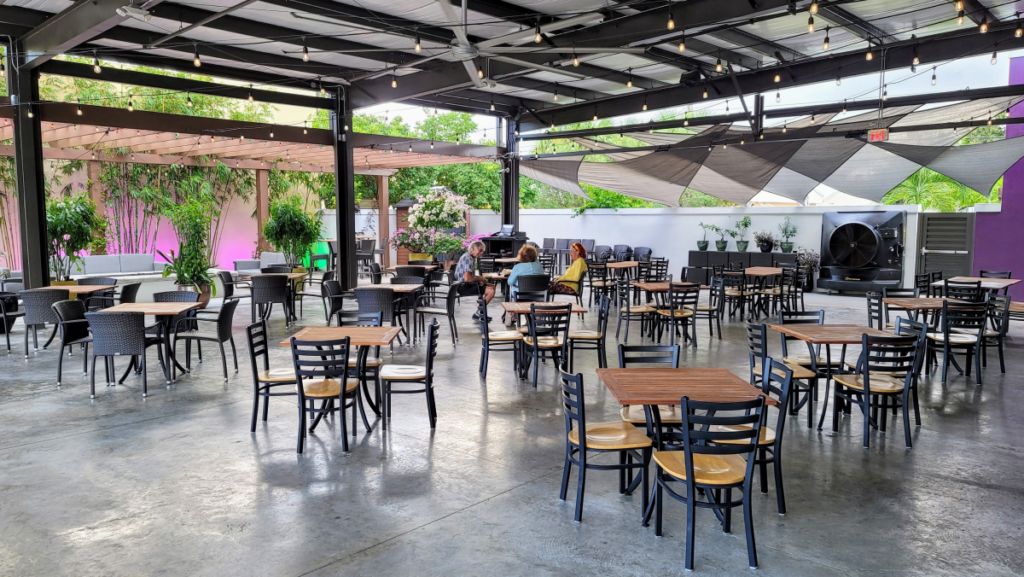 Covered Outdoor Patio
(left to right: Filet Tips – Hand Cut Tenderloin Tips seared and served atop a bed of Rosemary & Thyme Sautéed Mushrooms and Caramelized Onions covered with Bleu Cheese Crumbles then drizzled with Bordelaise, Pretz-Chicken – Pretzel & Bacon Crusted Chicken Cutlets, Topped with Wholegrain Mustard Beurre Blanc served over Mashed Potatoes and Vegetable of the Day, Bourbon BBQ Burger – Topped with Smoked Cheddar, Canadian Bacon, Applewood Smoked Bacon, then Piled High with Onion Straws and their Black Cherry Bourbon BBQ Sauce)
One of 2018's most highly anticipated restaurant openings was Post & Vine. Co-owners, Bobby Del Campo and Sean Tuohy did an extensive renovation of the old post office building on 14th Ave before opening their doors. With one of the largest outdoor dining spaces in Vero, they are in a very good position when it comes to keeping their customers safe during these difficult times with Covid-19. The menu has gone through subtle changes over the years, but their most popular items like the Asian Sticky wings and the Cheese Goddess Portabella stuffed mushrooms remain. The dishes I tasted on my most recent visit were new and quite tasty! The Pretzel & Bacon crusted chicken is one of my new favorites!
Post & Vine
Address: 1919 14th Ave, Vero Beach, FL 32960
Phone: (772) 907-5159
https://postandvinevb.com/
---
The Tides – Vero Beach
Front Entrance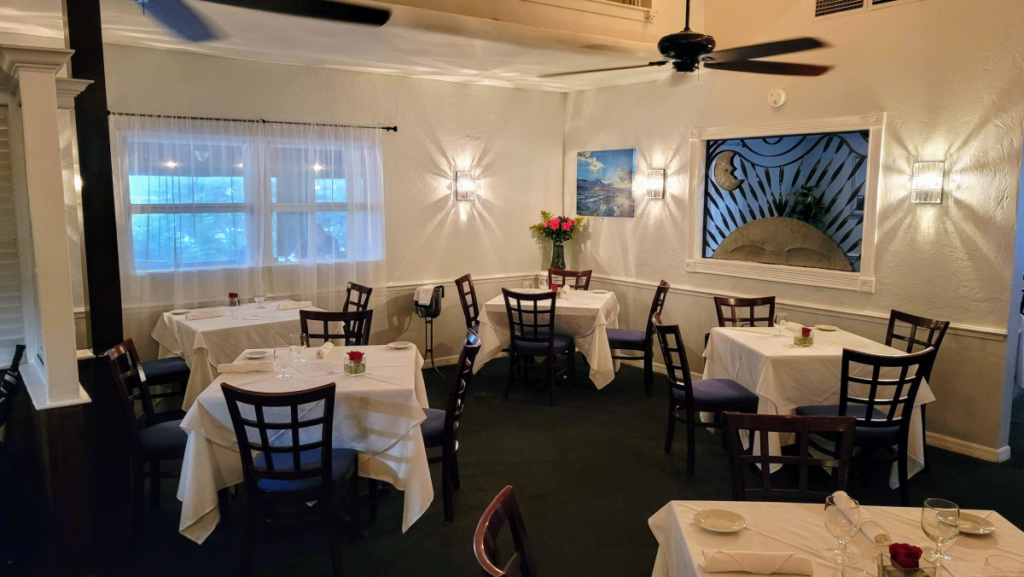 Dining Room
(left to right: Beet and Butternut Salad – Mixed Greens, Beets, Squash, Barley, Goat Cheese, Pumpkin Seeds, Maple Balsamic Vinaigrette, Flash Fried Calamari – Asian Salad, Wasabi Aioli, Ponzu, Roasted Peanuts, Pan Seared Pompano – Roasted Potatoes, Smoked Bacon Tomato Broth, Caponata)
The Tides has been a fine dining institution in Vero for nearly two decades. As you walk up to the restaurant, which appears to be an older converted house, you are greeted with lush landscaping and a covered outdoor patio for al fresco dining. On clear nights, they setup additional tables outside under the stars for your dining pleasure. The inside dining room is tastefully decorated and very comfortable. Chef Leanne's menu features elevated classic new American dishes using only the finest ingredients available. While it may not be so much as "Undiscovered" like the article title states, diners choose this place because they know they will have an exceptional "foodie" experience every time they dine here.
The Tides
Address: 3103 Cardinal Dr, Vero Beach, FL 32963
Phone: (772) 234-3966
https://www.tidesofvero.com/
---
Trattoria Dario – Vero Beach
Street Sign and Front Entrance
(left to right: Octopus– Tender Grilled Octopus served over Arugula, Cannellini Bean Salad, Cherry Tomatoes, and Dressed with EVOO & Lemon Juice, Spaghetti Carbonara – Tossed in Pancetta, Egg Yolk, Cream & Parmesan Cheese, Cioppino – Sautéed Calamari, Shrimp, Diver Scallops, Mussels, Clams, Cherry Tomatoes, White Wine, EVOO & Light Broth)

I was excited to finally try Dario's since I've not had the pleasure of dining here before, so thank you for voting this as one of your top foodie favorites! Located on Ocean Drive near South Beach Park, this area is not as well traveled as it's northern half, so I think it goes largely unnoticed by vacationers to the area. The interior is gorgeous as you can see from my photo above. The high red booths allow for a more intimate dining experience for you and your guests. They do have a covered outdoor patio if you feel more comfortable dining outside. The menu has a nice selection of classic Italian dishes expertly prepared by Chef Juan, and a few that are out of the ordinary. You need to try the grilled octopus, it was the most tender I've ever had!
Trattoria Dario
Address: 1555 Ocean Dr, Vero Beach, FL 32963
Phone: (772) 231-1818
https://www.trattoriadario.com/
---
In case you missed Part 1 & 2, click on the links below to read the previous two articles!
Undiscovered Foodie Treasures in Indian River County – Part 1
Undiscovered Foodie Treasures in Indian River County – Part 2