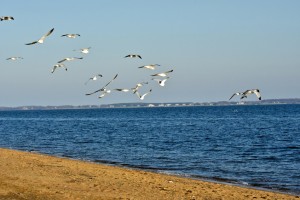 Nature lovers and animal enthusiasts alike will find no shortage of places to explore, from Pelican Island National Wildlife Refuge to the abundant sand and sea creatures nesting just outside your hotel off the beach. When it comes time to get back to nature, there's no better place to do it than Indian River County.
Birding
Talk about an air show — Indian River County is home to some of the most unique birding opportunities in the country. Keep an eye out for brown pelicans riding the waves near your seaside resort, or head to the marshlands to spy five different species of heron. In the summertime, you might also catch a glimpse of the brightly-colored roseate spoonbill, the only spoonbill species of the Western hemisphere.
Beach Life
One of the most popular Vero Beach events is the loggerhead sea turtle tour, which takes you through an educational walk that will help you learn more about these amazing endangered creatures that come ashore to nest in Vero Beach every year. In fact, Florida beaches are home to around 80% of all loggerheads in the United States. On a simple stroll from your hotel off the beach, you might also find crabs, conchs, and other sandy creatures.
Oceans Deep
If you're willing to venture from your mainland hotel out into the deep waters on a guided boat tour, you'll be able to view Atlantic bottlenose dolphins as well as the majestic (and also endangered) Florida manatee. Along the way, stay on the lookout for the incredible variety of fish in the area, from bluefish to flounder and from sturgeon to American eels.
By land, sea, or air, there's no shortage of wildlife viewing opportunities in and around Vero Beach, Sebastian, and Fellsmere. Whether you're relaxing by the ocean shore or heading out for a hike, be sure to keep your eyes peeled during your visit to Indian River County for an experience with nature unlike any other you'll find in the world.