9 Instagram Worthy Murals in Vero Beach
Your Guide to Vero Beach Murals
Beaches aren't the only beautiful thing you'll see around Vero. New murals are popping up everyday! From Downtown Vero Beach to beachside, you don't want to miss these Instagram-worthy murals. Follow the order we laid out to go from downtown to the beach or create your own path as you discover Vero's funkier side. Use the city's official hashtag to share your photos: #LoveVeroBeach
1. Head to Alligator Alley to take a photo with two Florida natives – the American Alligator and the Florida Seminoles.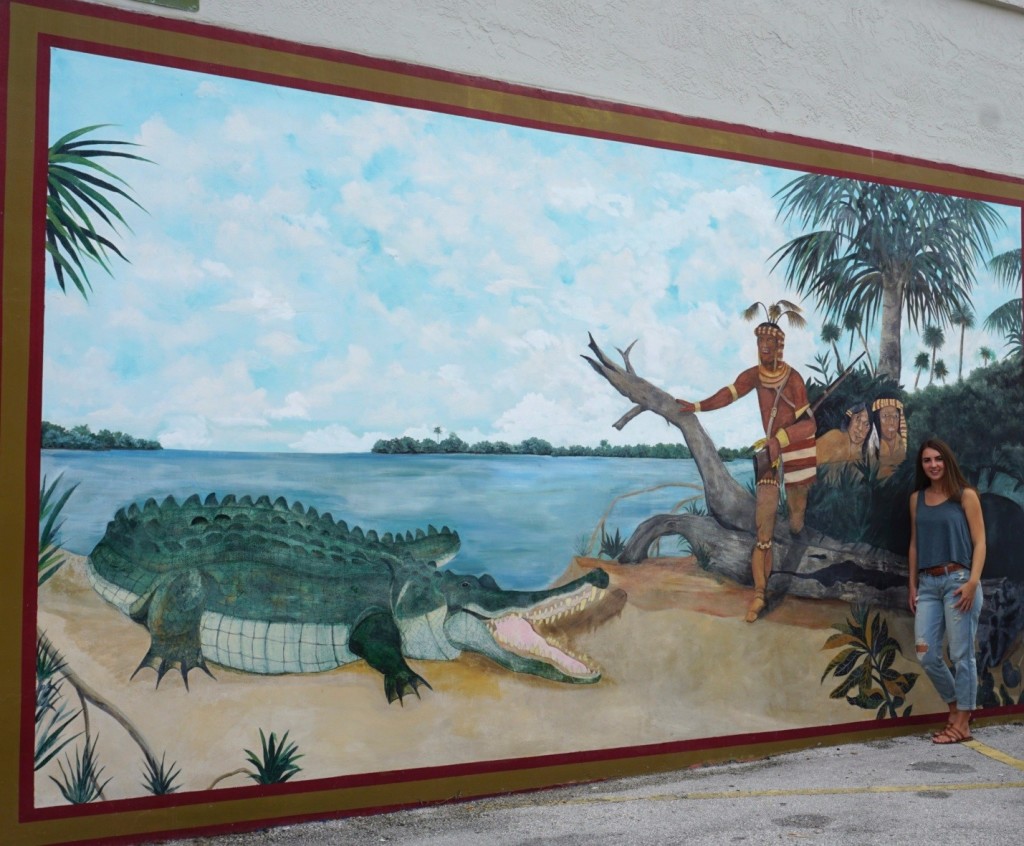 Artist: Unknown
Location: South side of 21st St. ½ block E. of 14th Ave
2. Next, head a few blocks South to snap a shot of this heartfelt mural.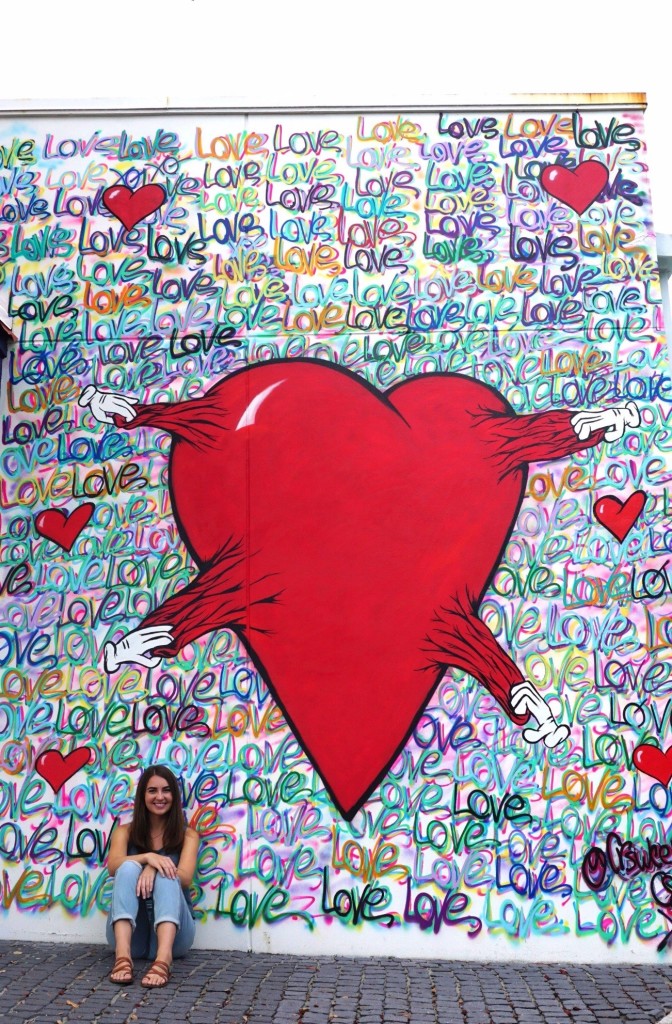 Artist: @crsweeney1 aka Christopher Sweeney
Location: 19th Street and 14th Avenue in Downtown Vero Beach
3. Right down the street is another mural by the same artist, Christopher Sweeney. His latest installation is on the south side of Frères Patisserie.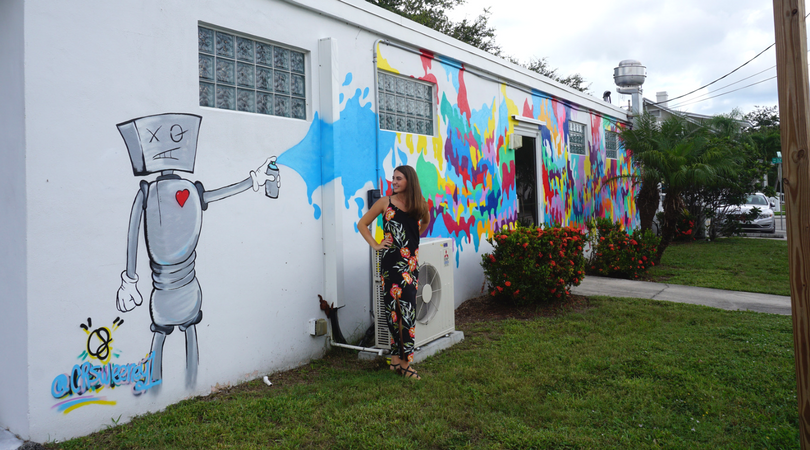 Artist: @crsweeney1 aka Christopher Sweeney
Location: Frères Patisserie, 1910 Old Dixie, Vero Beach, FL 32960
4. Walking distance from Frères Patisserie you'll find The Kilted Mermaid!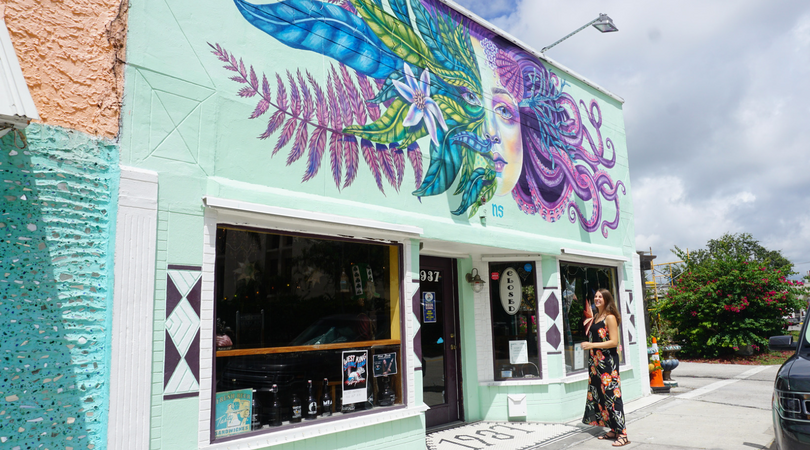 Artist: Nicole Salgar
Location: The Kilted Mermaid, 1937 Old Dixie Hwy, Vero Beach, FL 32960
5. Next, head East towards the railroad tracks on State Road 60. You'll see these bright and colorful flowers on your right hand (South) side.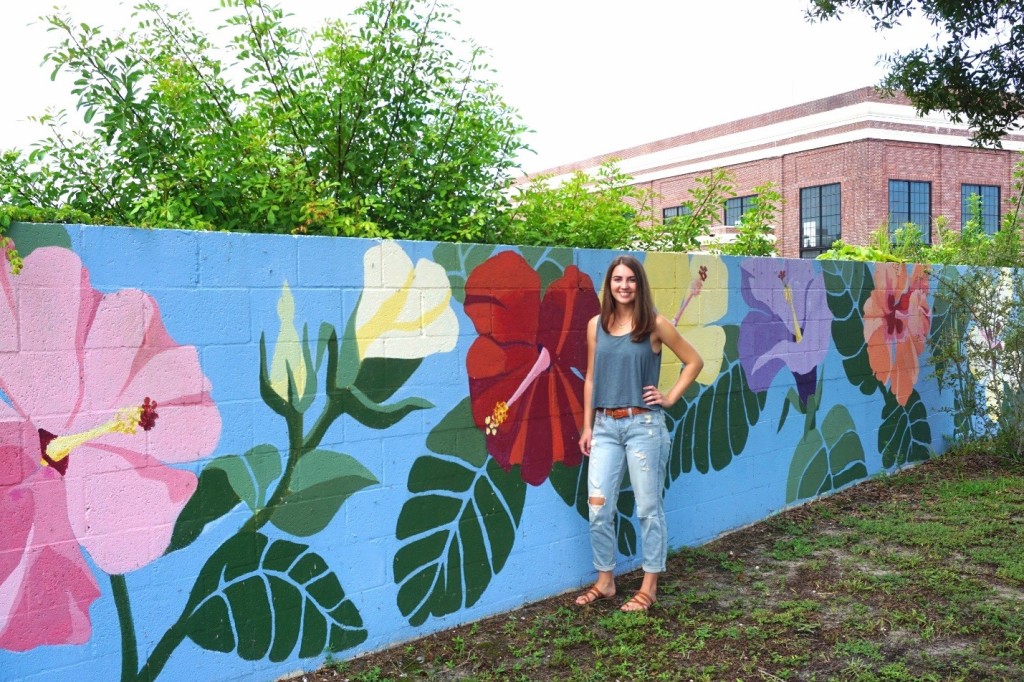 Artist: Members of the Vero Beach Art Club as a donation to the City of Vero Beach.
Location:  State Road 60 at the Railroad Tracks, near American Icon Brewery.
6. Only a few blocks from the Hibiscus Mural is one of Vero Beach's newest and most colorful murals. The Mr. Smokes downtown mural faces West on 20th Place, a one way road. Blink and you'll miss it. To see the full mural, pull into Mr. Smokes, park and enjoy!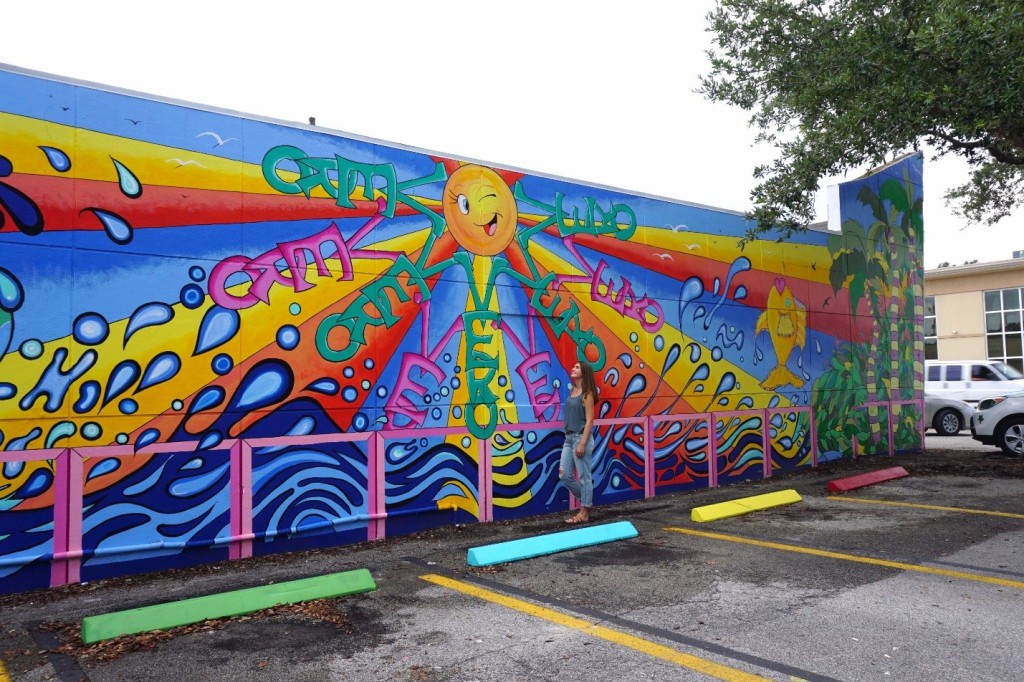 Artists: Barry Shapiro, Kristin Meeks and Greg Ingerson
Location: Mr.Smokes, 1014 20th Pl, Vero Beach, FL 32960
7. The next mural is located across the Merrill P. Barber Bridge, in Riverside Park. Drive past Riverside Theatre and the Vero Beach Museum of Art towards the tennis and racquetball courts. We love the amazing details in this insta-worthy mural!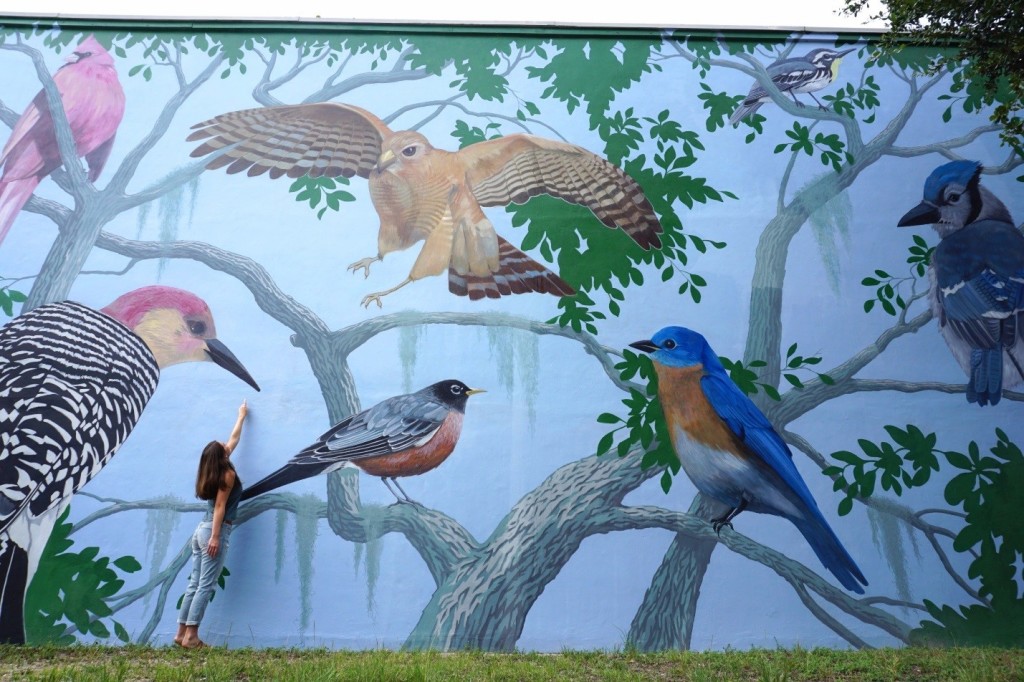 Artist: Carol Makris and is a gift from the Vero Beach Art Club volunteers!
Location:  Riverside Park & Riverside Racquet Tennis Complex – 350 Dahlia Lane, Vero Beach, FL 32960
8. The last two murals are located a little further East and closer to the beach. Park near Casey's Place and walk in between Casey's Place and the shops to its East (right) side. There you'll find the mural below, a shopper lounging on a bench near some old Florida homes.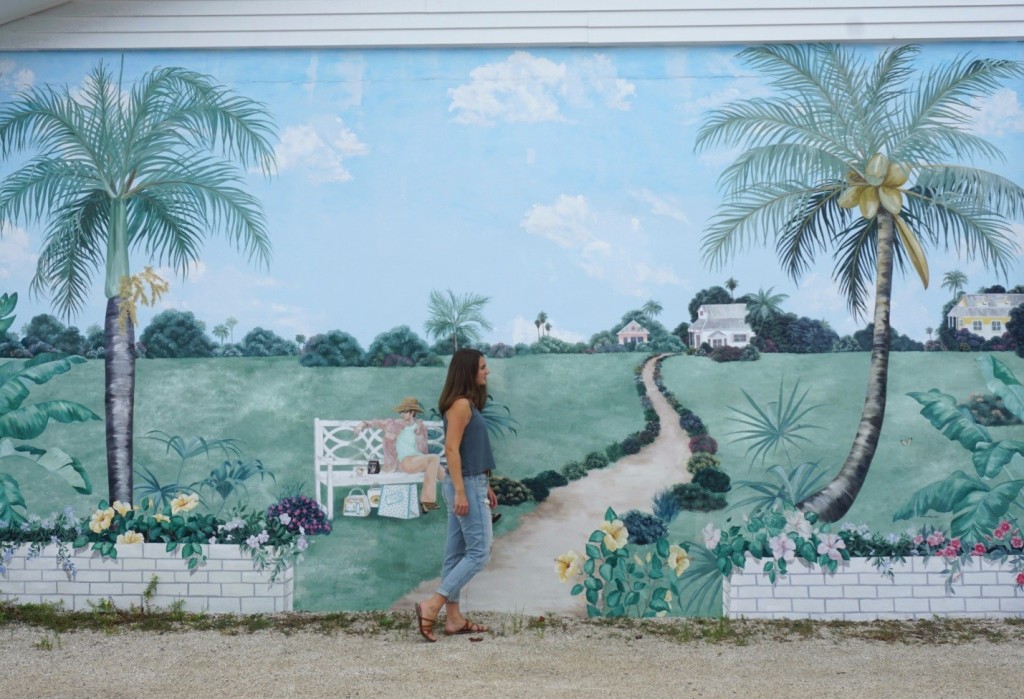 Artist: Barbara Sharp 
Location: Azalea Lane, between Cardinal Drive and Ocean Drive
9. The last mural is all about the beach! Located on the side of the Bethel Creek House, the mural is a donation by the Vero Beach Art Club.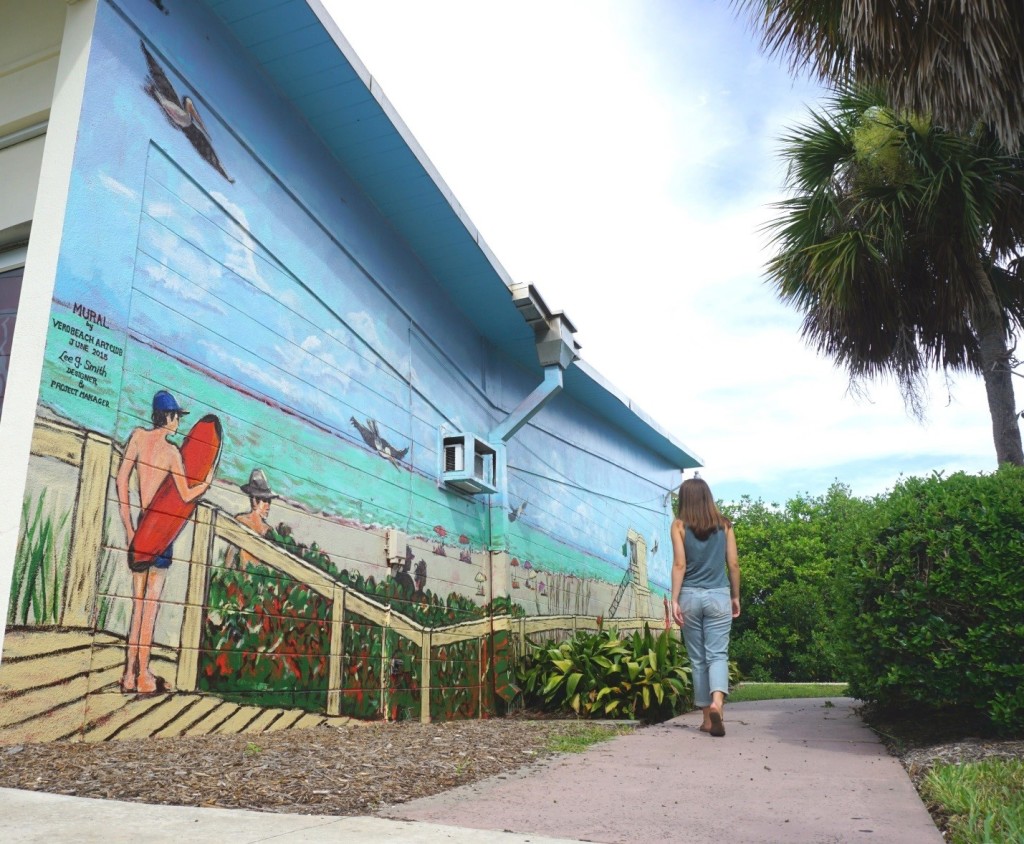 Artist: Lee G. Smith with assistance of the Vero Beach art Club
Location: Bethel Creek House – 4405 Hwy A1A, Vero Beach, FL. 32963
Let us know what your favorite Vero Beach mural is by commenting in the comment section below! Don't forget to use the official city hashtag: #LoveVeroBeach