Twelve Family Friendly Things to do in Indian River County
Indian River County, is a gorgeous, lesser known, area of Florida boasting many fun and family friendly activities. Until recently I had never visited this area of central eastern Florida, which is located about one hour north of Palm Beach International Airport. but this month I had the chance to tour Vero Beach, Sebastian and Fellsmere area to do some exploring and I wanted to share some of the many reasons your family should visit.
The Indian River County area is one of the most biodiverse environments in all of North America. That means there's no shortage of great outdoor learning experiences for the entire family.
Go Dolphin Spotting: The Indian river lagoon and estuary in this county is one of the most biodiverse environments in North America. That means there's no shortage of species to be spotted.
Visit the Vero Beach Art Museum: stunning exhibits and beautiful grounds too.
Go Paddle-boarding: I have always wanted to paddle board but haven't had the chance to do so…at least until Vero Beach. I loved trying this. Paddles By The Sea is near the Riverfront Cafe just across from the Vero Beach Art Museum. If you are 6 and older you can do this and believe me it's totally fun.
Go Kayaking: Also Paddles By The Sea, on Indian river. So amazing. Don't miss this. This was one of my favorite experiences while staying in the area.
Do A Sea Turtle Nesting Walk: There are many options in the area. Google the topic before you visit and set up one immediately because they are extremely popular and also very educational.
Take a River Cruise: Jungle River Cruise leaves from Captain Hiram's Resort. Relax, shoot some pictures and spot wildlife on the river.
Ride an Airboat: I used to think (I am Canadian, remember?) that these were only found in the Everglades. I have since realized they can be found many places. While visiting Indian River county I didn't have time to do an airboat tour. If you are in Indian River county you can also do an airboat tour of Blue Cypress Recreation area. Here are a couple options: Gator Bait Airboat Adventures and Marsh Beast.These are quite an adventure and entertaining for sure!
Visit Treasure Island Museum: Learn the reason why this area is called the Treasure Coast. McLarty Treasure Museum is on Sebastian Inlet and it is very affordable, educational too.
Pelican Island Nature Reserve: Go birdwatching or just hike the trails for hours on a nice day. On Sebastian Inlet and State Road A1A.
McKee Botanical Garden: Located in Vero Beach. Such a lovely spot. Visit this McKee site for more details. This is an 18 acre subtropical hammock off US Highway 1
Go Fishing: Sebastian and Indian River County make for some of the best fishing in this area of Florida. Whether you are learning, or a diehard angler, this is one of the best reasons to visit. The fish are jumping all the time.
Visit the Environmental Learning Center: On Wabasso Island. this is such a gorgeous space and it is wheelchair accessible. Actually there are so many spaces in Vero Beach that are accessible. There are day camps and corporate retreats and a gift shop here too. You can even bring your yoga mat to the screened in area and practice in this serene space.
Indian River County has much to offer for families:
Indian River County is a gem on the Treasure Coast of Florida. From paddle boarding to eco tourism and fun interactive experiences with nature, families will find something that appeals to every traveler here. For more of Paula's travel articles please click here: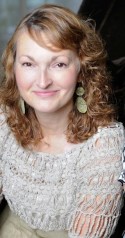 Paula Schuck is a Canadian travel blogger and Mom of two active girls.
She tweets at @inkscrblr has written for many magazines and newspapers in Canada and publishes travel, tech and health topics at Thrifty Momma's Tips.