Indian River Historical Ghost Tours
Walk Indian Rivers hallowed streets, investigate unexplained phenomena and hear chilling tales from beyond as you decide what's true or merely a legend.
Will you become a believer?
Either way, you'll learn exciting facts about the history of the area while having a frightfully fun time.
Indian River Hauntings offers the opportunity for guests to participate in a paranormal adventure and combine historical facts with haunted stories. They also take a hands-on approach by using investigative methods where guests can use equipment to see for themselves what can and cannot be explained with Lawrence Lawson. Lawrence MPA, BPM, LPI is the founder of the Florida Bureau of Paranormal Investigation and Indian River Hauntings LLC.
Driftwood Resort, Marsh Landing Restaurant in Fellsmere, Old School in Fellsmere, and Waldo's Secret Garden are some of the most haunted locations in the area. Two of the most well-known paranormal sightings in the area are the voice of a young boy they call "Billy" recorded at the Old Fellsmere School and a photo of the "Lady in Purple" taken at the Marsh Landing Restaurant in Fellsmere.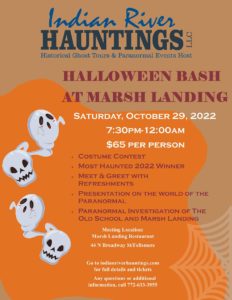 On October 29th Indian River Hauntings is hosting a Halloween Bash at Marsh Landing in Fellsmere. Your night will include a meet and greet with refreshments at the renowned Marsh Landing Restaurant followed by a presentation on the world of Paranormal Investigation and Research. Later, you will join our team on an actual paranormal investigation-style experience in the Marsh Landing Restaurant and The Old School House/City Hall in Fellsmere. Wear your scariest/most unique/funniest costume! Prizes for winners in several categories! Click here for more information and tickets.
Leave a Reply
Your email address will not be published. Required fields are marked *
You may use these HTML tags and attributes:
Name *
Email *
Website
Save my name, email, and website in this browser for the next time I comment.