Vero Beach Sunrises Not High Rises
Vero Beach Sunrises Not High Rises
This article appeared in the Palm Beach Post on May 15, 2017
Vero Beach
When looking for a beach escape, I want to see the sea, not towering condos and hotels that cast long shadows and block the sun. It's one of the reasons I love Vero Beach, where zoning restrictions prevent buildings more than four stories tall.
"Our motto is 'sunrises not high-rises,'" says Allison McNeal, a third-generation Veroite and director of tourism for the Indian River Chamber of Commerce.
The seaside boutique hotel is owned by Gloria and Emilio Estefan. (Photo courtesy of Costa d'Este)
Vero's sunrises are spectacular. I've often witnessed them from guest rooms at such resorts as Costa d'Este, the seaside boutique hotel owned by music legends Gloria and Emilio Estefan, or the nearby Kimpton Vero Beach Hotel & Spa, a delightful hotel just north of Costa d'Este. Both offer beach views, upscale restaurants, pampering spas and fine service — and both are dog-friendly, a perk much appreciated by the tail-wagging Chihuahua who often travels with me.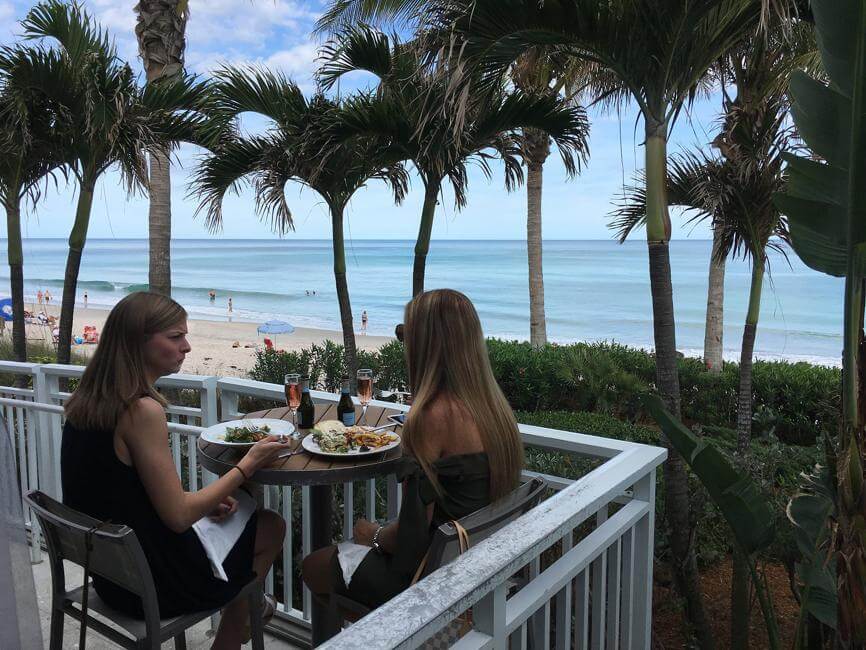 Citrus Grillhouse features not only Mediterranean-and-Italian-inspired dishes, but also a spectacular view of the ocean while you dine. (Photo by Ruth Cincotta)
The hotels aren't the only places to deliver picture-postcard seaside views, however. There are oceanside restaurants where you can dine alfresco while enjoying the balmy sea breezes. One of my favorites is Citrus Grillhouse, with Mediterranean- and Italian-inspired dishes.
Another popular spot for lunch or dinner is the Ocean Grill, an Old Florida-style seafood and steakhouse restaurant known for its precarious perch over the ocean. A landmark, the building where the Ocean Grill is located was constructed 70 years ago by entrepreneur Waldo Saxton. It wasn't converted to restaurant until 1941. In the 1920s, Saxton took a brawny team of mules to clear the right of way for A1A from the Sebastian Inlet to the south county line. He also cleared the road to the Ocean Grill.
McKee Botanical Garden has long been a favorite of locals and tourists.
While it's tempting to spend all vacation time at the beach, Vero Beach has much more to offer. One of my favorite attractions is McKee Botanical Garden, favorite stomping grounds for locals and tourists since 1932 when Cleveland industrialist Arthur McKee and his partner Waldo Sexton (Yup, the same fellow who built the Ocean Grill) designed it. Back then, it was called McKee Jungle Gardens, home to lions, tigers, elephants and monkeys.
The critters are long gone, but visitors who follow winding paths through the 18 acres can see 100 different varieties of water lilies and more than 10,000 species of plants and trees.
To see more than 3,000 species of plants and animals, take a kayak or paddleboard trip through the Indian River Lagoon, the most biodiverse lagoon ecosystem in the Northern Hemisphere. Don't be surprised if a dolphin swims by to say hello.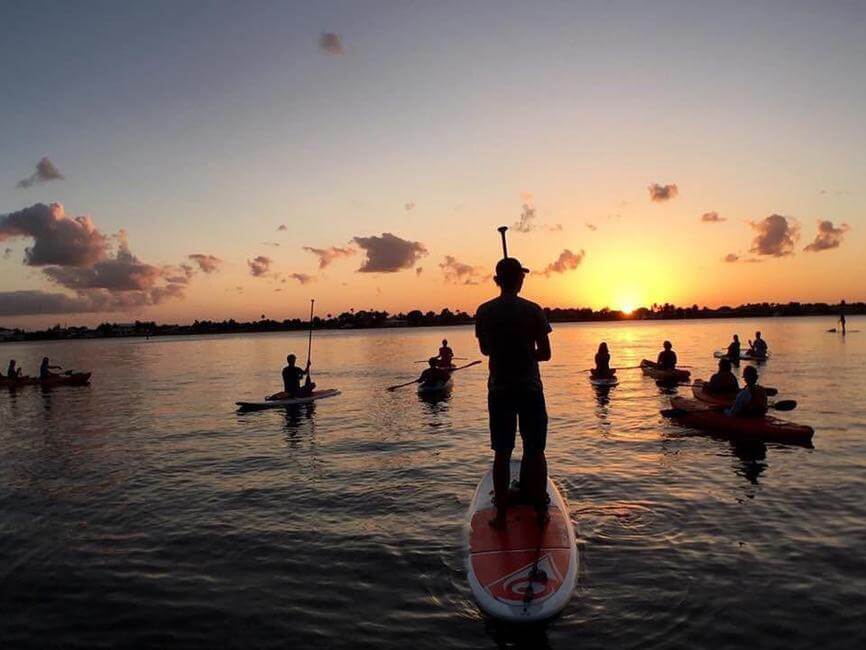 The Indian River Lagoon is home to more than 3,000 species of plants and animals.
If Spanish fleets and sunken treasures intrigue you, you'll want to know that last year $4.5 million in gold from the 1715 Treasure Fleet was found off the shores of Vero Beach. Want to know how they did it? Plan to visit McLarty Treasure Museum at Sebastian Inlet State Park. You'll find weapons, coins and tools salvaged from the fleet of Spanish ships that sunk during the 1715 storm.
Another spot not to miss is Mel Fisher's Treasure Museum, where you'll find more authentic shipwreck treasures and one-of-kind jewelry.
Save some time to shop. From unique boutiques to upscale shops, opportunities for retail therapy abound. Check out shops along Ocean Drive, Village Shops on Route A1A, the World Bazaar & Antique Mall, the Vero Beach Outlets or downtown Vero, where Maria Sparsis' Tea and Chi shop can be found.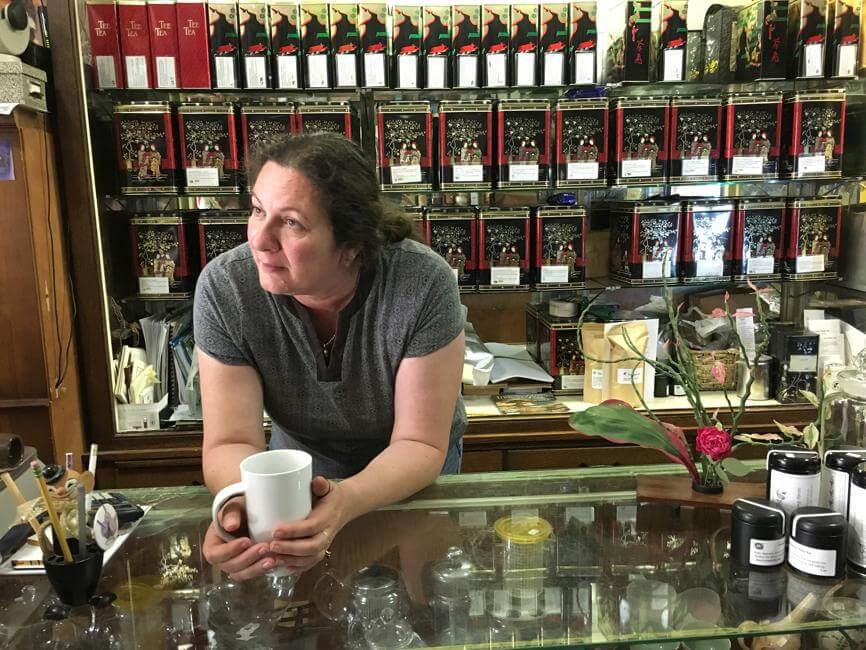 Maria Sparsis, a marine biologist who now runs her Tea and Chi shop, is also an artist whose work is displayed at Flametree Clay Art Gallery. (Photo by Ruth Cincotta)
Sparsis, a marine biologist born in Cyprus, says Vero Beach is just her cup of tea.
"I've lived a lot of places and never found such a welcoming sense of community," says Sparsis, an artist whose works can be found across the street at Flametree Clay Art Gallery. "When I go to the grocery store I have to allow for time to chat with at least five people."
And that's just the way she likes it.
Insider Tips:
• Pack your flip-flops, bathing suit and sunscreen so you can enjoy Vero's 26 miles of uncrowded beaches. Parking is free.
• Thirsty? Belly up to the bar at Orchid Island Brewery (2855 Ocean Drive), the city's only microbrewery. The family-run pub serves tasty home-brewed ales steeped with Indian River citrus.
WHERE TO STAY
• Kimpton Vero Beach Hotel & Spa, 3500 Ocean Drive, Vero Beach, 772-231-5666 or 866-602-8376.
• Costa d'Este Beach Resort & Spa, 3244 Ocean Drive, Vero Beach, 772-562-9919.
• Driftwood Inn Vero Beach and Waldo's Restaurant, 3150 Ocean Drive, Vero Beach, 772-231-0550.
• Disney's Vero Beach, 9250 Island Grove Terrace, Vero Beach, 772-234-2000.
WHERE TO EAT
• Citrus Grillhouse, 1050 Easter Lily Lane, Vero Beach; 772-234-4114.
• Ocean Grill, 1050 Beachland Blvd., Vero Beach, 772-231-5409.
• The Crab Stop of Vero Beach, 2263 14th Ave., Vero Beach, 772-257-5221.
WHAT TO SEE
• Riverside Theatre, America's largest small-town theater with Broadway shows, comedy and concert.
• Vero Beach Museum of Art, truly a center of high-quality cultural education and enjoyment serving as the cultural heart of the area.
• Mel Fisher's Treasure Museum in nearby Sebastian where you can see shipwreck treasures and unique jewelry — or to go on a treasure-hunting dive yourself.
Leave a Reply
Your email address will not be published. Required fields are marked *
You may use these HTML tags and attributes:
Name *
Email *
Website
Save my name, email, and website in this browser for the next time I comment.