Vero Beach: Where the Wild Things Are
Vero Beach: Where the Wild Things Are
Adventure in Vero Beach by land, sea and sky helped a globetrotting Floridian reconnect and fall in love again with her home state. What's waiting for you in an action-packed, blue-lagoon trip to the Treasure Coast?
This article appeared on Flamingomag.com on June 1, 2017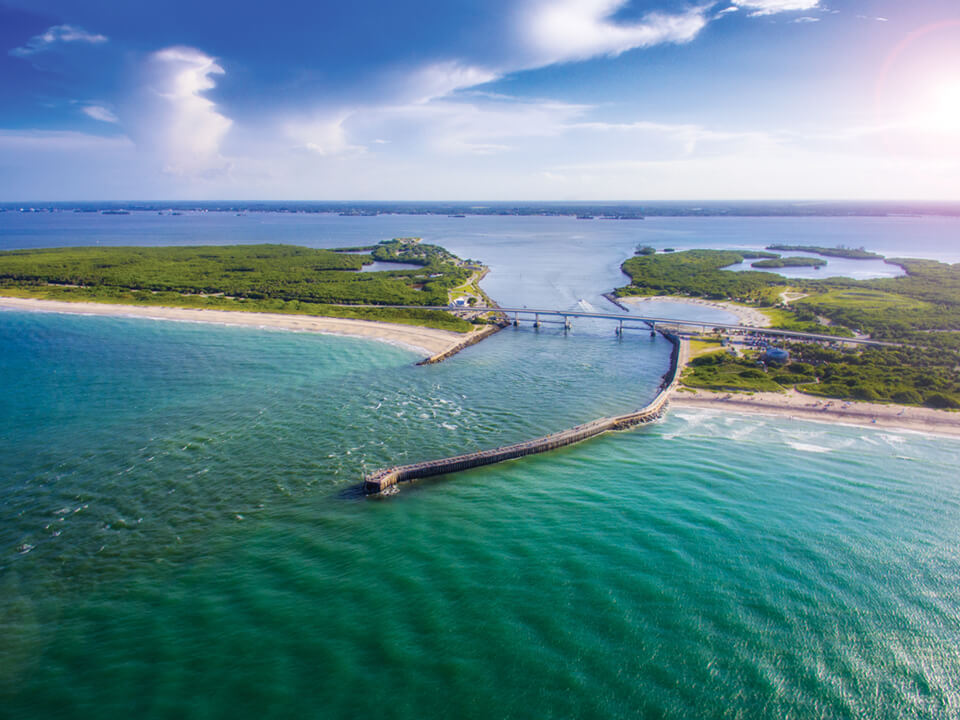 Beautiful blue waters along the ocean at the Sebastian Inlet
"Are you ready? Because it's too late to turn back now," says Michael Hoover, 45, adjusting his sunglasses and erupting into an enormous grin as we turn onto the runway and the engines of his red and white six-passenger seaplane thrum. I grin back. I live for these kinds of thrills, and he surely senses that I'm relaxed and good to go.
I feel my shoulder blades push back into my seat and look back to the row behind me, where my Cuban-born husband, Javier,
has our five-month-old son, Nico, strapped to him in a baby carrier, the seatbelt tightly around them both.
Javier's brown eyes are huge and his smile even bigger. Nico, for his part, seems oblivious to the earplugs we've pushed into his ears to diffuse the engine noise but is similarly alert, taking it all in.
As the plane, a 1979 Cessna U206G Stationair amphibious aircraft fitted with Wipline 3450 floats for water landings, lifts up from the Vero Beach Regional Airport, canals lined with large homes and even larger boats give way to the emerald gleam of the Indian River Lagoon. The deep blues of the Atlantic Ocean come into view, and the nearly cloudless cerulean Florida sky surrounds us.
View form Treasure Coast Seaplane; photography by Terry Ward
Desperate for a little adventure and looking to see the wilder side of the Vero area, Javier and I have signed up for a tour with Hoover's seaplane company, Treasure Coast Seaplanes, which he opened with his wife, Sheena, in August 2016.
Only a short while into our 75 minutes of flightseeing, I realize that this is just what Javier and I needed.
One year prior, I was less than thrilled about moving back to my urban life in Tampa. I had lived for several years in the bucolic countryside of southwest France, and meeting Javier in 2015 had changed all that. We'd decided to start a life together not in Jamaica, where we met, but in Florida, my home state. It made the most sense, with his family in Cuba, mine in Florida and baby Nico on the way. But I wondered how I'd ever get over giving up la belle vie in France—languorous meals with friends who had time to spend six hours around the table on a Sunday, weekend ski trips to the Alps, shopping for groceries at postcard-perfect outdoor markets, and all that wine and cheese.
The headwaters of the St. Johns River begin in Vero Beach. Photography by Terry Ward
"Dolphins!" comes Javier's voice into our headsets. I look down to see two silver fins slicing the water just 100 feet below us. We are about 500 feet from the shore. I've never flown so low over Florida's coastline, and the seaplane is giving me a brand-new perspective, like a stand-up paddleboard on steroids.
"Sea turtle at ten o'clock," says Hoover, with a mix of nonchalance and pride, as we cruise along at about 115 mph. It feels more like 50.
Named for the millions of dollars' worth of gold coins and jewels spilled by 11 ships, bound for Spain, that were wrecked during a 1715 hurricane, the Treasure Coast stretches across Indian River, St. Lucie and Martin counties and offers countless adventures for modern day explorers, as I'm quickly learning.
As the sea turtle comes into view, we are so close to the water that I can make out the yellowish-green hue of its shell.
"You know, at this low altitude, if we get lucky enough to see a whale breaching, you don't just see it, it's like you're a part of it," Hoover says. Though we don't spot whales on this day (North Atlantic right whales migrate along the coast from December to March), the highlights keep coming. Offshore from the wealthy private community of John's Island, we spot the unmistakable outline of a shark—perhaps a spinner, common along these shores. Then we bank west over Sebastian Inlet, where a long jetty juts into the ocean and make our way inland for the real surprise.
Egrets and hundreds of other species live in the ecoystem; photography by Visit Vero Beach Fellsmere Sebastian
The ocean scenery gives way again to the tangled mangroves and sandy channels of the 156-mile-long Indian River Lagoon, one of the most biodiverse ecosystems of its kind on the continent. The lagoon is home to 36 threatened or endangered animal species. Soon enough, we spot the most lovable among them—manatees, frolicking in the shallows off a sand-fringed island. I am amazed by how wild the coastline looks from this vantage point. In the distance, the housing developments and highways that make up our daily canvas stand in stark contrast to the nearby sanctuary of pure, savage swampiness.
Hoover tells me to put my hands on the yoke on my side of the plane (only because we are at a safe distance, around 500 feet high, over a nonpopulated area while travelling westbound), and, suddenly, I am manning the ship. I ask Javier it if makes him nervous, and he says no. Nico has fallen fast asleep and is drooling on his arm.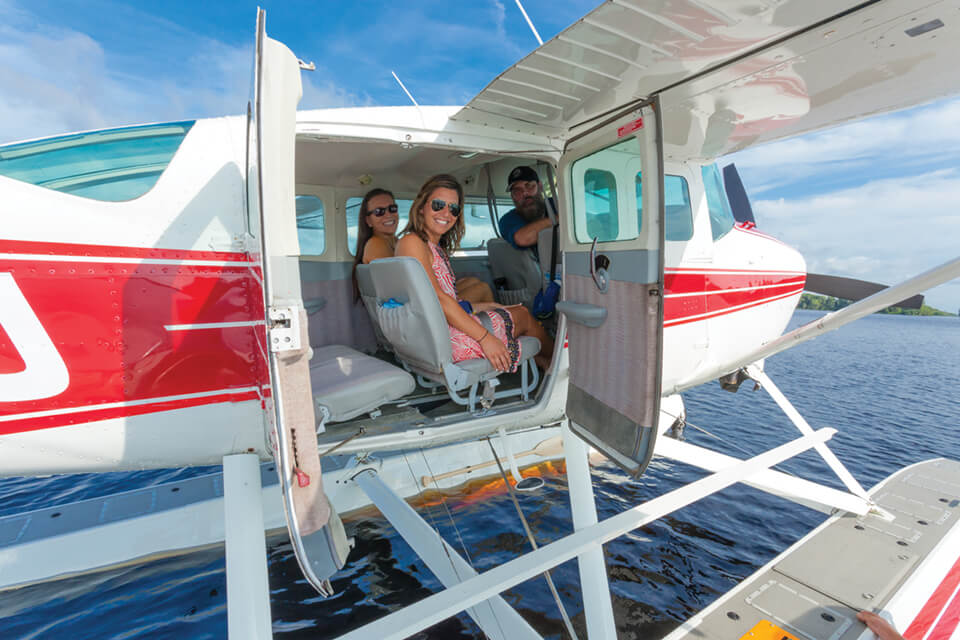 "If we get lucky enough to see a whale breaching, you don't just see it, it's like you're a part of it." —Michael Hoover; photography by Treasure Coast Seaplanes
"Think of flying like you're holding a paintbrush, making small adjustments," says Hoover, as I feel the sweat bead on my upper lip and my adrenaline kicks in. "It's like artwork, not like operating heavy machinery."
I am nervous as hell, to be sure. But he's right. The slightest nudge from my thumb makes the wingtip bow gently north or south. I experience the headiest mix of freedom and pure wonder as the landscapes unfold under us.
I relinquish the controls to the pro when it's time for the slow descent toward Blue Cypress Lake, a tree-lined wilderness where hundreds of pairs of ospreys build their nests and the headwaters of the St. Johns River begin. The lake stretches across 6,555 acres, with only one lonely road and a remote fish camp carved into its shores.
When the seaplane splashes down atop the lake's small ripples, I have the same feeling that I experience when I'm waterskiing and let go of the rope to ease to a smooth stop. It's so much softer than the tarmac landings I'm used to from flying commercial—none of that thrusting and side-to-side action when the brakes are applied.
"Welcome to true, untouched Florida," says Hoover. The air around us is still and utterly silent in the dying rays of the day, save for the calls of a few ospreys and the rustle of the wind through the Spanish moss in the trees.
"Now we are just a glorified boat, like a boat and a plane had a baby," Hoover jokes as we carefully step onto the Cessna's pontoons to soak in the scenery, scanning the turbid water for a sign of the many alligators that live here.
It's the real Florida out here, I think to myself, the one that can't be tamed by strip malls and street maps. Javier and I pose for a family photo and steal the chance for one of many firsts as a couple—a smooch atop a seaplane's pontoon.
WATERY WONDERS
On another day, looking for a sea-level view of Indian River County's diverse landscapes, we decide to go on an airboat ride through a section of the waterways we'd flown over.
Several operators launch airboats out of Blue Cypress Conservation Area, and I call ahead to Florida Cracker Airboat Rides and inquire about bringing Nico.
"Our kids grew up on airboats," says the lady on the phone, adding that a life jacket and ear protection are provided.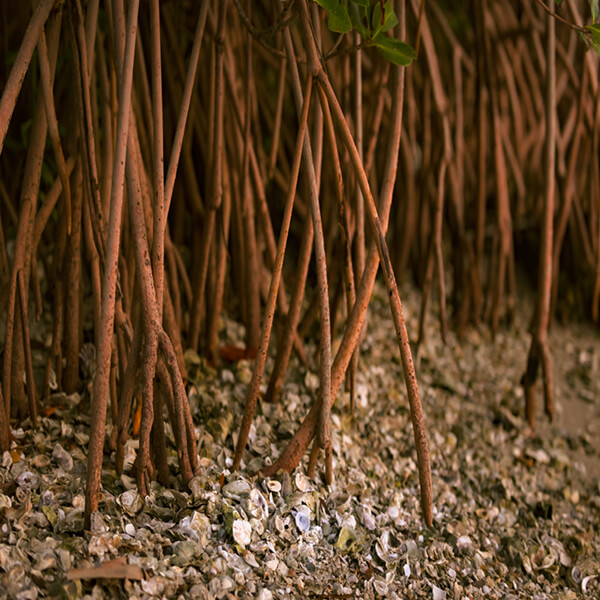 Mangrove roots stretching out into the shoreline of the Indian River Lagoon
Once on the boat, we set off through a swampy area off State Road 60 that was drained in the late 19th century for use as a sugar cane farm and, later, as a cattle ranch and a horse track. Today, the area has mostly returned to its natural state, crisscrossed with waterways—in some sections, you can still make out the curves of the bygone track in the vegetation.
"There's no standing up unless you want to go swimming," says Lawrence Kyzer, a Vero Beach native and owner of Florida Cracker Airboat Rides. Mating season for the alligators has just kicked off—it runs through summer, he tells us, as Javier hugs Nico a tad tighter in the carrier—and nearly every gator we see has scarring on its back from scuttling with the competition.
Kyzer's trained eyes find more delicate, hidden creatures. In a section of tall grasses, grackle birds build nests that dangle like Christmas ornaments camouflaged in the reeds. In a patch of lilies, a purple gallinule shows off its iridescent feathers.
"The most beautiful bird out here," says Kyzer, as we watch it forage for a seedpod snack. Osprey babies poke their heads from their nests as the mothers use their wings to shade the little ones from the harsh sun, and I ask Kyzer why the birds choose to raise their young atop the cypress trees, a seemingly exposed setting.
Osprey make their home in the estuary. Photography by Anastasia Stoeckmann
"To the birds, they're not exposed," he tells me. "They want to be in the highest and most open spot to look for red-tailed hawks, which hunt their babies." These natural instincts make sense to me—I'd take any risk for Nico's well-being.
DEEPER DELIGHTS
On my last morning in Vero Beach, I leave Javier and Nico relaxing in our room at the Costa d'Este Beach Resort, Gloria and Emilio Estefan's stylish oceanfront property, and decide to see what's under the surface. Before a scuba diving session on the reef in front of Vero Beach's strip of waterfront hotels, I meet up with my instructor for the morning, New York transplant Paul Seldes, a guide with Lone Sheep Scuba.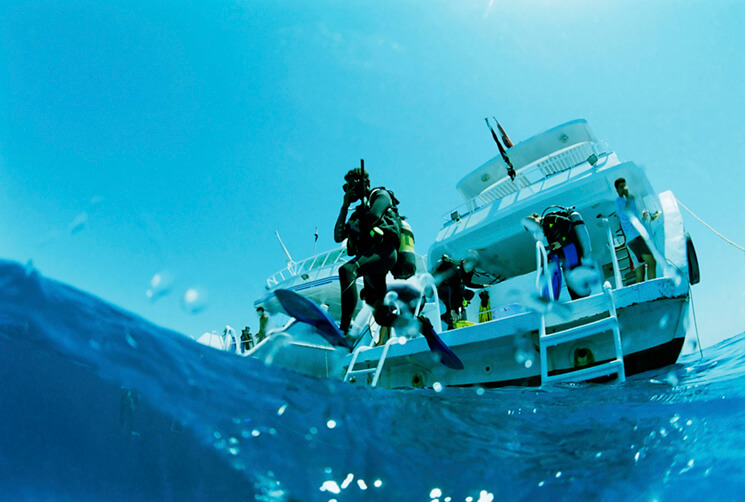 The best time to dive is between May and July, when the water is at its peak. Photography Michael Angelo Silva
Seldes, who works as a homeland security contractor for government agencies when he's not diving, was living in New York City on 9/11. He watched the planes hit the towers and spent nine months working in the aftermath. "After that period my wife said, 'that's it, we're moving to Florida,'" he tells me. Since he had family in Vero Beach and had been visiting for years, it was the natural option.
"Life is so good here. I can meet my buddies at 6 a.m. for some lobstering and spear fishing in the summer, and we can all be back at our home offices by 9 a.m.," he says.
I tell him that I've been diving all over the world, including in the Florida Keys, but never in the area around Vero. "We won't see them all today, but there are more than 400 species of marine life on this reef," says Seldes. It's all accessible right from the beach.
The author in her diving gear enjoying the watery underworld. Photography by Terry Ward
The best time to dive is between May and July. During these months, the water is clearest, and even snorkelers are likely to spot several species of sea turtles hiding under the ledges of the reef, as well as nurse sharks, lobsters and southern stingrays.
On our short dive in late winter, the visibility isn't great, but I get a feel for the interesting reef structure—worm rock and limestone dotted with endless caverns, cracks and hidey holes. It's the only place in Florida where such a varied reef is within a short swim of the shore, Seldes says. Our dive offers enough of an intro to ensure that, come summer, I'll be back for more. There's even a shipwreck—the hull of the SS Breconshire, a late 19th-century steamship—within swimming distance of the shore.
JETTY JEWELS
For the final sunset of our trip, I take Javier and Nico to Sebastian Inlet, where a jetty extending into the ocean and the structure of the surrounding sandbanks create Florida's best surfing conditions.
The Sebastian Inlet is a boaters' paradise. Photography by Ian Gronosky
At the spot where the Indian River pours into the Atlantic, the water is rising into angry whitecaps that give even the most experienced boaters pause. We watch a school of enormous blue fish slice the water's surface as the fishermen on the tourist-packed jetty angle for an opening to cast their lines. Javier peers over the side of the pier like a kid while a fisherman struggles to reel in his huge, toothy catch. "That's dinner," says the man when the fish lands safely on the pier. Javier hooks his hands into its gills for a photo.
We walk down to the beach and carry Nico with us to the waterline, wading with him into the Atlantic. He pulls his feet back at the surprising coolness and then gently lowers them back in.
Off the jetty's north side, a surfer drops into a clear green wave that breaks in a perfect almond shape. Someone hoots from the beach. Up on the pier, the fishermen are again in a frenzy over a school of blues. The energy surrounding us is intoxicating.
In the day's last warmth, we lay down a beach towel to dry Nico off.
"I needed this," I say to Javier as he pulls me close to him. I think he knows what I mean. Since I moved back, France has never felt so far away from me as in this moment. And Florida—exotic, with so much still left to explore—has never felt more like home.
Leave a Reply
Your email address will not be published. Required fields are marked *
You may use these HTML tags and attributes:
Name *
Email *
Website
Save my name, email, and website in this browser for the next time I comment.