Vero Beach
Vero Beach, Florida is the ideal destination for foodies to experience delicious homegrown eateries across the county. There's more then waves to these shores: there's food!
Foodies on the Beach in Indian River County
Delicious homegrown eateries abound in Vero Beach, Florida
By Xaque Gruber
Nestled about halfway up the Sunshine State's Atlantic coast is a jewel of a getaway: Vero Beach. My parents live here in Indian River County, and I've made frequent trips to visit. But this time around, I wanted to do something different. I traveled there recently with a group of beach-loving friends and we quickly discovered there are more than lovely waves to these shores: there's food!
I discovered that Vero Beach is bursting with unique, farm-to-table eateries that showcase the bounty of fruits, vegetables, seafood, meats, pastries, honeys, cheeses, beers and more crafted in this idyllic area. During our beach breaks, I led the way on our weekend-long foodie-crawl exploring the area's restaurants and breweries.
Marsh Landing
The 30-minute drive from Vero Beach to Marsh Landing in old Fellsmere was well worth it. Not only was the southern-style, comfort food delicious, but we went on Friday night, which, much to our delight, was Blue Cypress Bluegrass night. The place was packed and the live music was outstanding. This is not a quiet eatery on its live music nights. This joint is jumpin'! People come from far and wide to savor the cuisine. The menu says that Chef Bass harvests his frog legs, gator tail, catfish, swamp cabbage and other marshland delicacies from local sources. My friends had never sampled frog legs or alligator before, and were wary of the idea, but Marsh Landing cured that problem. The delicate frog legs were prepared with just the right amount of butter and garlic. People say frog legs and alligator tail taste "like chicken," but with a tenderness that's more akin to catfish. And my friends are big catfish lovers.
We started our meal with delicately prepared fried green tomatoes, piping hot and crispy on the outside, warm and chewy on the inside. My friends ordered the hand-cut Angus steak and ribs, juicy and cooked to perfection. The entire meal was fresh and flavorful, bringing a feeling of homey contentment. This was reinforced by the ambiance of the dining room that included golden hues of restored cypress wood. You cannot go wrong with the unique southern hospitality of Marsh Landing.
Orchid Island Brewery
On Saturday, our lunch stop was steps from the beach. The Orchid Island Brewery, Vero's first homegrown gastro-brew pub, is a warm, relaxed, family run gem. One of the Ocean Drive area's local hot spots features the area's variety of beer offerings and an ever-changing menu of à la carte gourmet entrées provided by Chef Michael Lander.
Their "grove-to-glass" philosophy is at the heart of Orchid Island Brewery, which uses local (and world famous) Indian River citrus in their craft beers. The Star Ruby was our favorite with its bright grapefruity burst. Meyer lemon and honeybell oranges also make cameo appearances in their unique brews. And there are plenty of ales, stouts and IPAs at this handsome bar to satisfy the most traditional pub-goer.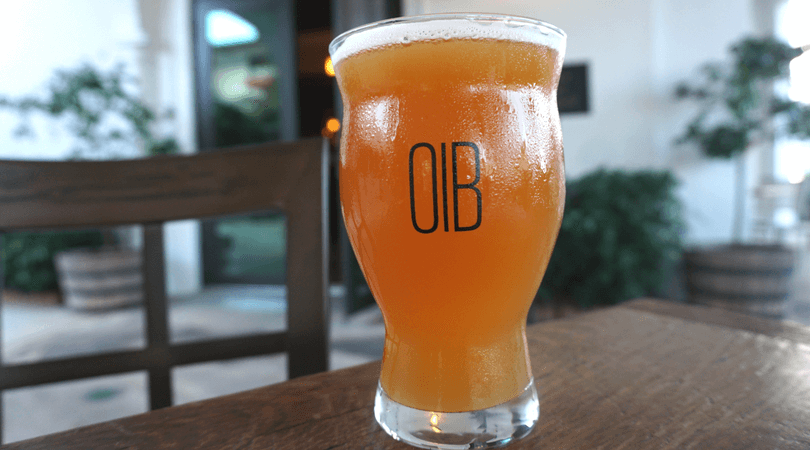 With our beers, we made the wise choice of savoring the Prince Edward Island mussels, cooked with Orchid Island Brewery's Nuthin' Fancy Brown Ale and topped with butter. The special of the day was a roasted chicken with mushroom risotto that ranks among the best I have ever had in my life. It's a joy to find a brewery whose food is as noteworthy as its beer. My friends and I requested to see the on-premises brewing operation, and the owner was amenable. Located just behind the bar in a separate building, we toured where the hops are hopping. Quite a cool thing to see.
As we prepared to leave, our waiter recommended we continue on a beer trail in Vero Beach. She told us about Pareidolia Brewing Co. Sebastian's first brewery, American Icon Brewery, located in the heart of Vero Beach's downtown district, and a newcomer, Walking Tree Brewery, the largest brewery in the area. Besides more great beer, she also mentioned the Treasure Coast & Wine Trail, winding its way through Indian River and St. Lucie counties. I already had my heart set on a future trip; now it's sealed.
Crab E Bills
One of Florida's finest quality seafood markets, Crab E Bills, located in the front of its 1927 barn-like building on the Sebastian waterfront, hits a home run on all fronts. The restaurant, Crab E's Eatery, located in the back of the building, overlooks the vast Indian River Lagoon.
Master butcher and fisherman, "Crab E" Bill Tiedge, and his wife Suzy, oversee the 'responsible fishing' that they are known for. All fish are preservative-free, hook and line, or spear caught, local and organic as evidenced by the fresh catch of wahoo, which my friends and I watched come off of a boat docked beside the restaurant and brought promptly into the kitchen. They even handpick the lemons from the trees. This is old-fashioned Americana seafood at its best. Don't miss their homemade smoked fish spread. My friends started with the homemade smoked fish spread and loved every bite. Served with simple crackers, it didn't ruin our appetite and kicked off the meal nicely. We also toured the smoke house area located just outside the restaurant where they smoke over one hundred pounds of yellowfin, mahi or wahoo a week. Having lived in Massachusetts for years, I know how I like my New England Clam Chowder. Crab E's makes the grade: an authentic milky broth full of chunky clams and potatoes (and no sand!). Quite simply, it was the lightest and most enjoyable fried seafood I've had in the area. The cracked conch with its delicate crunch is a must – and my friends opted for the drawn butter. The clam strips, locally harvested from Sebastian's waters, melted in our mouths. After eating, we wandered the educational displays on local history around the dining room. We also took in the views from their dock, watching manatees frolic in the warm shallow waters as pelicans flew overhead.
Osceola Bistro
It's wonderful to see the character of old downtown Vero Beach alive and thriving with art galleries, cafes and one of a kind shops. In my initial research, I discovered that at the heart of Vero's revitalized downtown is Osceola Bistro (named for legendary Seminole Indian Chief Osceola) which has a strong reputation with local foodies as being an area leader in Vero's farm-to-table culinary scene.
We sat outside on the garden patio on a warm Sunday night by the ornate trickling fountain. For being the finest dining restaurant on this list, we were surprised to find out that Osceola Bistro has a special area for dog-owners and were recently rated by readers of the Indian River Press Journal newspaper as being among the top three most pet-friendly eateries in the county. The restaurant lived up to its reputation for locally sourced food. Walk into the dining room and gaze upon the colorful chalkboard mural on a wall showing all the area farms that provide their ingredients. The portions are large and we didn't want to leave anything on our plate. The potato fried dirty oysters and the secret recipe crab cakes are must starters for seafood lovers like us. The shrimp and grits entrée was plentiful with succulent Florida gulf shrimp and spicy sausage crumbles over a bed of fontina and parmesan cheese grits. The Bistro Burger will make all burger fans, like my friends, rejoice. We opted for blueberry ice cream and fruit sorbets (all house-made) for dessert—delightful and refreshing palette cleansers, it was mutually agreed that they were an excellent idea.
My friends and I have already booked our next trip to Vero Beach (beer and wine trail here we come!). Plus, with more than 130 locally owned restaurants in Indian River County, and no chain restaurants on the barrier island, we've only scratched the surface of our culinary explorations.
Embark on a foodie adventure in Vero Beach
One thought on "Foodies on the Beach in Indian River County"
Sue Dinenno says: July 9, 2017 Marsh Landing is a great place to take visitors. It's also wonderful on holidays. Osceola is my personal fav on your list. Haven't been to the others but I will definitely go now! Thx.
Sue Dinenno says:
Marsh Landing is a great place to take visitors. It's also wonderful on holidays. Osceola is my personal fav on your list. Haven't been to the others but I will definitely go now! Thx.
Leave a Reply
Your email address will not be published. Required fields are marked *
You may use these HTML tags and attributes:
Name *
Email *
Website
Save my name, email, and website in this browser for the next time I comment.