With three craft breweries and two more on the way, it's easy to find great local beer in Indian River County!
Orchid Island Brewery
The area's first public brewery, Orchid Island Brewery (OIB) opened in August of 2014 in Vero Beach. Located right off of Ocean Drive, this family-owned brewery is literally right across the street from the beach! The space includes an open air courtyard, tavern and brewhouse.
In the tavern you'll find plenty of seating around a square shaped bar. Large chalkboard menus on the walls display what's on draft that day. Draft beers offerings include both OIB originals as well as guest brews. Known for their partnerships with local farmers and citrus groves, their beer selections feature a lot of IPAs and names that reflect their citrus inspiration such as "Star Ruby", "Indian River Grapefruit IPA", and "Citron".
If you're not in the mood for a beer they also offer a small selection of wine and soft drinks. In addition to beverages, OIB has a kitchen that serves up a light bites, sandwiches, salads and even dessert! Their in house chef crafts specials weekly, oftentimes incorporating their beer into the menu items.
Outside in the courtyard you can find live music (usually on the weekends), as well as seating and cornhole sets. From the courtyard you can peek around to the brewhouse. If they're brewing while you are there, they may give you a little tour or taste of what they're working on!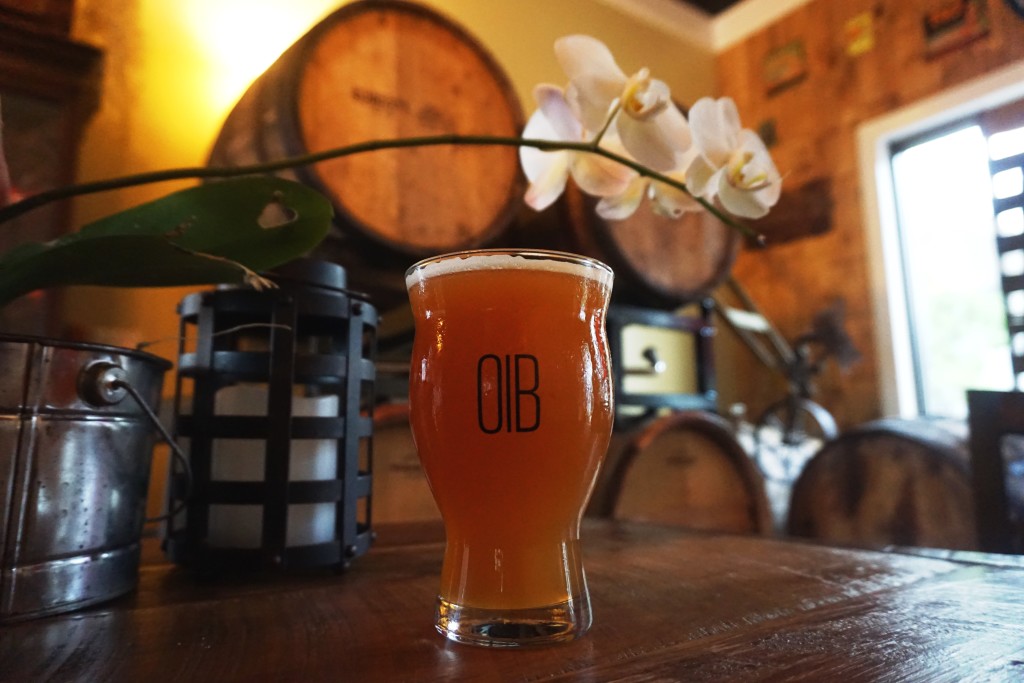 Pareidolia Brewing Co.
Pareidolia Brewing Co. is Sebastian's first and only brewery! Located adjacent to Riverview Park, it is steps away from the beautiful Indian River Lagoon. The brewery offers both original and guest brews as well as a wine and food menu.
The long, narrow indoor bar also has an outdoor seating area with picnic tables and umbrellas. Inside you'll find classic board games for guests to enjoy while outdoors you can test your
stacking skills with a life-size jenga game! Thursday nights are usually open mic, where you'll find local musicians jamming out together. Throughout the month the brewery regularly hosts bands and other live musicians. If you're a home brew newbie or a seasoned veteran, you can join the Boil Over Boys, a local homebrew club that meets at Pareidolia the first Tuesday of each month.
Even though Pareidolia is a nano-brewery (3 barrel brewhouse), they are big in the community. They host several events throughout the year such as a Brew and Beans Chili Cook-off Competition and homebrew competitions for local brewers to win the opportunity to have their beer brewed by Pareidolia!
Their three barrel brewhouse allows them to offer a quickly rotating selection of different beers and different styles, the menu is updated weekly. Stop in for their Slow Paddle Porter, Fresh Lemon Saison, or my favorite, the Sebastian Sorachi IPA. Not sure what you want? Just ask the bartender, they'll offer suggestions as well as samples. The owner Pete is usually there and is also happy to answer any questions or to just talk! By the time you're ready to order you'll feel like family to this friendly and welcoming brewery.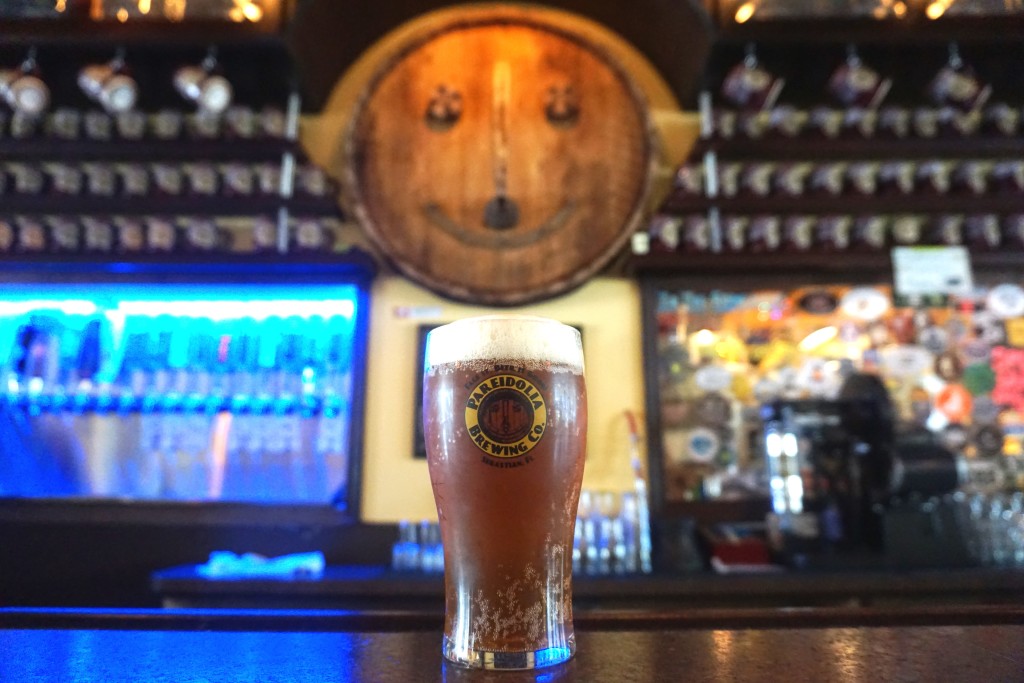 Walking Tree Brewery
Indian River's newest brewery, Walking Tree Brewery is also the area's largest. Wasting no time, they are poised to become a full-scale production facility, hoping to be distributed in stores and restaurants throughout the state and beyond. Named after Florida's mangrove trees, Walking Tree boasts a 20 barrel system housed in what once was a warehouse for the Navy during WWII.
Located near the Vero Beach Regional Airport off of Dodger Road, it's easy to spot the brewery amongst the warehouses. Their logo wraps around the building's side and bright yellow awnings welcome visitors. Inside, the large brewery and taproom feature an impressive cypress wood bar, plenty of seating at rosewood bistro tables and an outdoor patio where you can relax with friends or play cornhole. There is a small room with couches that has AC, but the rest of the brewery is exposed to Florida's natural AC, which is none. With large rolling warehouse doors though and some industrial looking fans overhead, it's easy to stay cool as you enjoy their tap selections; whether that's an oatmeal chocolate stout (Baby Cakes), the Single Girlfriend (a grapefruit beer), or Sandy Feet (an American wheat).
Walking Tree Brewery just won Best Beer in the State and Best Small Brewery at The 2017 Best Florida Beer Championships out of 111 breweries and 811 different brews!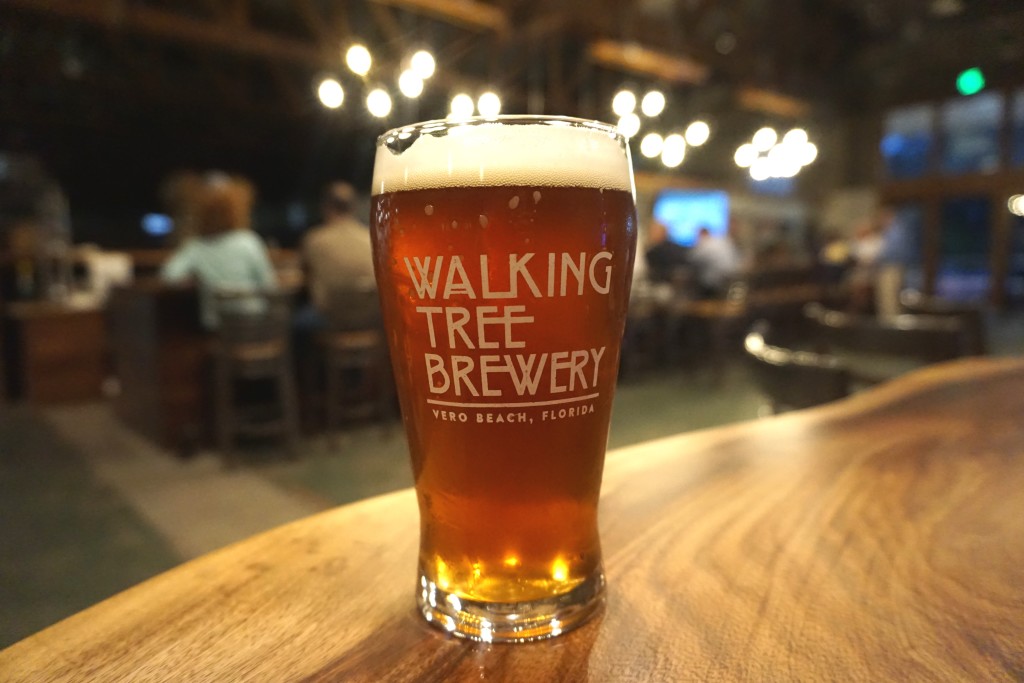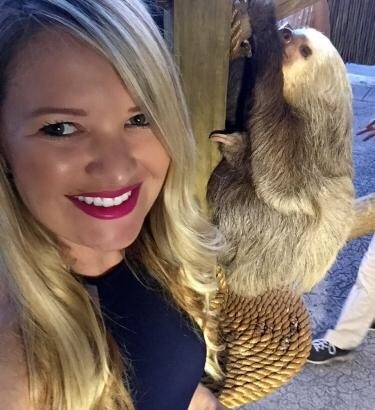 Julia Phillips is a native Floridian currently living in Sebastian – passionate about all things Florida, food, coffee, and travel. She's never met a cupcake she didn't like. You can follow her on Instagram @saltygrounds. Go gators.