Romance Never Ends in Indian River County
The romance doesn't just end with Valentine's Day plans, and it shouldn't! A spontaneous trip or quick getaway is always appreciated and it's a gift that anyone would enjoy. Indian River County has everything you need to take a break from reality, and to make it easier to plan your weekend escape we have some ideas in mind for you to try.
Where to Stay
The most important place to start planning is knowing where you want to stay. With everything that Indian River has to offer it's a good idea to make a decision based on where you like to spend your time during your getaway. Do you want an Oceanfront/Beachside experience? Or are you more interested in staying on the mainland? Maybe, a little more north and get into Sebastian and be close to the river? Whatever you decide, Indian River has you covered and there are both economic and luxurious options for you to choose from.
What to do
Ok, this first one is easy, we know. With 22 miles of some of the best shoreline Florida has to offer it's a no-brainer. Spending some quality time outside in the sun with sand between your toes and salty air is a safe bet. To get away from reality is the primary goal of your journey and we're sure that whoever you bring with you will enjoy the escape just as much as you do.
For those of you who can't take just sitting and enjoying the incredible view, there are a lot of options to get up and be active while you're here. You can choose from peaceful time out on the water paddle-boarding over a shipwreck, or racing around Indian River in a jetski for a few hours. Indian River has rentals to pack your Saturday with fun in the sun and all of them are not far from any one of our hotels or resorts. Whether your style is more laid back and relaxed or if you prefer a little more excitement, Indian River County has you covered.
Finally, for the adventurous couples, Sebastian Skydive is one of the best places to jump in the United States period. Beautiful scenery and some of the best staff with amazing credentials. Couples who are looking to do a little more than just hang out can have an experience of a lifetime!
Where to eat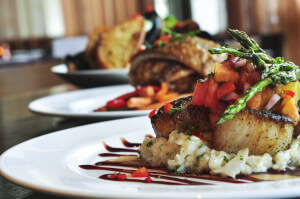 If you aren't familiar with him yet, then now is a great time. For everything food-related you can always count on The Treasure Coast Foodie. With over 250 restaurant reviews he's sure to have found something that sounds appetizing for both of you. Click Here to see both parts of his Undiscovered Foodie Treasures articles and his two Best Brunches articles!
Come Discover Love