Surfing in Indian River County
Surfing is an Adventure!
One of the best parts of visiting Indian River County is being able to experience our beaches and the many attractions offered by our locals. We have been recently voted to be one of Travel + Leisure Magazine's "Top 12 Florida Beaches". Quiet, secluded and with over 23 miles of beaches are some of what our visitors enjoy the most. Surfing is another fun experience you can embrace while visit Indian River County. The sport itself began as far as 1778 where it's first record was found by Captain James Cook and we are truly honored to have had some local surfers who have been recognized on an international level, still live here today.
To get a better perspective of the "surfing scene" here in Indian River County, we sat down with Ryan Cappelen,owner and operator of Surf Vero and one of his mentors, Kevin O'Dare and got some really amazing take-away's from our talk. We hope that you can utilize this information during your visit with us.
Now to give you a little background on our Pro-Surfers turned entrepreneurs, we have given you some history on their relationship with Surfing and their current projects. Ryan and Kevin were both professional surfers and have competed in various competitions both nationally and internationally back in the 90's. Although they are both retired from the professional side of Surfing, they still get out on the water.
If you are considering doing trying out Surfing while visiting Indian River County keep reading to learn more about the best places to Surf in our county.
Ryan and Kevin
Q: Tell us about your passion for surfing?
RC: "My passion for surfing started at a very young age. The first time I surfed was at the age of 5, and I immediately fell in love with the feeling of gliding across the water. As the years went on I really came to appreciate the freedom of surfing. I could go surf with friends or by myself. It seemed as if all my thoughts, worries, or anything going on in my life just disappeared when I was out surfing. That's the beauty of this sport, it forces you to live in that present moment with the ocean."
KO: "My passion for surfing started when I was eleven at South Beach in Miami. My parents use to take us to the beach and than my older brother Hugh started surfing. My other brothers began surfing and a lot of our friends started surfing, we were hooked. I can remember my Dad strapping down like six surfboards on the Falcon station wagon with all the family and half the neighborhood. When we got older, on the weekends we would travel up the coast to Ft. Pierce, Sebastian Inlet, Spanish House, Shark Pit and Cocoa Beach. The surf always seemed better up coast and it was because the Bahamas Island chain use to block the waves coming in South Florida."
Q: What is it about surfing in Indian River County that you like the most?
RC: "Surfing in Indian River County my entire life has been amazing. What I like most about surfing in our county is the variety of surf breaks. There are beach breaks close to shore for beginners all the way up to Reef Breaks for more advanced surfers, and most importantly Sebastian Inlet which is one of the best surf breaks on the East Coast of the United States. The warm clear water we have most of the year and gorgeous sunny days are so conducive to the surfing lifestyle here in Indian River County."
KO: "Going surfing anytime is like a vacation and you leave your thoughts and problems on the beach once you paddle out. Once you are on your surfboard and are in the water paddling you have no time to think about anything else. You are paddling the board, it is slicing through the water which is moving, the waves are breaking , the wind is blowing, others surfing are riding waves, the waves are non stop barreling towards the beach. Surfing really gives your brain some peace from what's happening in the real world. I have been surfing with some of my same friends for over 50 years and some for a year, but you just can't help but smile when you are surfing with them. I surfed half way around the world and have met the nicest people when traveling which has really given me an education and opened my eyes to the cultural differences, but out in the water surfing we are all the same."
Sebastian Inlet
Q: Can you share some of your favorite places to surf?
RC: "Some of my Favorite places to surf are Obviously #1: Sebastian Inlet, but also Riomar Reef which can be a really good wave during the winter months and hurricane swells. Also South Beach Park and Ft. Pierce Inlet which is a short drive away. There are a few secret spots too, but I think I'll have to keep those a secret for now. Hahahhaha."
KO: "Surfing in Indian River County is the best place in Florida for surfing. You have Sebastian Inlet to the north and Fort Pierce Inlet 3 miles south of the county line. Inlets with jetty structure always make the best waves. The sand builds up around the jetties and wave ricocheted off the rocks which make them bigger. The wind is also blocked by the jetty structure taming the wind if it is to strong. Both Sebastian Inlet and Ft. Pierce Inlet have world class waves where surf contests are held producing some of the best surfers in the world including Kelly Slater. Other surf breaks include Monster Hole (south side of Sebastian Inlet) , Wabasso Beach, Tracking Station, The Pier, Conn Beach, Riomar Point, South Beach and Round Island Park. Each one of these surf spots break differently depending on wave direction, wave size, tide, wind direction and wind speed. Local knowledge really helps but now days in the digital world you can look online and see live streaming of 1000's of surf spots all over the world." "
My favorite surf spot is Sebastian Inlet and Ft. Pierce Inlet comes in a distant second. I surfed both of these spots since I was a kid. I have many friends I surf with at both spots. Sebastian Inlet is closer to my house and I like the wave there because of the performance level. When I owned Sun Spot Surf Shop in Vero (1980-1993) , I would surf all day which was my job and fish all night at Sebastian Inlet. I spent more time there probably than anyone and still surfing there now a days when there are waves I am probably the oldest local. I have surfed Hawaii, California, Mexico, The Bahamas, Puerto Rico, El Salvador, Costa Rica, North Carolina, New Jersey and New York. My favorite place is still here in Indian River because there is no place like surfing your home surf spot!"
Q: Now that you teach surfing, what do you love the most about that process?
RC: "Teaching surfing has become such a passion of mine. I enjoy so much seeing people's faces when they catch that first wave. I love to see the feeling of pure joy that people feel by being one with Mother Nature. Most of all, I love teaching people the sport that has given me so much happiness my entire life."
Q: Can you give some tips to those that have never surfed before and want to begin but they aren't sure where to start?
RC: "For anyone who is just getting started surfing, the best advice I can give is "Be Patient and enjoy the experience!" Surfing is a difficult sport because of all the elements involved. You are dealing with the ocean, wind, and waves all while you're trying to stand on a surfboard. It seems very easy when you watch people do it, but it is a sport that takes lots of time in the ocean and lots of practice. But I promise, Once you get it, you'll love it. I definitely recommend getting a surf lesson before getting out there by yourself."
KO: "Surfing is an easy sport to have fun if you have any athletic ability and can swim. The best way to learn is to go with a friend who knows how to surf or go take surf lessons from a local like Ryan of Surf Vero. You really only need a few basic lessons and then it's like any other sport, the more time you put in the water, the better you will get. There are many beaches that you can learn to surf in Indian River County as mentioned above. You want to go to an uncrowded beach where you can concentrate on what you are doing and not get in the way or distracted by other surfers. Surfing is a great sport, you get exercise, fresh air and sunshine while hanging out on the beach with your family and friends. You can surf year round in Indian River County because of our mild climate. In the summer cover up with sun screen and sun shirt or a wet-suit in the winter. Old Hawaiian proverb says " you never know unless you go". I would recommend it to everyone because it is so much fun and surfing is and always will be cool!"
Ryan and Kevin
Q: Do you really need a wet-suit?? Can you surf in just any kind of bathing suit?
RC: "The only time you need a wet-suit here in Indian River County is typically between the months of November and March due to the water temperature. The rest of the year any bathing suit works just fine."
Q: Who has been most influential in your career?
RC: "The most influential people in my career have been my Best Friends Christian and Haley Yergens who were my mentors growing up and both became Professional Surfers. Also Eric and Melanie Swanson who owned Inner Rhythm Surf Shop and Shaped my surfboards my whole career. Also, Kevin O'Dare, Matt Kechle, Paul Reineke, Kelly Slater, Dave Speir, and many other Professional Surfers I grew up watching at Sebastian Inlet."
Q: Ryan Cappelen, from Surf Vero said you are someone that has inspired him in the sport. It sounds like you two have a history.. can you share some of it with us?
KO: "I met Ryan at Sun Spot Surf Shop in the 80s. The shop was in the building next to Merrill Lynch across from the Holiday Inn beach side. Ryan's father was a broker at M/L and their family were on the beach every weekend. Ryan was what we called a "surf grom" breathing and living to surf. He hung out and surfed with Haley and Chris Yergens, they pushed each other to the surfing limits and became the best surfers in Vero Beach at that time. They all won contests and got sponsors that gave them surfboards, clothing and paid for contest fees. I still surf with Ryan at Sebastian Inlet. Last time we surfed together at the Inlet the waves were really good and the surf photographers were in the water getting shots. Ryan took off on a large wave and did an aerial and landed on the surf photographers, I thought it was pretty funny. We use to do one week surf camps out of our surf shop and I think Ryan was involved with it. Ryan now gives lessons through Surf Vero besides being a fire fighter/EMT. If I was going to start taking surf lessons I would go to Ryan because of his surfing experience and his water safety knowledge being a fire fighter/ EMT."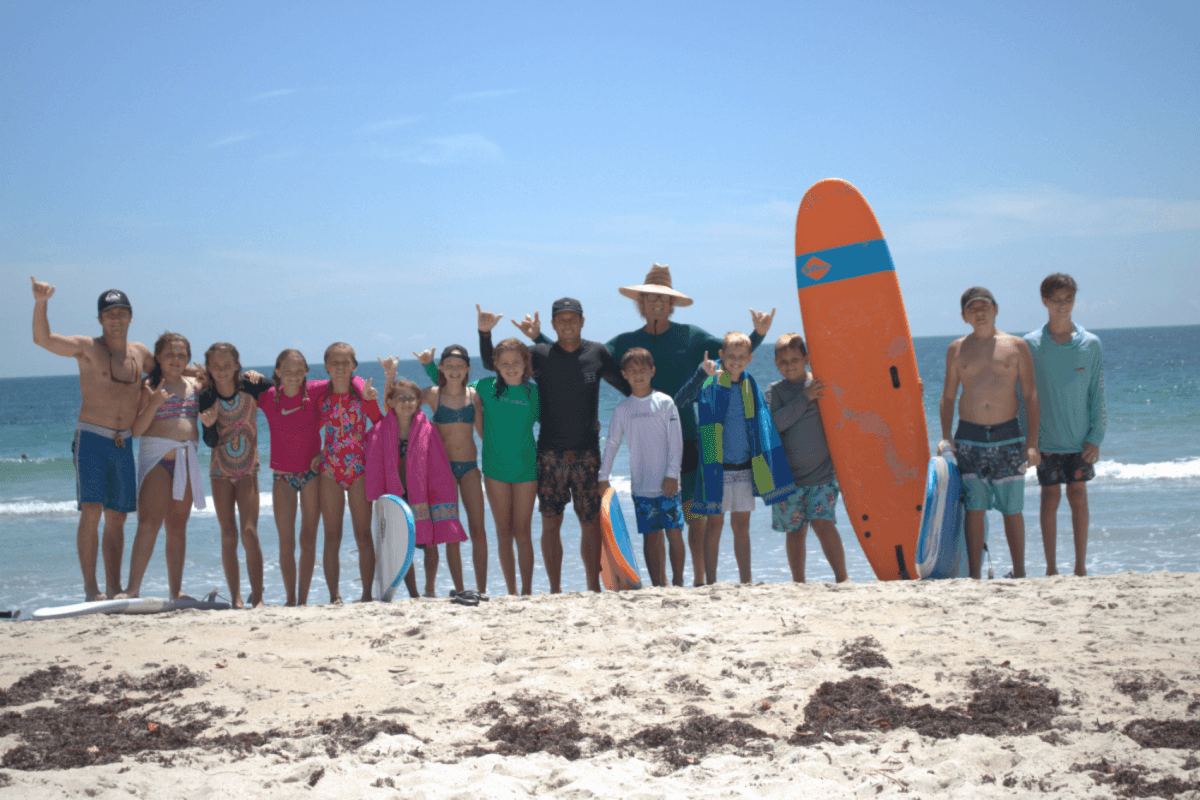 Ryan with Kevin, his staff and Surf Vero's Summer Camp 2020 members
Q: Can you tell us more about Vero Surf?
RC: "I Started Surf Vero about 6 years ago because of my love for surfing and my love for teaching the sport. Every lesson I give, I try to pass on my love, knowledge, and experience of surfing. I teach all ages and experience levels. I do individual and group lessons. I also do several Summer Surf Camps each summer. I try to pass on my experience with water safety and passion for protecting our local waters and beaches so that they will be here for future generations. There is no better place to learn to surf. Our community is so conducive to the surfing lifestyle and I am proud to be a part of that with Surf Vero. People can see all details on my website."
Q: Now that you are retired, what do you find yourself doing aside from Surfing?
KO: "I started Sun Spot in 1980 and sold it in 1993. I started Osceola Organic Farm in 1994 and sold it in 2018 after 25 years of producing and marketing certified organic produce locally. I now volunteer at Shining Light Garden which is a 20 acres farm that grows food for the hungry. We distribute all the food that we grow to Treasure Coast residents through the soup kitchens and food pantries. It is a volunteer base farm and all food is given away free. We grow so much food there and it is a miracle that is truly blessed by God. We are always in need of more volunteers and donations. Once in a while I tell Joel who by God's grace runs Shinning Lights that I have a board meeting. He has found out that when I tell him I have a board meeting that it means I am going surfing and we do pray for surf!"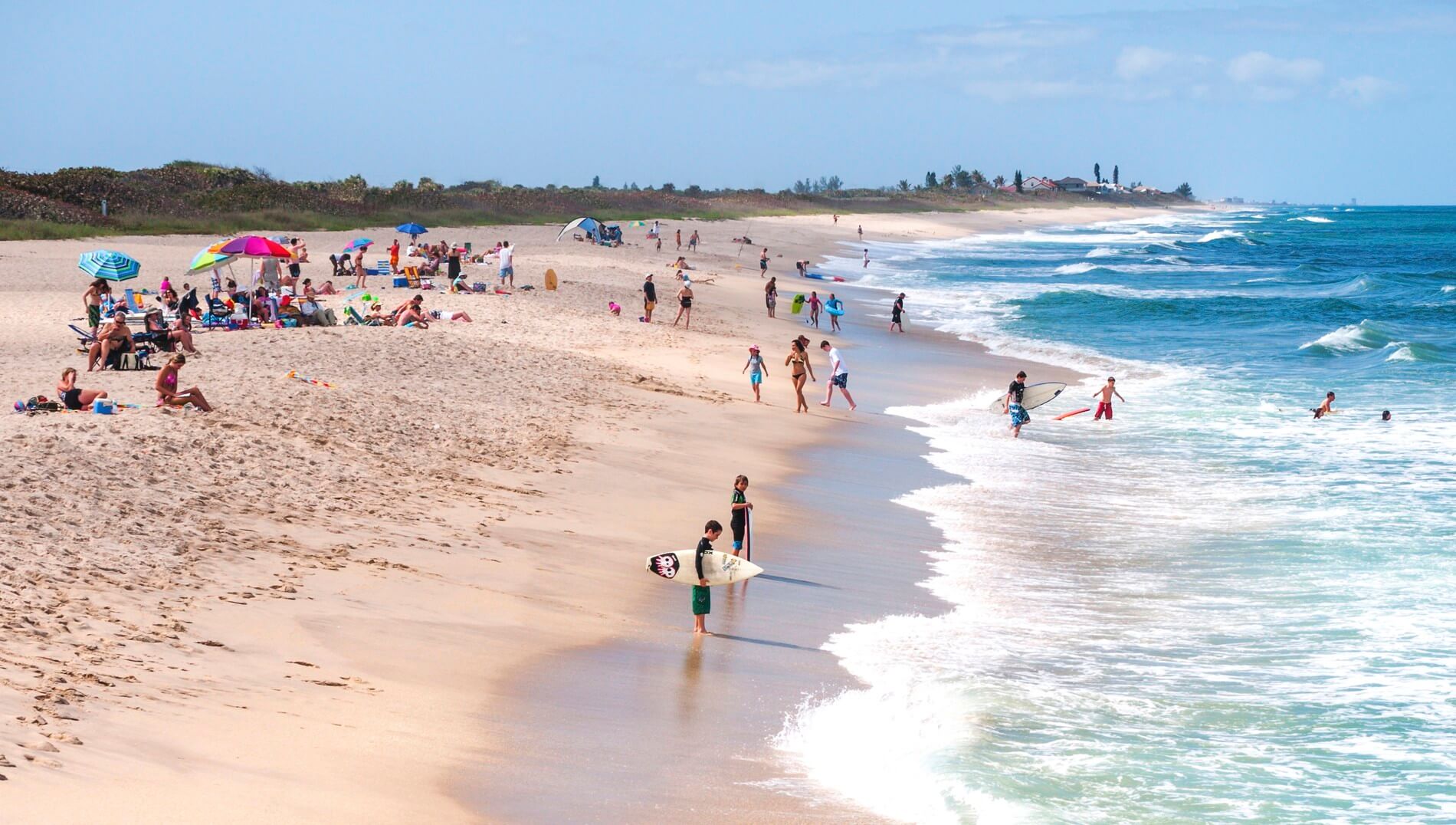 Our county has so many treasures for our visitors to experience such as the stories of these two individuals. We are incredibly lucky to have been able to sit with these men and learn about their passion, respect and honor for one another, our county and the sport of Surfing.