The Best Waterfront Dining in Vero Beach & Sebastian
Dining in Vero Beach and Sebastian doesn't just mean tasty food; it also means great views. Sometimes inside and often times outside, there are plenty of places to enjoy the food and sights. Here's the list of local favorites:
If you're looking for a laid-back Key West style party, then Hiram's is definitely where you will want to spend your weekend. The resort includes accommodations, a private dining room, a large indoor dining room, and the famous sandbar. The sandbar is exactly what it sounds like, a large outdoor dining area, filled with sand. With three bars and two stages, at Hiram's you can eat, drink and party the night away. The menu features wings, seafood, burgers, beer and of course frozen cocktails! Settle in at one of the booths along the water or at an umbrella covered table by one of the two stages while you enjoy the scenery. If you're up for an adventure, Hiram's also rents boats, jet skis, paddle boards, and kayaks.
City: Sebastian – Type of View: Indian River Lagoon – Arrive by Boat: Yes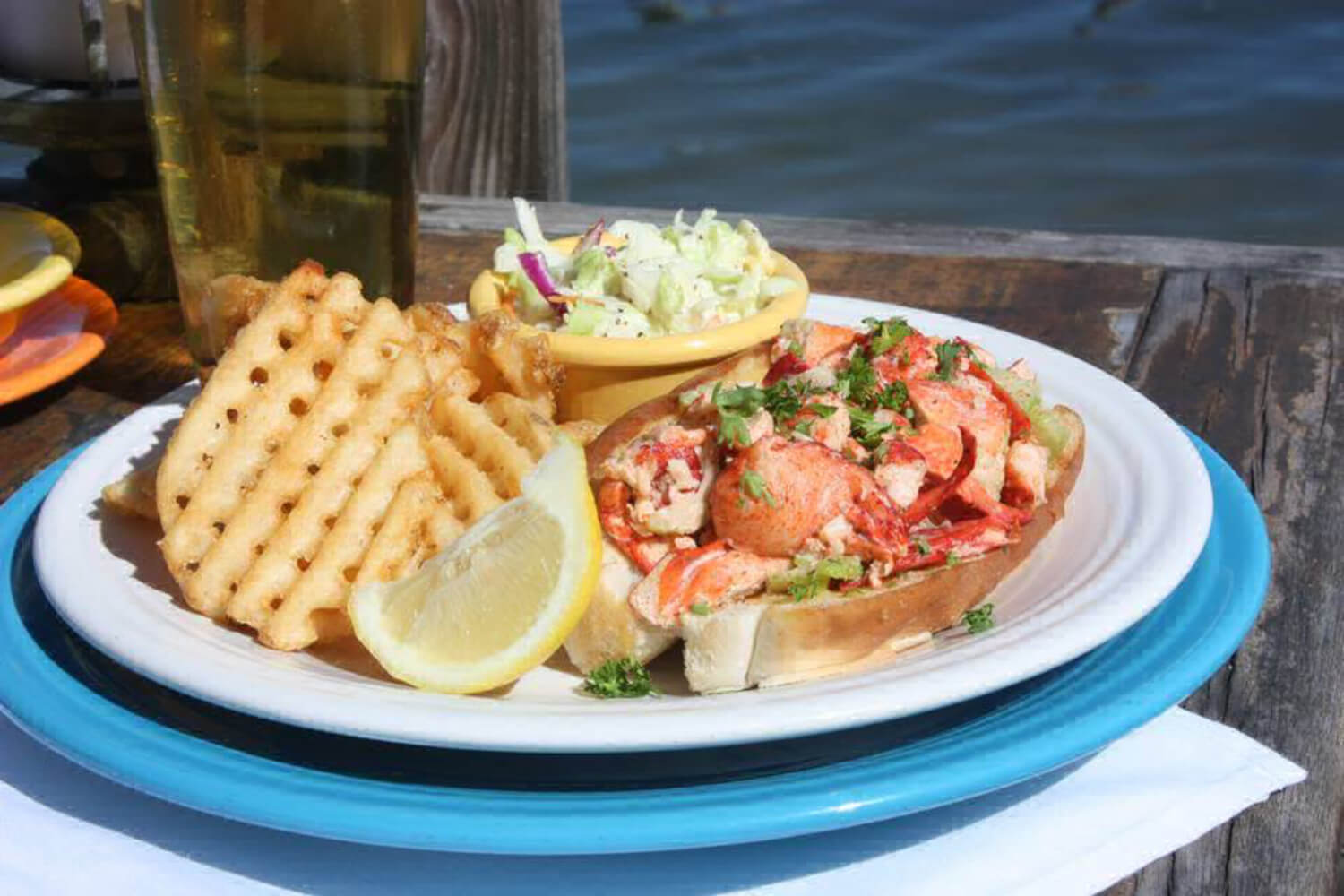 If you're craving a truly local waterside dining experience, look no further than Outriggers Bar & Grill in Sebastian. Located alongside a marina, Outriggers is a dockside bar and grill. It's a little off the beaten path, giving it some local Indian River charm. Watch boats come and go as the sun sets, all while enjoying live music or watching the game. Don't let the casual vibe fool you though, the food is exceptional! The menu features seafood, wraps, wings, burgers, quesadillas, tacos, salads, and homemade soups.
City: Sebastian – Type of View: Indian River Lagoon – Arrive by Boat: Yes
The Riverside Cafe is a Vero Beach staple. Located along the Indian River Lagoon, it's a great place to watch the sunset. The outside high-tops all face the water, making for a great view no matter where you sit. Inside you'll find a large bar as well as plenty of dining tables. On Sunday's Riverside offers an all you can eat brunch from 10am – 2pm and they just added endless mimosas and Bloody Mary's to the brunch menu! During the week, join them for happy hour or live music on Fridays and Saturdays. Who knows, maybe you'll even run into Vero Beach native Jake Owen.
City: Vero Beach – Type of View: Indian River Lagoon – Arrive by Boat: Yes
Squid Lips isn't technically waterfront. The restaurant sits at the end of a 50' dock, over the water making it more of an island than a coastal restaurant! If the weather is nice, the windows are open, giving diners panoramic views of the Indian River Lagoon. Squid Lips has a huge menu, everyone in your party is sure to find something they'll love.
City: Sebastian – Type of View: Indian River Lagoon – Arrive by Boat: Yes
Crab-E Bills is first and foremost a fish market, which means this might be the freshest your seafood can possibly be! Bills is dedicated to providing high-quality and sustainable seafood caught in ways to preserve the environment, meaning they don't use long lines or nets. After you check out the fish market, walk around to the dining area. Bills doesn't have waitresses and is really more of a walk-up window than a full service restaurant. After ordering at the window, you can either take a seat inside or out on the large wooden deck.
City: Sebastian – Type of View: Indian River Lagoon – Arrive by Boat: Yes
Waldo's, aka America's last great hangout, is not only a great restaurant with views of the ocean just steps away it's also a resort offering accommodations, a pool, bar, and live music. Even if you're not staying at the resort, you'll enjoy the views and of course the food at Waldo's. Guests can eat on the patio overlooking the beach or directly in the sand for an up-close view.
City: Vero Beach – Type of View: Ocean – Arrive by Boat: No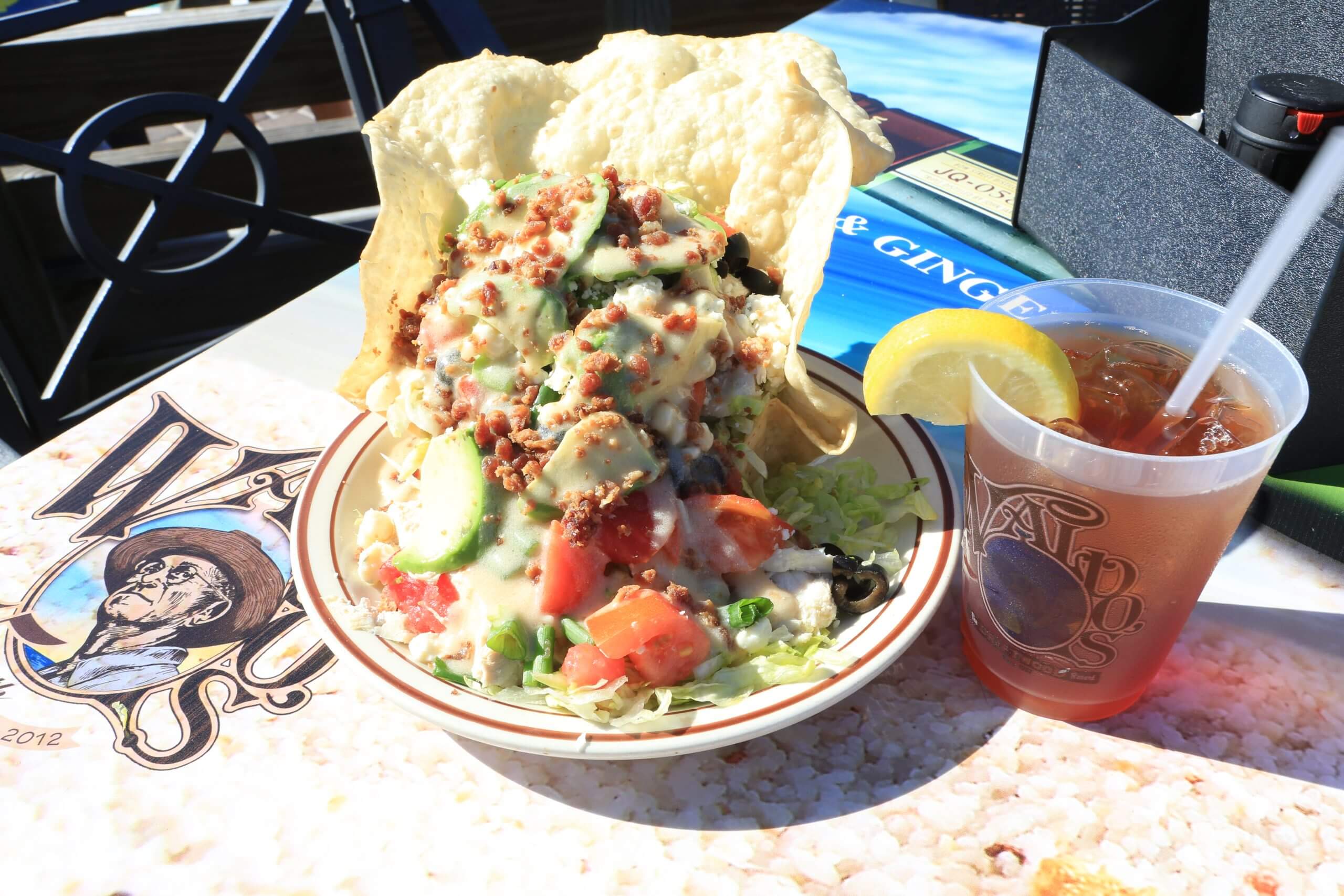 Cobalt is just steps from the water, giving all diners gorgeous views of the Atlantic Ocean. You can dine inside and still take in the view with floor to ceiling windows. After dinner, head outside to the patio and cozy up at one of the fire pits while enjoying their signature drink, the Vero Breeze! Don't forget to try their oysters, Cobalt donates all of their oyster shells to St. Lucie's Oyster Reef Restoration Program to help rebuild the reefs.
If you're looking for something a little more casual, you can opt for their al-fresco poolside bar, Heaton's Reef. At Heaton's Reef you can watch the big game and/or enjoy weekly live music. With a lively happy hour and monthly events like full moon and beach dance parties it'll quickly become your new favorite place for dinner and to just hangout!
City: Vero Beach – Type of View: Ocean – Arrive by Boat: No
Combining great food, with casual dining and waterfront views is a an everyday occurrence at Citrus Grillhouse! As a self described "American Bistro-Style Casual Seaside Restaurant," you'll find surprising, yet delicious twists on classic menu items. You can eat inside, but the best views are from their beachfront veranda. Besides the panoramic views, you'll also fall in fall with Citrus Grillhouse for their rotating menu! They offer fresh ingredients, based on what's in season.
City: Vero Beach – Type of View: Ocean – Arrive by Boat: No
The Wave Kitchen & Bar can be found inside the Costa d' Este Beach Resort, owned by Gloria & Emilio Estefan. Dine indoors and enjoy an elegant dining room with a daily happy hour and weekly specials. On Thursdays The Wave features Paella Night and on Wednesdays you can enjoy steak night! The breakfast, lunch, dinner, and brunch menus feature splashes of Cuban flair, an homage to Estefan's heritage. After dinner, head outside and take in the views while enjoying a cocktail from The Cabana Bar, Costa d' Este's poolside bar. You don't have to be a hotel guest to enjoy the resort's restaurant and bar!
City: Vero Beach – Type of View: Ocean – Arrive by Boat: No
Located directly on the water, Capt'n Butchers is a full service bar, restaurant, marina and even offers lodging. A popular place for both locals and tourists, you can enjoy views of the Indian River Lagoon while dining outside on their large deck or while sitting at the outdoor bar. Inside, you'll find a large dining room and a second bar. Capt'n Butcher's specialty is fresh seafood, which happens to make up a large portion of their menu. Don't worry, if seafood isn't your favorite though, they also offer steak, chicken, pastas, and a variety of sandwiches. *Capt'n Butchers is closed during August and September.
City: Sebastian – Type of View: Indian River Lagoon – Arrive by Boat: Yes
Get ready to lick your plate clean at Ocean Grill in Vero Beach. Located in the heart of Ocean Drive right on the beach, Ocean Grill has one of the best views in town. Healthy eaters will love the fresh selections that starts with the fresh caught local seafood. Complete your meal with the perfect glass of wine or beer from this restaurant's drink list. Families will feel right at home at this restaurant with its kid-friendly menu and atmosphere. A night out here can be a bit pricey, so prepare to shell out a bit more. Breakfast, lunch, and dinner are all served at the restaurant, but reviewers rate the dinner menu the highest.
City: Vero Beach – Type of View: Ocean – Arrive by Boat: No
Julia Phillips is a native Floridian currently living in Sebastian – passionate about all things Florida, food, coffee, and travel. She's never met a cupcake she didn't like. You can follow her on Instagram @saltygrounds. Go gators.