Top Venues and Places to Hear Live Music
Top Venues and Places to Hear Live Music
Beyond dazzling white beaches, the lure of deep-blue lagoons, and rural wonderlands lies a rhythmic beat as local musicians take the stage in Vero Beach, Fellsmere, and Sebastian. This list of top venues is the perfect place to start planning a vacation rubbing elbows with the locals at their favorite eateries while listening to local and regional musicians under the sun, in charming cafes or historic venues.
A Slice of the Caribbean
Capt. Hiram's, a slice of the Caribbean, is found at the Sandbar, home to three riverfront bars surrounded by sand, Tiki lights, and two live music stages. Settle in and sip on a tropical cocktail, grab a bite, and enjoy national artists like Toots and Maytals. Get your weekend started with a few rousing tunes, while weeknights provide melodious solo acts. Don't miss their Summer Sunday Reggae Series as well!
1580 US-1, Sebastian, FL 32958
A Hidden Hideaway
Grind & Grape is a charming indoor-outdoor hideaway and an Ocean Drive staple. Sway to the sounds of local rhythm and blues bands playing the latest covers or tune in to alternative harmonies. Snatch a seat at the bar, order a yummy flatbread, a nibble, or a pressed sandwich, and wash it down with a craft beer or cocktails or an award-winning glass of wine.
925 Bougainvillea Ln, Vero Beach, FL 32963
A Touch of the Irish
Kilted Mermaid is a fun, funky, and eclectic neighborhood bar featuring local bands and, of course, plenty of Irish covers. Sit back and relax in a casual environment and choose among 25 local and global wines by the glass or 80+ craft and import brews.
1937 Old Dixie Hwy, Vero Beach, FL 32960
Full Circle
Live in the Loop – who doesn't love a free music venue? Rock out to island music, folk rock, blues, country, rockabilly, and more. Every Friday and Saturday, rain or shine, bring your own chair and friends and set up on the driveway at Riverside Theatre, a venue not to be missed.
3250 Riverside Park Dr, Vero Beach, FL 32963
Weekend Wind Down
Post & Vine is a relative newcomer to the 14th Avenue dining scene. Stroll on in on Friday or Saturday and listen to the sounds of local soloists, jazz, or musicians. A long bar opens up to a large covered deck – the perfect place to sip, dine, and wind down after a long week.
1919 14th Ave, Vero Beach, FL 32960
Signature Vero Beach
Riverside Café is nestled along the Indian River Lagoon in Vero Beach. This historic eatery helped launch the career of country music superstar Jake Owen. Riverside is known as a top sports bar and a popular place for those seeking live music. On Wednesdays and Sundays hear the latest and greatest live music and DJs. Boaters are welcome to pull up to the dock.
3341 Bridge Plaza Dr, Vero Beach, FL 32963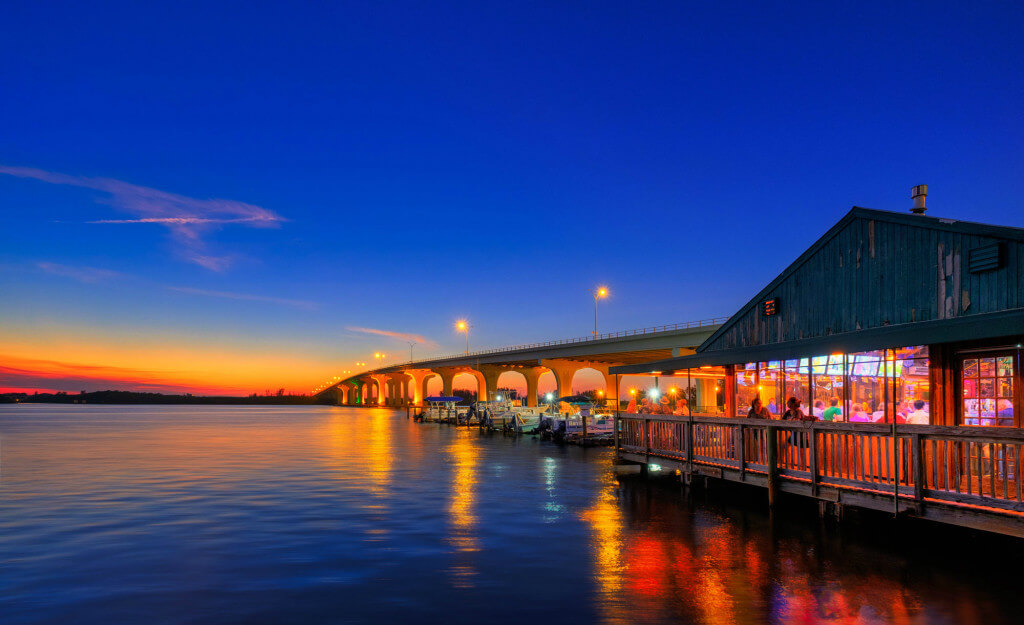 It's a Southern Thing
Marsh Landing is the best place in Fellsmere to hear a live five-piece acoustic band complete with banjo, mandolin, fiddle, guitar, and standup bass, a combination that will have your feet tapping in no time – every Thursday and Friday night. While you're there, enjoy a southern-style menu and signature cocktails.
44 N Broadway St, Fellsmere, FL 32948
Take Me To The River
The Tiki Bar & Grill sits on the banks of the Indian River in Sebastian. This waterfront bar is a fun place to hear 80's rock 'n ' roll every Monday night or sing your heart out Thursdays on karaoke night. Local musicians perform on Friday, Saturday, and Sunday. This is the place for fresh seafood plates, craft cocktails, and fabulous river views.
1109 Indian River Dr, Sebastian, FL 32958
A Local Favorite
Waldo's, at the Driftwood Hotel, is a lively beachfront venue and a local hangout. Dance the night away Wednesday, Friday, and Saturday on the oceanfront deck while local bands play classic rock and foot-tapping bluegrass music to help you get your southern groove on. Sunday afternoons are also a good time to drop by for live music. Enjoy American fare, brews on tap, and wine by the glass.
3150 Ocean Dr, Vero Beach, FL 32963
Bikers Welcome
Snowbirds and locals have been luv'in' Earl's Hideaway Lounge since the 1950s. It's one of those iconic "hole in the wall" places that have the best food, so do order the Stromboli and the pizza, which is said to be on par with New York City-style slices; both TripAdvisor and Yelp give this place 4.5 stars. The drinks are cold, and the music is always live – lots of blues, southern rock, soloists, trios, and full bands. Can't get enough? Buy a tee and wear it proudly.
1405 Indian River Dr, Sebastian, FL 32958
The Brewery Collective
In the mood for local craft brews with a side of live music? We've got you covered. Here are a few places not to miss.
Hoppy You're Hear
You had me at "Rapture Cherry Chocolate," which is one of the pours found at Pareidolia Brewing, a Sebastian staple located in the old post office. Sit inside for a funky vibe or enjoy an outside deck with views of the Indian River. Sip on Rye Me a River, Red Ale, UKE Can Do It, and Coffee Porter, to name a few. This is an award-winning pub house with a serious commitment to the community and a place where locals happily welcome visitors from around the world. They offer a large menu featuring American fare. Don't miss Crab E-Bills Smoked Fish, a local purveyor of the freshest Florida seafood on the East Coast. Now that we've got you fed and refreshed, it's time to sit back and enjoy local live music like blues and rock plus an entertaining open-mic night. There's a great time to be had in Sebastian.
712 Cleveland St, Sebastian, FL 32958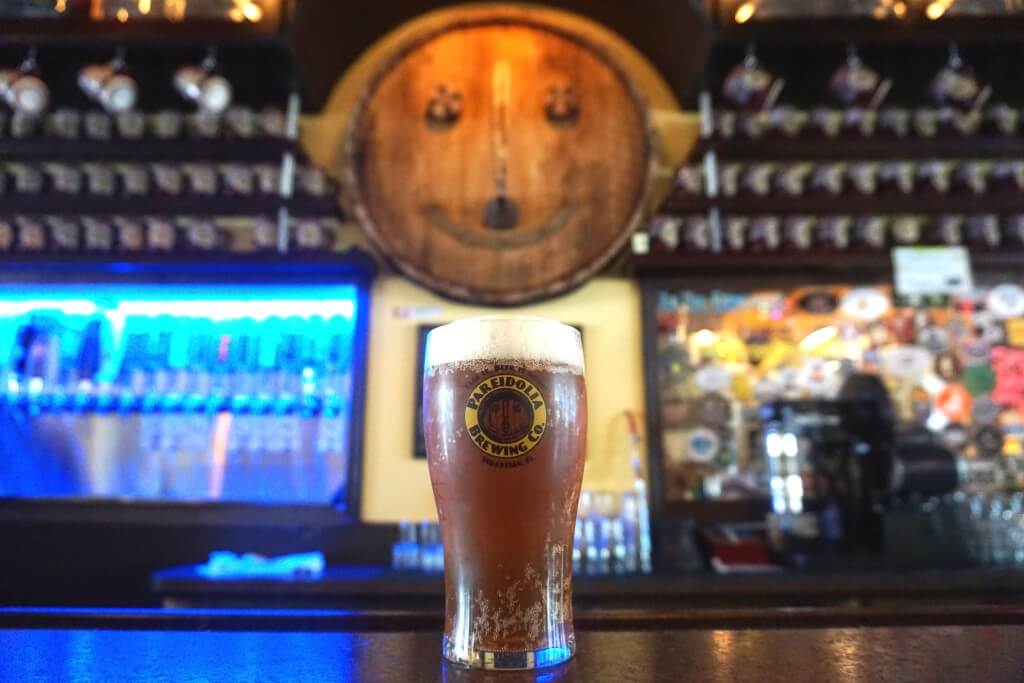 Monkey Business
A new addition to Sebastian's brewhouse scene, Mash Monkeys, will be celebrating its one-year anniversary on March 23, 2019. This hip brewhouse has more than 10 beers on tap; try the Pelican Island Pilsner or a variety of other German-styled pilsners. Order a bite from local vendors (menus available at the bar) and then sit back and relax with local musicians. Country, rock, and 90's 's-themed live music complement this little brewhouse with a big flavor.
920 US-1, Sebastian, FL 32958
On Tap
Thirsty for German-style brews? Well, it's time we introduced you to American Icon Brewery (AIB), which has more than seven beers on tap daily, with seasonal and specialty beers offered throughout the year. AIB offers patrons a hip industrial setting that suits Sunday Brunchers, daily lunches, happy hour devotees, and the dinner crowd. The menu complements the pours, offering a variety of sumptuous bites. Get ready to settle in as AIB is gearing up for a refresh on their live music events.
1133 19th Pl, Vero Beach, FL 32960
A Vero Beach First
Walking Tree Brewery was the first craft brew house to open in Vero Beach. It offers patrons a hip rustic and industrial setting, and like the indigenous mangrove trees, it also has deep roots in the community. This award-winning brewhouse provides guests and visitors alike with some of the area's best pale ales, stouts, and IPA's along with live music. It's a family, and Fido-friendly establishment, too. Drop by on Saturday for the farmer's market and a soloist act or give a listen to American classic rock'n'roll every other Friday evening and Saturday nights. This is a great place to mingle with the locals.
3209 Dodger Rd, Vero Beach, FL 32960