Favorite Beach Cocktails! Recipes to Quench Your Thirst from a Florida Dream Spot
Article posted January 4, 2017 on www.communitytable.parade.com
Welcome to "Behind the Bars," an inviting, travel-inspired interview series in which accomplished mixologists, spirit-makers, vintners, and brewmasters answer fun, feisty, fantasy questions.
My new bar talk spotlights Rachel Riley, head bartender-mixologist at Cobalt restaurant in the 113-guestroom Kimpton Vero Beach Hotel & Spa in Florida, along its Treasure Coast, overlooking the Atlantic Ocean. Born in Miami and raised in Vero Beach, Riley attended the University of Central Florida and then discovered her love of hospitality. Here is what Riley and I dished about.
Mixologist Rachel Riley. (© Kimpton Vero Beach Hotel & Spa)
What is your favorite cocktail?
I love a good Basil Hayden's Manhattan. I made this bourbon cocktail with my grandparents and it holds a special place in my heart.
What has been your happiest cocktail experience?
As an employee at a beautiful beach resort, I get to see many marriage proposals and weddings. The surprise engagements are my favorite!
With whom would you like to share cocktails once? (A fantasy question!)
Wanda Sykes [comedian, writer, actress]. She makes me laugh — and is a mom. She is smart and upbeat. I would love to discuss everything with her — from motherhood to politics. I really enjoy her. And my late father, who died when I was 8 years old. I would love to sit with him, as an adult, sipping a cocktail and talking with him.
What has been the biggest surprise about your career as a bartender-mixologist?
That I'm still doing it! This started as a college job and I am still doing it at 42, because I love it! I love that it is commonplace among adults of all ages to enjoy a great craft cocktail.
What has been your most important bartending lesson overall?
Appreciate everyone no matter how nice or mean they are — for what they can teach you about yourself. It took me a long time to realize that even difficult people walk into your bar for a reason. Understanding that made me a better person somehow.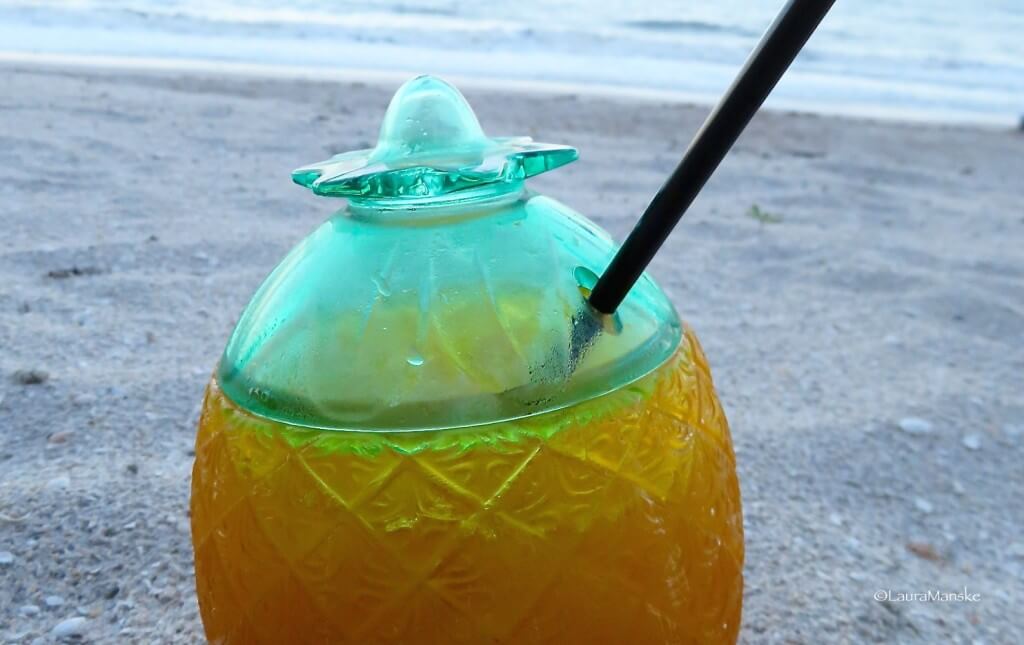 (© Kimpton Vero Beach Hotel & Spa)

What is your personal motto?
Life is too short not to enjoy it.
Which five words best describe you?
A mom, strong, sympathetic, sarcastic, and passionate.
What is the best thing that you have ever done to make yourself happy?
Had children. It has been the hardest, yet most gratifying thing. It brings me constant happiness.
Looking back, what career advice do you wish you could have heard as an 18-year-old?
Take your time to decide what you want to do in life. I don't like that I had to pick a major — a bachelor of science in communicative disorders — at age 18. I would have preferred to study my general education classes for two years before declaring a major.
What would guests sitting at your bar be most surprised to learn about you?
I love Nascar.
What is your favorite beverage book?
The Wine Bible by Karen MacNeil. Wine is my weakness. I love the book. It has taught me a ton.
How do you have fun when not behind the bar?
I most enjoy meals with loved ones: Lunch with my best friends, burgers with my kiddos, dinner dates with my husband.
What gives you the most pleasure working at the Kimpton Vero Beach Hotel?
It has given me freedom to build relationships with people from all over the world. I have been behind the bar at Cobalt for nine years — and I have made many friends.
What do you enjoy most about living in Vero Beach?
The small town feel. It is not a big city and it does not try to be. I love that about Vero Beach.
For more info: Contact Kimpton Vero Beach Hotel & Spa and Visit Indian River County, the tourism office that celebrates Vero Beach and its nearby towns of Fellsmere and Sebastian, as well as Visit Florida.
Written by, Laura Manske
A Frequent globetrotter that loves to explore the world, unearthing travel joy, beauty, adventure, and humor through her camera lens and articles. Based in NYC, she has been an on-staff editor at many magazines, as well as a freelance journalist. Her book, "Family Travel: The Farther You Go, The Closer You Get," is an anthology of passionate and lively stories about how travel can restore, revitalize, and reconnect loved ones of all ages. She has often been interviewed on radio and TV. Manske has visited most U.S. states, explored 80+ countries, and cruised 70+ ships.
Leave a Reply
Your email address will not be published. Required fields are marked *
You may use these HTML tags and attributes:
Name *
Email *
Website
Save my name, email, and website in this browser for the next time I comment.