IRC Artist Spotlight – Ella Chabot
After completing the Photographer Spotlight series we would like to continue our campaign by showcasing local artists and how they see Indian River County in their eyes. Whether it is a recreation of a scene or an abstract piece that was inspired by a location or business we want to include them all. To start things off we have selected Ella Chabot as our first local artist! To learn more about this amazing artist and see some of her work, check out the following Q&A and some photos of her work!
Special thanks to the Cultural Council of Indian River County for helping us select these amazing artists!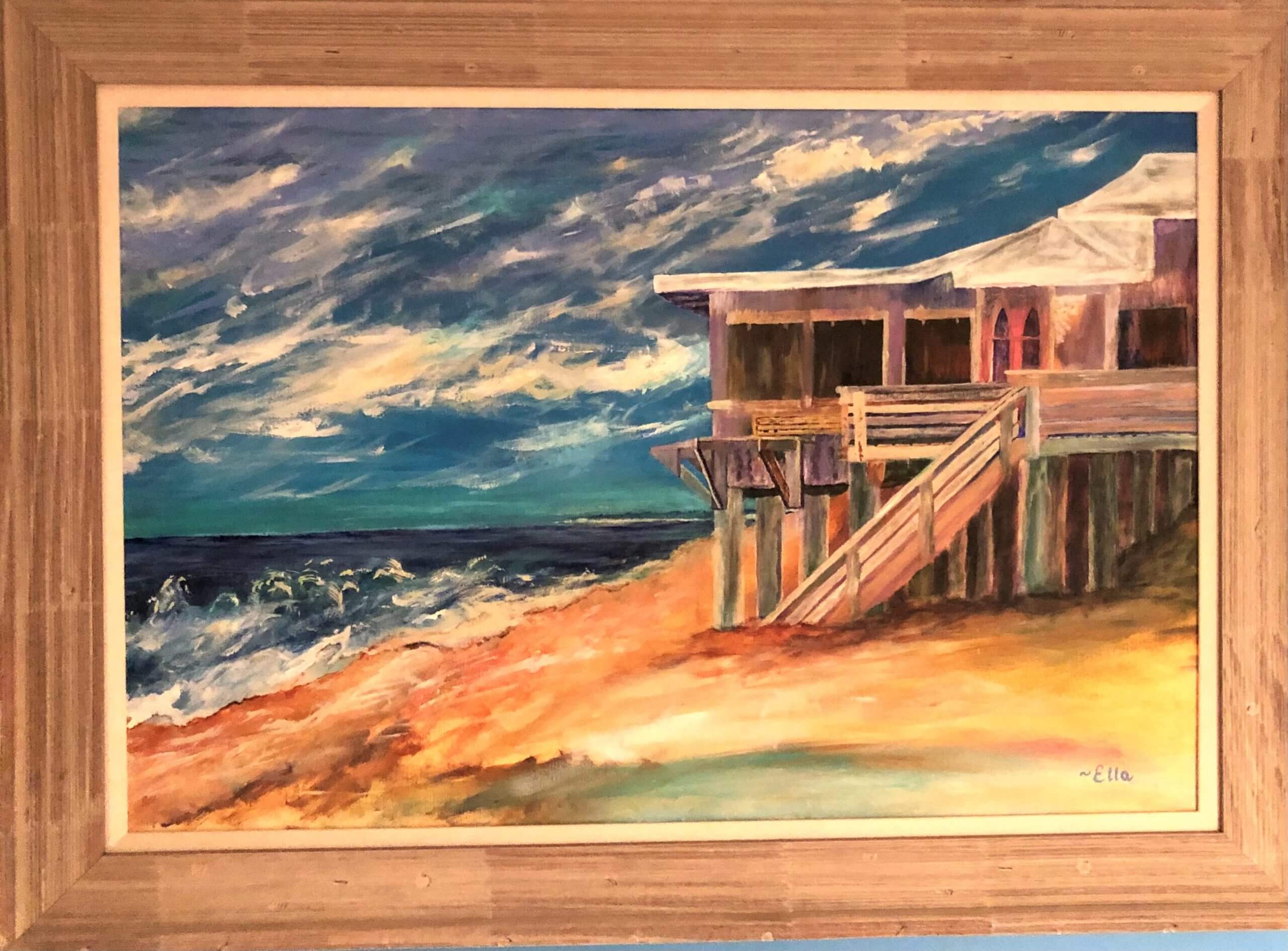 1. How long have you lived or have been visiting Indian River County?
I have lived in Indian River County for over 27 years.
2. What do you love the most about experiencing our county?
I love the wonderful people that live here and the great weather. I am a walker, and it's very elevating to be able to get outside year-round. As an artist, I love the lighting at different times of day, the colors, the flowers, the beautiful skies, the water, the beach, and interesting local scenery.
3. Which part of Indian River County inspires you to create your pieces?
The diversity of scenes in Indian River County inspires me to create. I just finished painting a view of Jaycee Beach Park, and the beaches are at the top of my favorite places to paint. I am also captivated by local orange groves, gardens, farms and ranches, historical buildings, the Indian River and Lagoon, the lovely oak hammocks, and the St. Sebastian River Preserve area to name just a few. I keep adding to a list of new places I would like to capture on canvas.
4. How long have you been working in this medium?
I work in multiple mediums, but most of my paintings of Indian River County scenes are in acrylic, with some in oils. I started painting in oils and acrylics about 25 years ago. I switched to using primarily acrylics because they dry quickly and are less apt to be smeared painting outside when the wind blows my canvas onto the sand!
5. Are you self-taught or did you go to school for art?
My undergraduate degree is in journalism, with a specialty in photography, so I did have photography, advertising design, and even a fine art course in college. Later on, I learned many painting techniques over two years of lessons with Vero Beach artist Carol De Groot Mann. From 2019 through 2020, I was enrolled in a curatorial program, working with Silvia Medina, the curator of the Raw Space Gallery in Vero Beach. Silvia's program, Art Concept Alternative, is focused on conceptual art, which stimulates ideas, questions, and thoughts via art. The ACA program encouraged me in some new directions, especially towards discovering innovative ways to incorporate recycled materials in my artworks.
6. What motivated you to dedicate your time to your art?
My creative quest began as a teenager, composing poems in my head, walking the family dog, shuffling through fallen leaves, in an old cow pasture converted to a nature preserve in Northern Virginia. Later, the gift of a camera launched my lifelong fascination with photography. Then, during a personally challenging time in my adult life, I was having difficulty concentrating. In the midst of that period, I had a vivid dream one night. I was painting with a group of artists in the mountains in this dream. Each artist, in a unique way, was painting the clouds above the mountains. The dream was so compelling that I was motivated to start painting. And I have not stopped!
7. What is your favorite area in Indian River County that is off the beaten path?
I have numerous favorite places in Indian River County, but if I have to pick one, it is under the Barber Bridge in Vero Beach. The bridge area has several beautiful views.
8. Is this a hobby or your business?
This is my business, Shot By Ella PhotoArt, LLC. My present focus is mostly on my paintings, but over the years, I have done photoshoots and created fashion shirts, glassware, and other products with my designs on them. My fine art prints are available at fineartamerica.com. My website and blog are here and more of my art can be viewed by following @studioellasea on Instagram. I also have a Cafe Press shop at cafepress.com.
9. What can our followers and readers expect from you in the future in terms of creative expression?
Life is full of exciting twists and turns, so I'm open to exploring new avenues and unexpected artistic adventures! I have a mixed media painting "Tissue Paper Sky Over Vero Beach" in the Environmental Learning Center's Cruisin' for a Cause annual fundraising auction event going on through April 10, 2021. Also, a couple of my recycled necklaces are on sale in the ELC's gift shop. Beginning March 19, 2021, three of my artworks will hang at the Indian River County Courthouse Art in Public Places exhibition. Anticipate paintings inspired during my 2018 trip to Italy to be part of an exhibition with an Italian flair being planned for October 2021 at the Italian American Civic Association of Vero Beach. I have several large works in progress in my studio that utilize recycled materials. My vision board includes a future exhibition featuring only sustainable art pieces. Of course, I'll be out and about with easel, brush, and paints, en Plein Air painting, striving to complete my bucket list of places I still want to paint in Indian River County.
A brief bio…
Ella Chabot calls Indian River County, FL home. With artworks that can be digital, paint, and more, including recycled items, the artist draws her inspiration from the earth and natural universe. She favors bright hues, expressing vibrancy and motion. She strives to manifest art that uplifts. In even her most grave works, there are elements of renewal and rejuvenation. In November 2019, she exhibited internationally for the first time at International Print and Artworks on Paper, Euskalduna Palace, Bilbao, Spain. Chabot hails originally from Washington, D.C. A former non-profit children's art director, she has a master's degree in communications and a bachelor's degree in journalism, with a specialty in photography. Her company is Shot By Ella PhotoArt, LLC
We hope you enjoyed learning about Ella Chabot and how Indian River County has been her home and also her inspiration at times. If you'd like more from Ella be sure to follow her on social media and head over to her websites!