IRC Artist Spotlight – Iris Peters
The Artist Spotlight showcases local artists and how they see Indian River County in their own eyes. Whether it is a recreation of a scene or an abstract piece that was inspired by a location or business we want to include them all. This month's artist is Iris Peters! To learn more about this amazing artist check out the following Q&A and some photos of her work!
Special thanks to the Cultural Council of Indian River County for helping us select these amazing artists!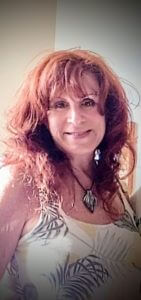 1. How long have you lived or have been visiting Indian River County?
I have lived in Vero Beach for about six years. When we first came down to Florida from Baltimore, we bought a boat to live in. At first, we ended up in Stuart as we needed a marina that would let you live-aboard. That did not work out, so we found a marina in Vero beach that allowed us to stay on our boat which we did for five years. So much fun to take our "home" up and down the east coast and to the Bahamas.
2. What do you love the most about experiencing our county?
So many things to love about this county! It's a smalltown feel. It's an arts district. The restaurants are wonderful! I also love all the folks I have met here. And the wildlife, beautiful birds and sea creatures. And the sunrises and sunsets are gorgeous.
3. Which part of Indian River County inspires you to create your pieces?
When I lived in a boat here in Vero Beach, I got to see pelicans landing on dock poles, manatees and dolphins, and other fish right in front of my eyes without leaving my "home". When walking my neighborhood, I could always spot cranes, egrets, ibises, and spoonbills. Great inspiration!
4. How long have you been working in this medium?
I started in acrylics about 10 years ago and have not strayed. I love the easy clean-up and vibrant colors.
5. Are you self-taught or did you go to school for art?
I am self-taught, though I have taken some painting classes which were really helpful.
6. What motivated you to dedicate your time to your art?
I have always been creative one way or another, usually by designing and knitting garments. As a child, I loved paint by numbers and clay modeling. In Baltimore, I began painting on glass and beading wire to make wine charms and napkin rings though when I arrived in Florida and saw all the colorful birds and
beautiful oceans and streams, I found new inspiration.
7. What is your favorite area in Indian River County that is off the beaten path?
I love South Beach! Camming, relaxing, and exciting at the same time.
8. Is this a hobby or your business?
This is a hobby though I am involved in many exhibits and shows here. Happily, painting has taken over a good part of my life.
9. What can our followers and readers expect from you in the future in terms of creative expression?
Though I paint mostly embellished realism, I sometimes enjoy adding sand and shells to my pieces. I have begun to explore acrylic pour art, which is definitely abstract. Fun but messy, and you never know the results you will get once the paint is spread on the canvas, the colors have a mind of their own!
A brief bio…
I love living here in Vero Beach, transitioning from Baltimore Md about six years ago. I had slowly grown to dislike the winters there as everything seem to turn to grey, though nature in the spring, brought life back around the Chesapeake Bay where I lived. Until recently I lived in a boat. With little room, one must be a bit creative. I liked to paint out over the cockpit table looking over the water watching dolphins and manatees play. I have always been somewhat creative in one way or another, usually through designing knitted garments. Back in Baltimore, I began painting wine glasses and gave them out as gifts. Then I twisted jeweled wrapped wire around wine glasses which I sold at craft fairs. Though I began acrylic painting in Baltimore, it wasn't until I moved to Florida that a world of color, and what seems like an eternal abundance of bright and subtle shades in all kinds of sea creatures, Florida birdlife, and the ocean really piqued my expressions in my paintings. Though realistically as possible, my art has exaggerated colors. Color to me means happy, calm, joyful, and I strive to convey that feeling. Sometimes I like to add dimension by using shells, sand, and sea glass in my pictures. Recently I am exploring acrylic fluid art. Paint colors thinned out with an additive are poured onto the canvas and moved around using different methods. I love the color combinations achieved in acrylic pour art and am continuing to develop my style. I have taken part in many events in and around Central and South Florida, including Art in the Park, Space Coast and Melbourne Fine Art Festivals, and Under the Oaks where I sell a great deal of my art. I sell under Iris SeaArt and have a Facebook page and website under that name. I do try to improve my technique thru challenging myself and stepping into more intense, detailed scenes and references to transfer onto canvas.
We hope you enjoyed learning about Iris Peters and her artwork! I know we love to see creativity and be sure to head to her Website or Facebook!