Make memories that last in Indian River County
Nothing bonds a family quite like a vacation. Whether you're jetting off to a new destination or loading up the minivan to drive to a family favorite, there's a sense of adventure that sticks with you and forms memories that last a lifetime.
While the strongest memories tend to be about the time you spend together – arguing with your sister in the back seat, watching dad cannonball into the pool, discovering just how competitive mom is at board games – it certainly helps when those memories take place against a magical backdrop.
Well, magical backdrops are what Indian River County does best. From unspoiled (and uncrowded) beaches, to natural wonders, to adventures designed just for kids, Indian River – which includes Vero Beach, Fellsmere and Sebastian – offers visitors an opportunity to make memories that will last a lifetime.
Sun, sand and sea
With more than 22 miles of pristine beaches, Indian River County is the quintessential seaside getaway. What most visitors notice first, though, is what's missing: the never-ending view of high rises and condo towers that make so many Florida beaches feel more like tourist traps than a chance to relax surrounded by natural beauty. Here, the sand and the sea are the main attractions and every effort has been made to keep them unspoiled by development.
Ambersands Beach Park, in Vero Beach, is the area's crown jewel. Part of the adjacent 284-acre Archie Carr National Wildlife Refuge, the beach is nearly 20 miles long, and even during high season, you're as likely to find yourself sharing the sand with sea turtles as people. The area is one of the most important sea turtle habitats in North America, and those lucky enough to spot hatchlings crawling furiously toward the surf won't soon forget it.
Further north, in Sebastian, you'll discover Sebastian Inlet State Park. Located at the spot where Indian River breaks through the barrier island and joins the Atlantic, the park is popular with surfers and fishermen alike. For families, though, the real highlight is the park's tidal pool, a shallow, sand-bottomed area cut off from the ocean by a narrow rock jetty. It's a perfect spot for swimming, as well as spotting tropical fish and starfish.
Kid-sized adventures
There are plenty of adventures to be had in Indian River County. For adult thrill seekers, options include everything from skydiving to snorkeling in a shipwreck, but younger children will find excitement too. The Treasure Coast Kids Quest is an especially popular option. Real-life treasure hunters have been drawn to Vero Beach ever since 11 Spanish galleons loaded with gold and silver sank during a hurricane in 1715. Now kids can join in the fun with a virtual-scavenger-hunt-style trek to some of the area's top attractions, including the Environmental Learning Center, where they'll enjoy touch tanks, and the Mel Fisher Museum, where they'll see real-life pirate treasures and can hold a gold bar recovered from the wreck of the Atocha.
The 18-acre McKee Botanical Gardens feature tons of kid-friendly activities and educational programs. Among the most popular is the Lily Pad Water Walk, a play space featuring a splash fountain, fairy gardens and a life-size pirate shipwreck play area. And for kids who couldn't possibly come to Florida without getting a little Disney, there's Disney's Vero Beach Resort with its themed play areas, campfire singalongs and character breakfasts with Goofy and the gang.
Wilderness fun
Venture inland from the beach and you'll discover a part of Florida that time seems to passed by, including Pelican Island National Wild Refuge, the oldest national wildlife preserve in the country, and home to hundreds of species of birds and mammals.
Spanning the Atlantic Ocean and the Indian River Lagoon, Round Island Park is a popular spot for canoeing and kayaking. For those who prefer solid ground, there are plenty of boardwalks, trails, an observation tower and playgrounds too. Best of all, during the winter months, the area is popular with manatees, Florida's official state marine mammal. If spotting one of these gentle giants is on your bucket list, a visit to Round Island just about guarantees you'll spot them.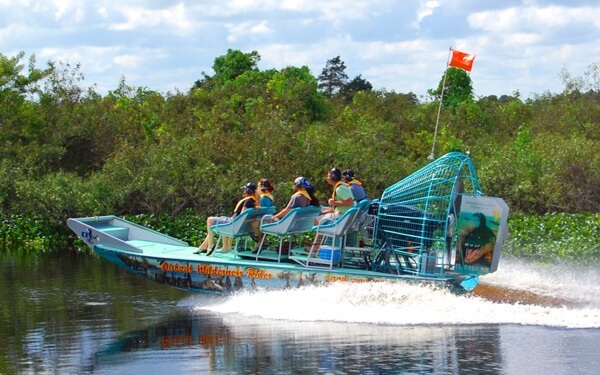 For a one-of-a-kind experience, Airboat Wilderness Rides offer a glimpse of Florida at its wildest. The hour-long excursions present an opportunity to see gators and tropical birds in their natural habitat, the untouched marshlands of Lake Garcia.
While you're here
All this outdoor fun is sure to work up an appetite. Luckily, Indian River County has dining options for every taste. Of course, fresh (and we mean fresh) seafood is the star here. Riverside Cafe in Vero Beach serves both traditional fare as well as more contemporary takes on the region's cuisine. Don't worry: There are plenty of choices for the chicken-fingers-only crowd too!
When it's time to lay your head down for some well deserved rest, you'll discover options for every budget. Driftwood Resort, which opened as the Driftwood Inn back in 1935, is an iconic Florida destination. Located right on the water, Driftwood offers a unique "Old Florida" experience (but with all the modern conveniences). Capt. Hiram's in Sebastian sits on the shores of Indian River and specializes in a laid-back Caribbean vibe. For families looking for privacy, there are tons of vacation rental properties.
Needless to say, restaurants and resorts in Indian River County are taking all appropriate coronavirus precautions, so you can relax and focus on fun.
So start making memories that will last a lifetime. Get your Indian River Travel Guide today.
Leave a Reply
Your email address will not be published. Required fields are marked *
You may use these HTML tags and attributes:
Name *
Email *
Website
Save my name, email, and website in this browser for the next time I comment.