Looking for the perfect family vacation spot on Florida's Treasure Coast? Places that will have your little ones squealing with joy and your teens miraculously disconnecting from their smartphones?  Look no further than Indian River County and delight in 22 miles of picture-perfect beaches, 29 parks, and preserves, plus hidden treasures and family-friendly activities. Wondering where to stay? Disney's Vero Beach Resort is unique as it's the only resort not located within a Disney theme park. Worried about leaving Fido behind? Don't, the Kimpton Vero Beach welcomes dogs with open paws. If you've gotten bitten by the vacation rental bug; Laurel Homes and Dale Sorenson vacation rentals offer a bevy of choices.
We have a few ideas we think will impress the little ones, teens, and in-betweens. Read on to learn more.
Top Family Vacation Spots
Treasure Coast Kids Quest!
Treasure Coast Kids Quest is a new attraction that is getting kids of all ages excited. We hope you have fun visiting and exploring each of these amazing Treasure Coast locations. Each spot has a highlight activity to achieve. Visit all six locations to earn your Treasure (PRIZE)! Here is a list of basic instructions.
Complete the highlight activity at each spot.
Have a parent or guardian post a photo on Facebook at each partnering location.
This photo must show proof that you participated.
Tag @tckidsquest on Facebook and the appropriate partner page.
Claim your Treasure at the Indian River County Chamber of Commerce located at; 1216 21st St., Vero Beach, FL 32960.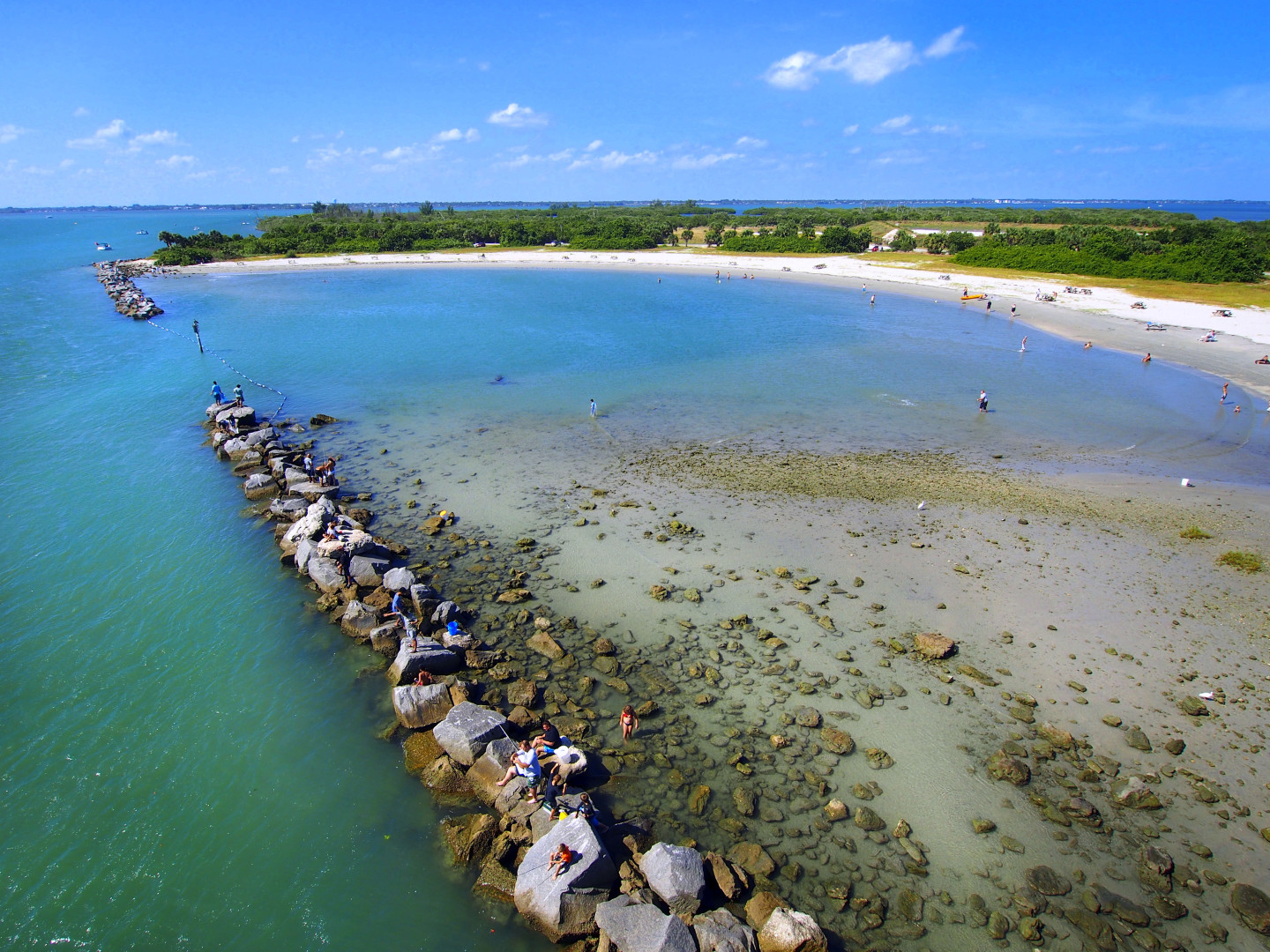 Surf's Up!
With more than 10 unique beaches to choose from, families can spend the day reconnecting over simple pleasures like sand-castle building, frisbee throwing, paddleboarding, beach picnics and more. And if you're traveling with a surfer, don't miss Sebastian Inlet State Park, which is famous for gnarly waves, and surfing competitions. Beyond surfing, Sebastian Inlet is an excellent place for families with small children. The area is walled in by huge rocks, which keep the waters calm so little ones can wade in, splash, and swim without rip currents. Often times you'll witness children and adults alike jumping up-and-down delighted to catch sight of a manatee or two; they too love these warm, calm waters.
The inlet is a favorite spot for pier-side fishing, and it's an excellent way for families to bond and engage. Need a break from the hot afternoon sun? Walk on over to The Sebastian Fishing Museum located near the fishing pier. The museum is devoted to the area's legendary fishing history. The park also offers camping. Make reservations early as spots sell out quickly. A concession café, B&G Surfside Grill and Adventures, plus picnic facilities host hungry families.
While you're in the area, you may want to visit The McLarty Treasure Museum a two-minute drive from Sebastian Inlet. This is an intimate museum, easy for little ones to navigate. It's a fun place for families to sneak a peek into the world of sunken ships, recovered booty from the area's treasure fleet, and tales of shipwreck survivors and fables of local Native Americans.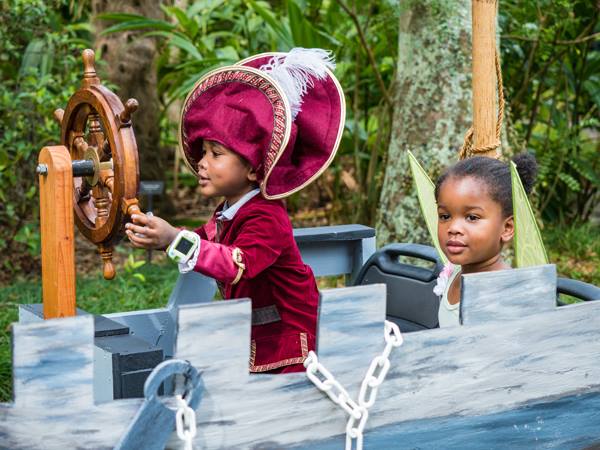 Who Doesn't Love a Whimsical Fairy, a Giant Pirate Ship, and a Lily Pad Water Walk?
National Geographic listed McKee Botanical Garden as one of the "22 Most Soothing Places of Surprise and Sanctuary in North America." Today McKee is expanding with a new Children's Garden, slated to open in September 2019. This children's area offers a Lily Pad Water Walk, splash fountain, and air-suspended bamboo bridges, while tired children can take a rest in shaded bamboo huts. A life-sized pirate shipwreck will have little ones oohing and ahhing while a line of gigantic mushrooms will lead children into the fairy forest then onto the fairy house. Another gathering spot for children is the education amphitheater to see a play or participate in workshops and crafts programs. Reading programs are available at the Blue Crab reading circle and Stumpery.
Backpacks Filled With Discovery
A compass, a magnifying glass, guides, and journals are the tools needed to start exploring 18 acres of tropical terrain at McKee Botanical Gardens. New this year, children will have access to five different backpacks, each featuring an original way to interpret the gardens.
First is The Garden Explorer providing the perfect way to learn about the garden and its unique features. The second backpack is named Choose Things with Wings, well you guessed it, is all about identifying the many-winged creatures that call the gardens home. It's a Bugs World is the third choice, and this backpack helps children identify a variety of bugs and also encourages collecting various species. The fourth choice is Plantastic a top pick for children 9-12 who are interested in the environment and botany. Last, but not least, is Survival: Lost in the Jungle where children learn and/or polish their survival skills. Note: all of the backpack activities encourage writing and drawing. This is a free garden activity.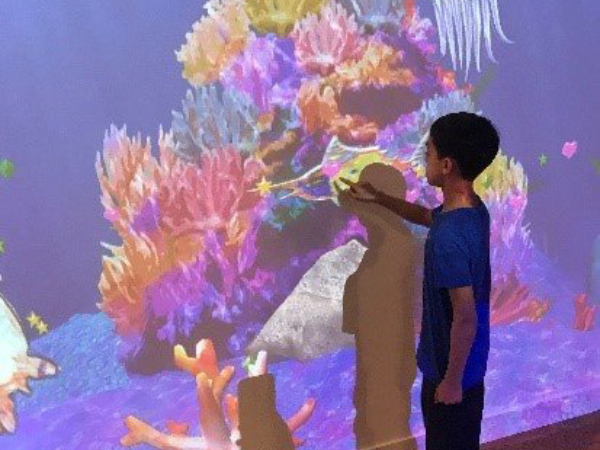 Kids Get Creative at the Art Zone
The Vero Beach Museum of Art's dedicated Art Zone is a top spot for children featuring hands-on activities whiling encouraging artistic play and exploration using all five senses. With more than ten different play areas, including magnetic and chalkboard walls, a giant puzzle floor, a ceiling comprised of major constellations, a gallery wall, a puppet theatre, and an interactive sketch aquarium, children can spend hours or days creating works of art. Even the modular furniture was designed with kids in mind as pieces are reimagined into tables, chairs, tunnels, and cubbies.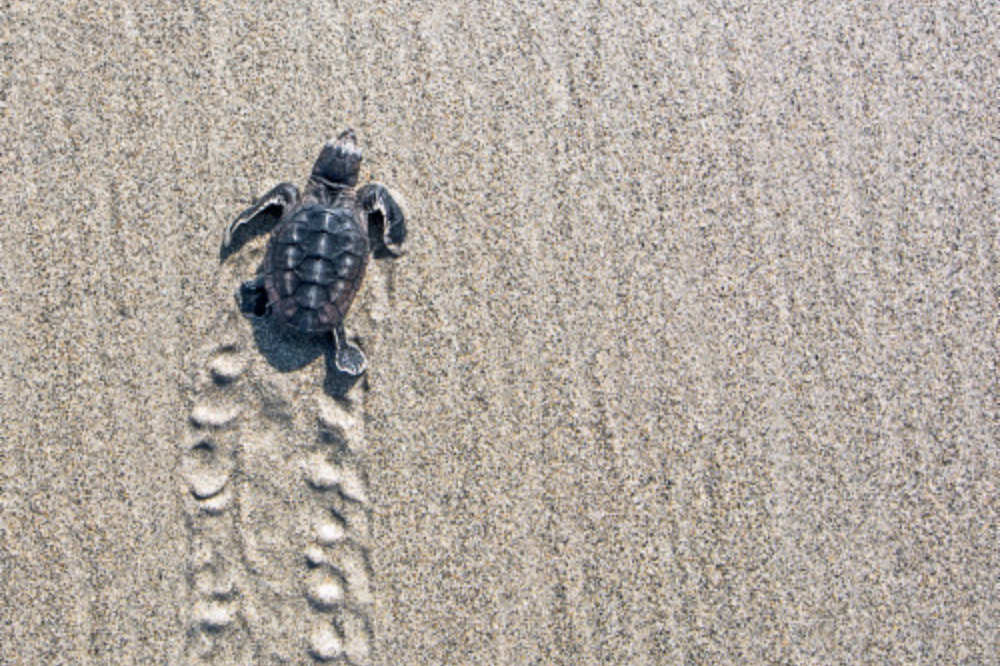 More Than 100,000 Turtles Hit Florida's Beaches During the Summer Months
Vero Beach is one of the most prolific nesting spots on the Atlantic Coast. During June, a variety of turtle walks are available at the Archie Carr National Wildlife Refuge and the Sebastian Inlet State Park. Both locations offer day and evening turtle tours. NEWS: July is "turtle dig month." Join Indian River's own dedicated environmental scientist beachside as she explores empty turtle nests and reports her scientific findings. Turtle Tip: You may even see a baby turtle break free and head for the beach to start the long journey into adulthood.
For families seeking entertaining outdoor activities, Countryside Citrus is a Vero Beach staple offering two annual events. Winter welcomes Strawberry Fest, and fall is the season for corn maze fun.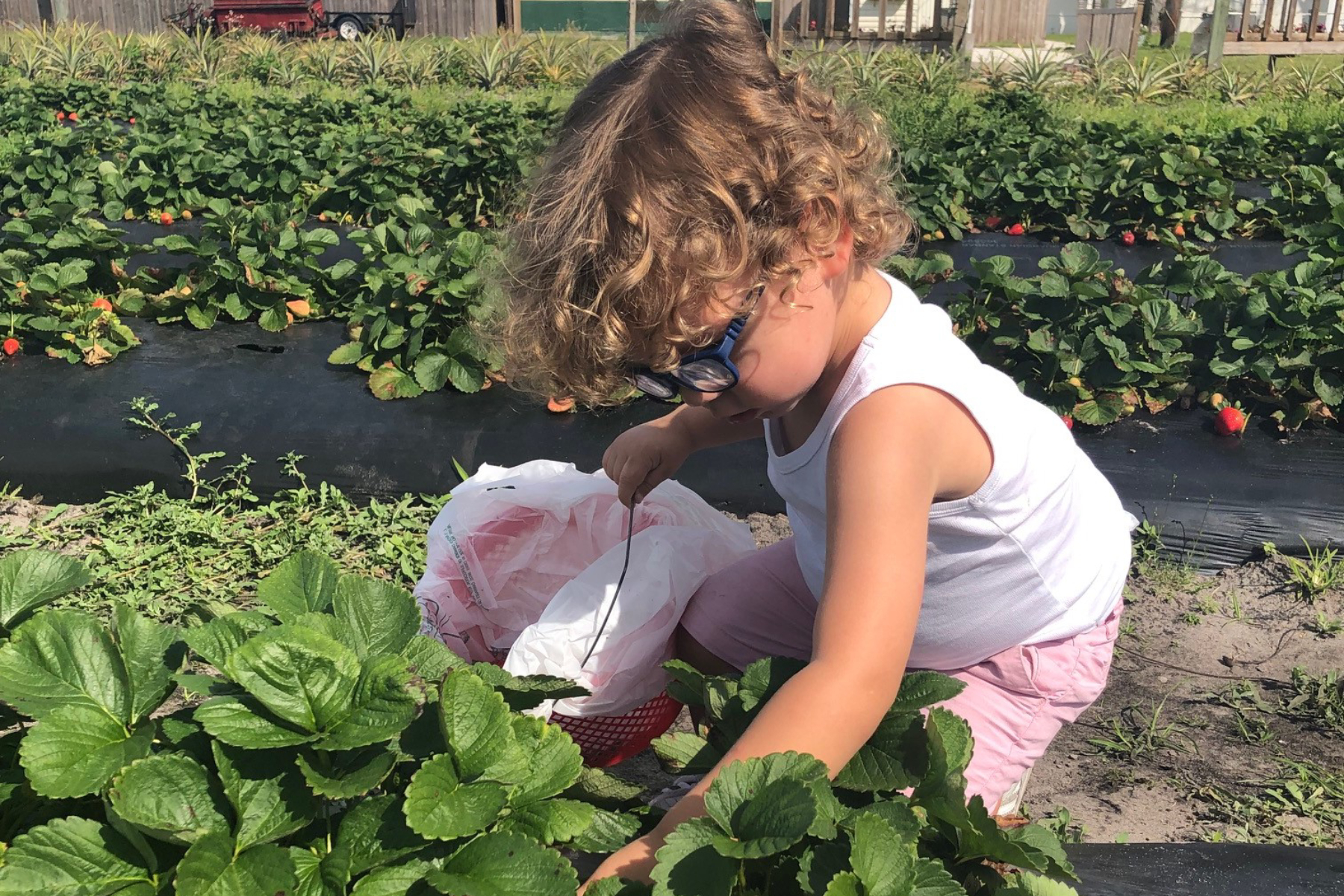 Thinking of fresh strawberry smoothies or strawberries dipped in chocolate? Then head on over to Strawberry Fest for "you-pick" opportunities to harvest the best, homegrown strawberries in the area. This is a fun day for families to get out in the great outdoors, and it provides teachable moments about the environment and healthy eating.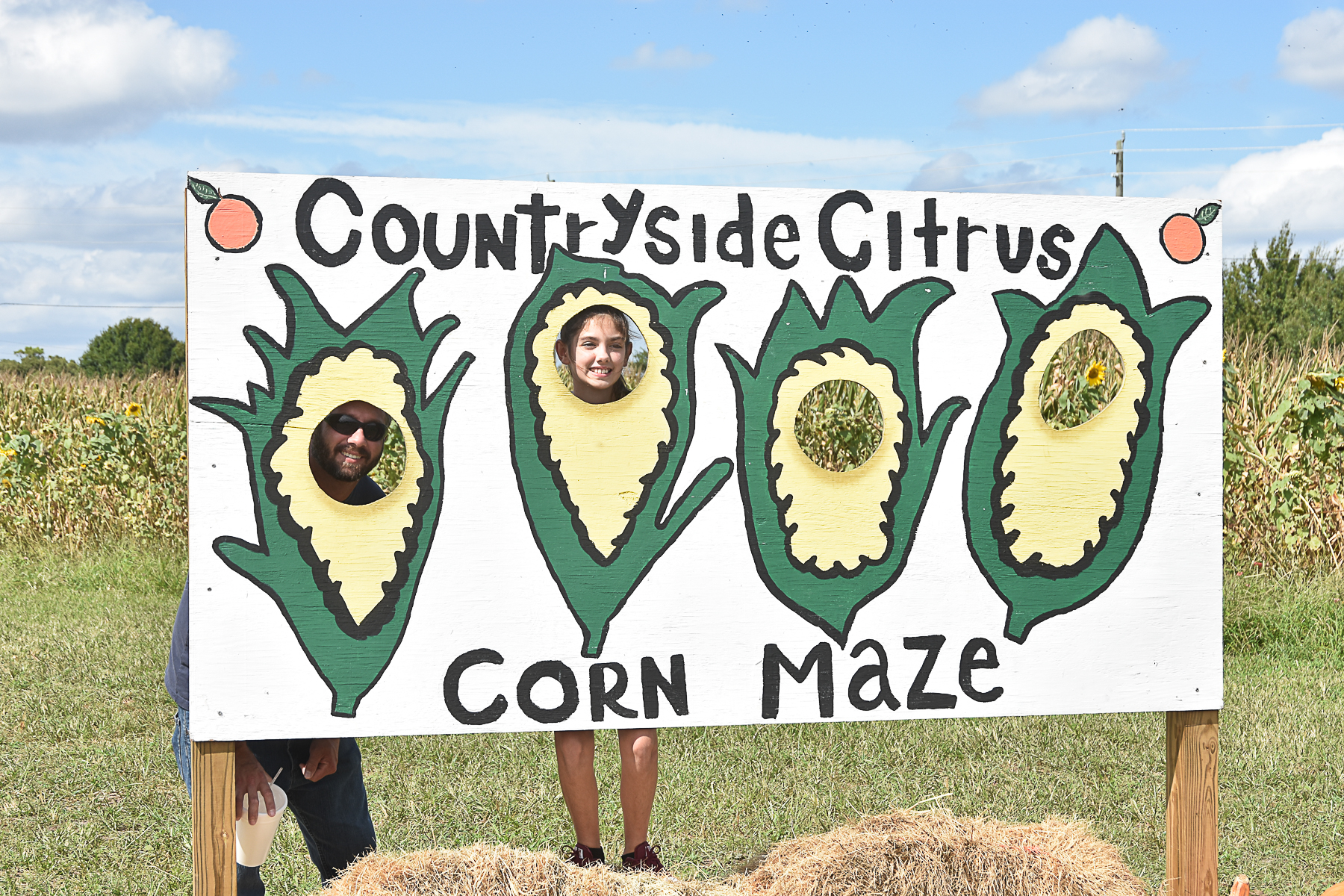 Corn maze season kicks off each year when several acres of farmland is dedicated to creating a maze with riddles hidden deep within. Sometimes the fun is all about getting lost and taking a wrong turn, but don't fuss if you need help. "Corn cops" are on the spot and ready to guide you on your journey. Beyond wandering the maze, enjoy hayrides, a jumping pillow, rat roller, pumpkins, a corn cannon, a hillbilly hootenanny, and then some. If you're getting hungry after all of that fun, hot dogs, pulled pork, chicken tenders, and Countryside Citrus's famous soft-serve ice-cream (made with real oranges) are available.
Families from South Florida and landlocked beach goers from Orlando escape to Vero Beach to enjoy some of the most pristine beaches in the Sunshine state. The destination's motto "Sunrises, not high-rises" is not a marketing gimmick but a promise to all who visit this 26-mile paradise. Hotels and resorts with rooftops no higher than swaying palm trees make the area irresistible for families who love fun-in-the-sun. Beach-goers here are more likely to encounter a loggerhead sea turtle hatchling, a ghost crab or watch as brown pelicans dive for their dinner. This seaside town delivers a casual coastal vibe, an unhurried style and extraordinary wildlife adventures.
The area is celebrated for its many unique family-oriented festivals, check out the destinations festival calendar here and for additional information visit here. Also we would love for you to join our thriving online community via: