"My Top Ate Burger Joints" – Treasure Coast Foodie
As more and more restaurants begin to open up in our community, we decided to partner up with our local "Food Expert" himself. Thomas Miller aka Treasure Coast Foodie! As you can already tell... he's sharing with us his favorite burger joints in Indian River County.
Written by Thomas Miller of Treasure Coast Foodie
Who's craving a big juicy cheeseburger right about now? I know I am! I like mine made with a soft brioche bun that's been lightly toasted and slathered with a good roasted garlic aioli on both the top and bottom bun. A good quality beef patty is a key to any burger and it must be cooked to a perfect medium with two slices of a sharp cheddar cheese melted over top. I only like a small amount of ketchup and grain mustard, I don't want them to overpower the other flavors. The veggies must be very cold and placed on the burger right before they serve it to me. As I sit and wait for my order, the anticipation is killing me as I think about how delicious this is going to be. Picking up the burger and taking that first bite is always the best. The soft delicate bun flanked by cold crisp veggies and the juice from the beef patty that starts to roll down your chin and gets all over your hands. There is a certain satisfaction I get when taking a bite and the mouth feel that makes me so very happy!
Now that I've wet your appetite, below are my "Top Ate" places when I'm craving a burger to go get one, in no particular order.
Big Shots Golf Vero Beach
Located inside Big Shots Golf is their full service restaurant called The Bunker Bar & Grill. If you're not familiar with them yet, you need to be. Their burgers, along with all their food are really good. Chef Tom comes to The Bunker with lots of experience in fine dining from a previous stint at Citrus Grillhouse. Pictured above is their Black 'N Blue Bacon Burger.
Bobby's
Located on the island, Bobby's Restaurant & Lounge is one of the most suggested places to grab a burger by many long time Vero Beach residents. While it's been a while since I've last been there, you can always count on a great quality burger from this Vero institution.
Casey's Place
Casey's Place is probably one of the most suggested places to grab a burger in Vero Beach. They have been serving the community for over 38 years and they are still going strong. Did you also know they are open for breakfast too? They have one of the best egg sandwiches I've tasted in quite a while.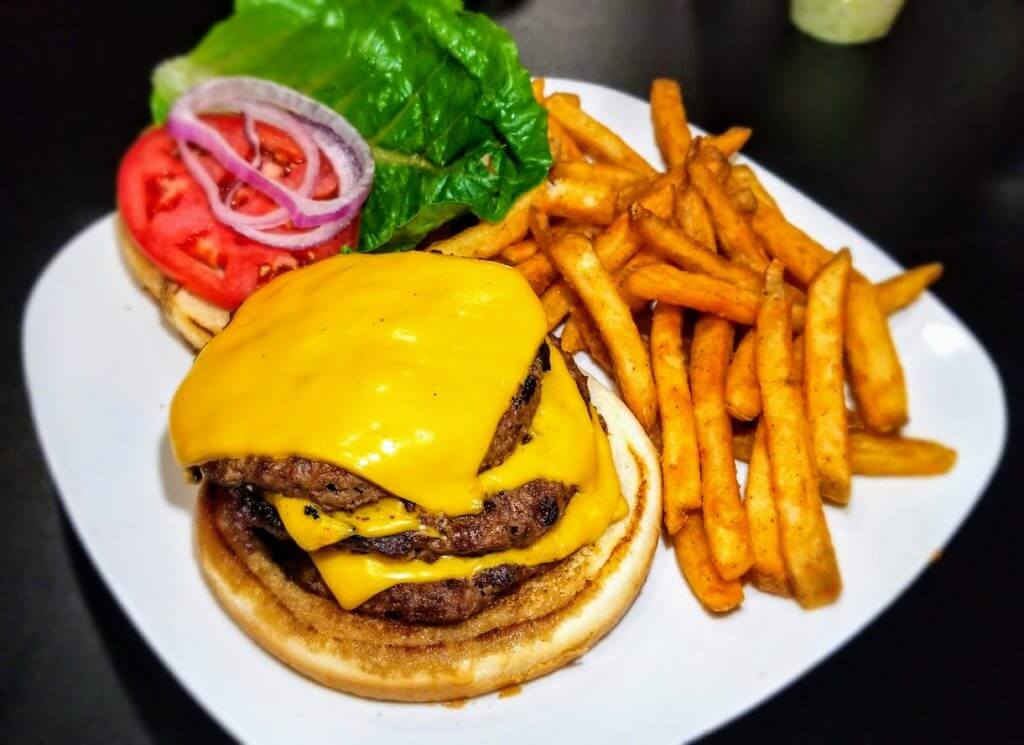 Crab Stop of Vero Beach
My next choice might seem unconventional because their main focus is seafood, but the Crab Stop of Vero Beach (and Sebastian too) has one of the best burgers in the area! It's called "The Hurt Me Burger" and for good reason. It has 3 beef patties layered with cheese and stacked up high! Next time you're there, I dare you not to order seafood and try this awesome burger!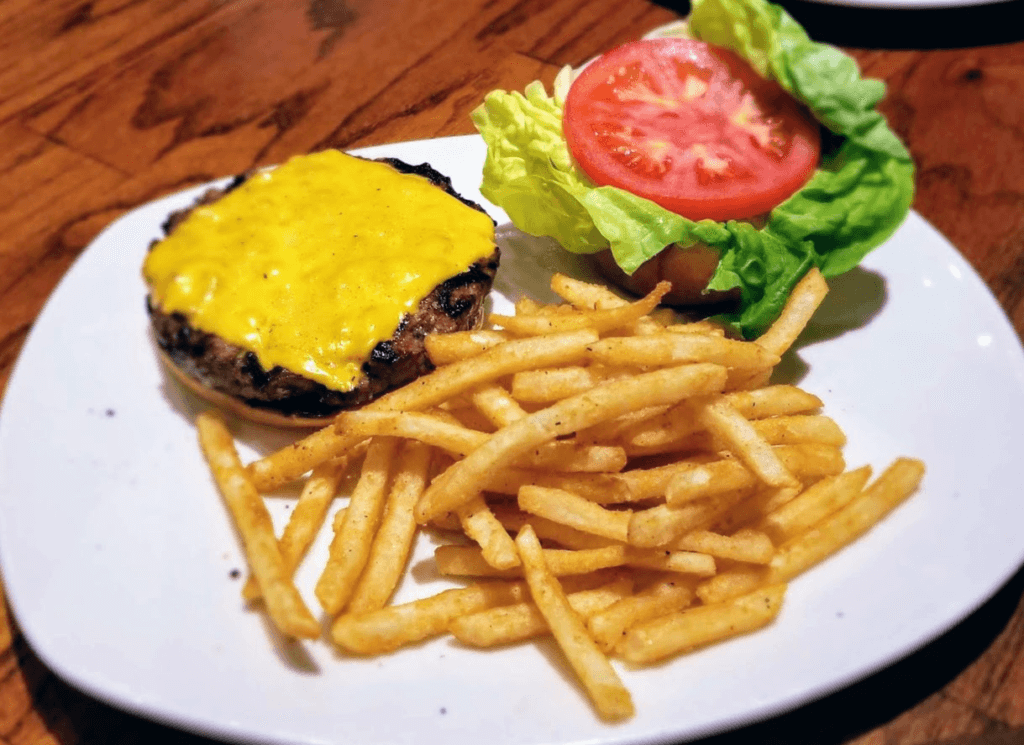 The Green Marlin Restaurant
Although they are known for their fresh seafood, they have a wide variety of items on their menu to satisfy just about anyone, and burgers just happen to be one of them. With over 10+ different choices, you can never go wrong with a burger and fries from The Green Marlin Restaurant & Raw Bar!
Inti International Restaurant
Next up is one of the most unique burgers you will find in Vero Beach, or anywhere for that matter. Pictured above is the "Inti Burger" from Inti International. If you're in the mood for something a little out of the ordinary, then give these guys a try!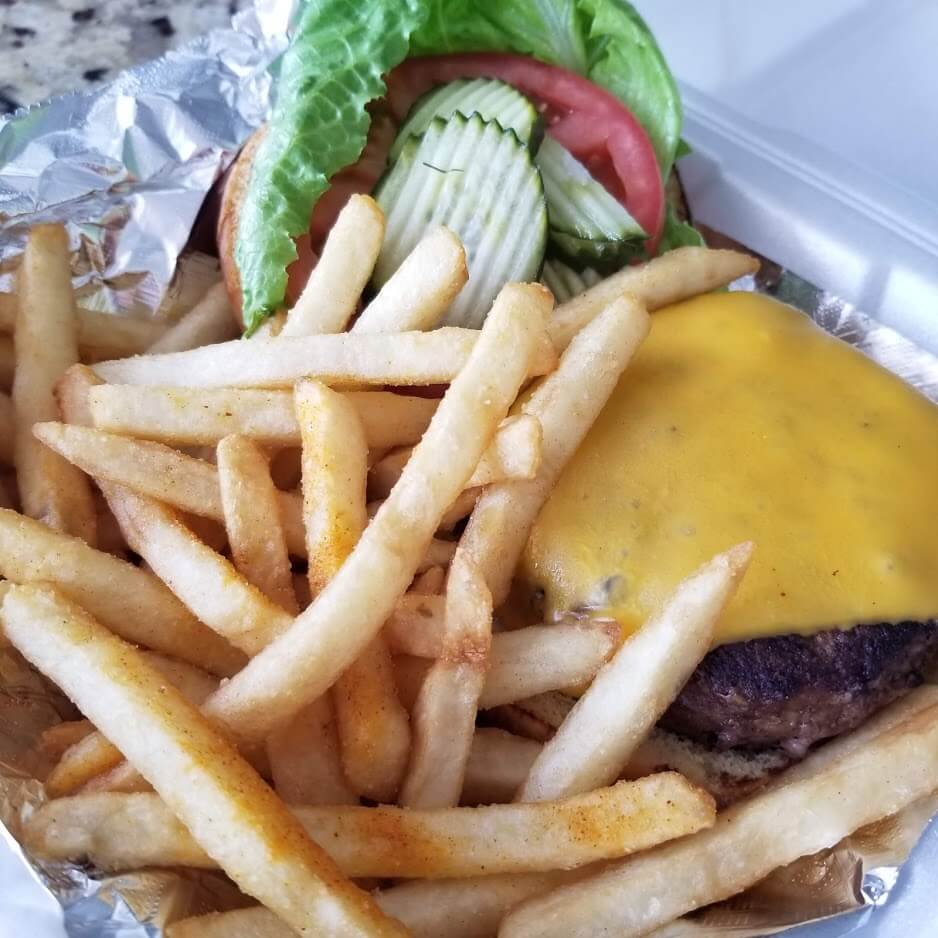 Cafe 66 Vero Beach
One place that we seem to frequent often because it's close to home is Cafe 66. With a wide variety of burgers to choose from, you can never go wrong with the classic Ranch Hand Burger with french fries!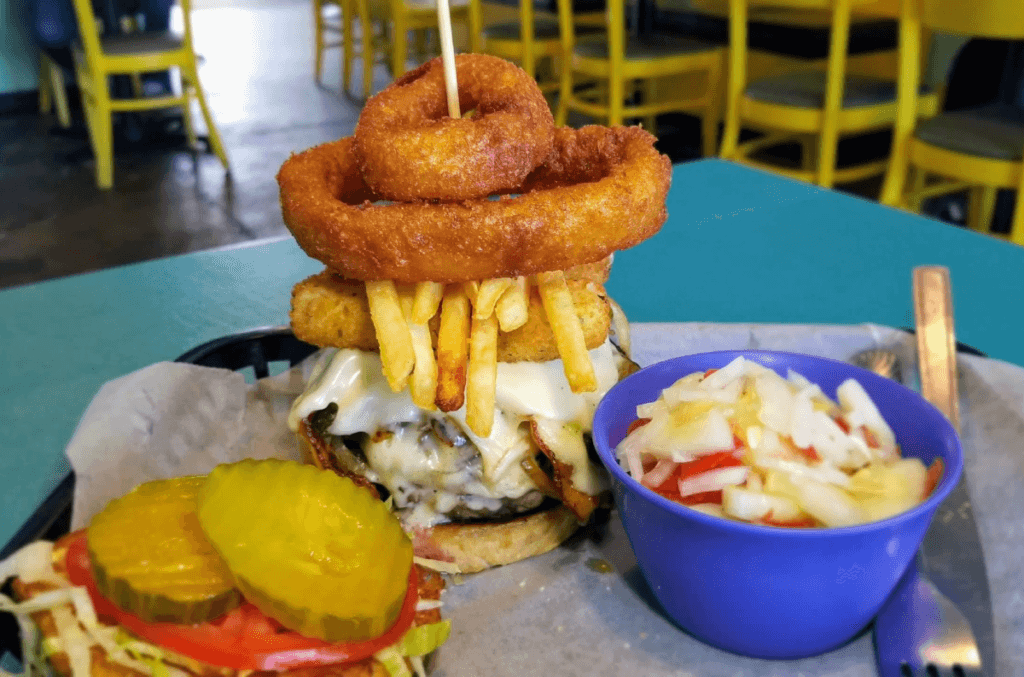 Sebastian Sandwich Shack
Last up on my "Top Ate" list but certainly not least, is this "MOTHER OF ALL BURGERS" or aka The MOAB! I first learned of this burger last year and took my best shot to take a bite of it and failed miserably. If you don't mind a short 20 minute drive north to Sebastian, stop by the Sebastian Sandwich Shack and see if you can put this thing away. Much respect if you can, because this thing is HUGE!
That concludes my "Top Ate" Burger Joints for now. Do you have a favorite place that I did not include? Sound off in the comments below and let me know so I can go check it out!
Thomas Miller, aka "The Treasure Coast Foodie" and "The Foodie Guy" is big on organic everything and very particular about his butter. He has reviewed over 150+ local restaurants in the last 5 years and is invited by Disney to review the EPCOT International Food & Wine Festival every year. His food photos are devoured by 10's of thousands monthly on The Treasure Coast Foodie website and as a Google Maps Local Guide, his photos have been viewed over 20 million+ times. His foodie tribe is over 14,000+ people right here in Vero Beach and his VIP Foodie Dining Experiences are some of the Top Culinary experiences in Indian River County and beyond.
One thought on ""My Top Ate Burger Joints" – Treasure Coast Foodie"
Michael Jones says: June 9, 2020 You need to try the Black and Bleu burger at Post and Vine! Capt. Butchers has a pretty good Black and Bleu burger also.
Michael Jones says:
You need to try the Black and Bleu burger at Post and Vine! Capt. Butchers has a pretty good Black and Bleu burger also.
Leave a Reply
Your email address will not be published. Required fields are marked *
You may use these HTML tags and attributes:
Name *
Email *
Website
Save my name, email, and website in this browser for the next time I comment.