Sleep Under the Stars
There are numerous ways to enjoy a night under the stars. Some campers prefer the seclusion of a remote setting away from modern facilities. Others want all the luxuries of home, but in an outdoor setting. Some folks just want to keep it simple, and within reach of their car to grab a nearby meal. Vero Beach, Fellsmere, and Sebastian offer a variety of great campsites from primitive to an island to State Park that is sure to satisfy even the most discerning camper.
Try Camping in an RV
If you've never tried it, taking a long weekend or week-long vacation in an RV is a delightful experience. RV camping offers the best of both worlds. It's exciting to get away from normal routines and to be living largely outdoors but to still have your own kitchen sink and soft bed, among other things. However, camping with only a tent and cook stove is wonderful too, and easier to plan. In that case, sometimes it's fun to go out to dinner at a nearby restaurant and then return to camp to roast marshmallows in the fire. Regardless, making breakfast in camp is the best. A great place to try either style of camping is Sebastian Inlet State Park. The park provides fishing from both its Atlantic and Indian River lagoon; fishing jetties extend from both sides of the inlet into the ocean. Other activities include swimming, enjoying the water views, world class surfing, and diving. Wildlife is abundant in the park, and the casual visitor can see pelicans, ospreys and many species of shorebirds. For a completely different experience, try camping at Middleton's Fish Camp on the 6,555-acre Blue Cypress Lake. The setting alongside this pristine lake is beautiful. These are just two of several campgrounds in this beautiful county to check out. Each one has its own unique flavor. If needed, you can rent an RV at Vero Beach RV Rentals. Check out all the RV campsites.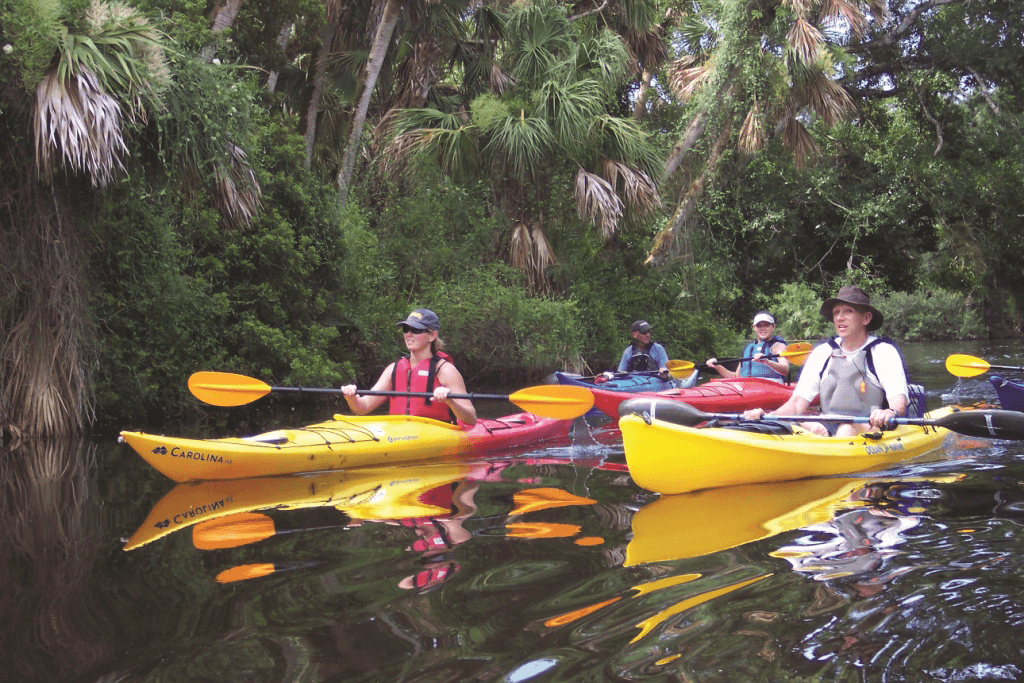 Try a Peaceful Rustic Camping Experience
For campers who are seeking a more remote, wilderness-like camping experience, the 22,000-acre St. Sebastian River Preserve State Park offers primitive camping. These scenic camps are about a 10-minute walk from your car and contain nice tent sites and a fire ring with rustic log benches. It's a bit more work to carry your equipment and supplies into these primitive sites, but the rewards are well worth it. You will not have any facilities, but you will not have any neighbors either! It's difficult to describe the peacefulness of being in a wilderness-like setting as the sun rises in the morning over the misty pine woodlands. And somehow, a fresh cup of coffee always tastes better in a pristine, quiet woodland.
Reservations for primitive camping are required. This assures you the site will be available upon your arrival, and the cost is nominal. Don't forget to bring plenty of water to wash with and drink as there is not any running water available.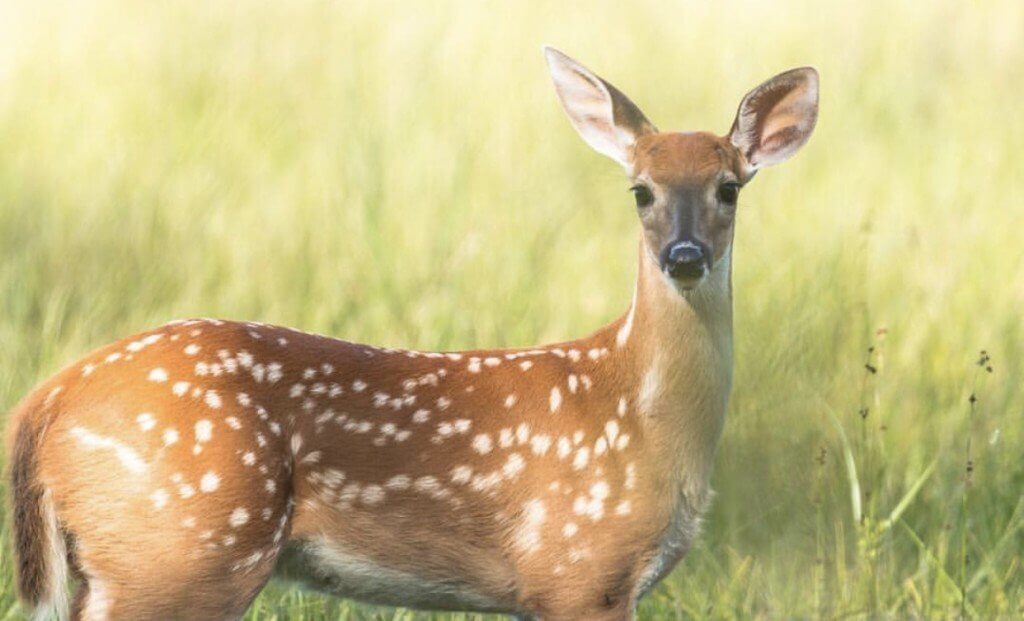 Island Camping is a Blast
For more adventurous souls there is nothing like boating over to one of several recreation islands in the nearby Indian River Lagoon and spending a night or two. The state-designated recreation "spoil" islands have beautiful sandy beaches to work on your suntan or cool off in the water. There are plenty of shaded areas to beat the Florida heat, and there always seems to be a nice sea breeze coming from the east to keep campers cool. I always bring a hammock for those afternoon siestas.
A number of the islands have campsites with large picnic tables, grills, and fire rings. The recreation island camps are available on a first-come-first-serve basis and there is no charge to use them. Small boats can be pulled up on shore, but you'll want to moor larger boats just offshore. If you need to rent a boat, try Florida Boat Rentals in Vero Beach.
Like with the rustic Sebastian Inlet State Park campsites, everything you bring you must take with you; there is not any garbage pickup on these pretty gems in the Lagoon. There is usually some dead wood lying around, but it would be a good idea to pick up some firewood at a local gas station/convenience store before you head out on the boat. And don't forget to bring your fishing gear, that extra tube of sun lotion and a tarp and rain gear for possible inclement weather. Visit the Spoil Island website for a map of islands.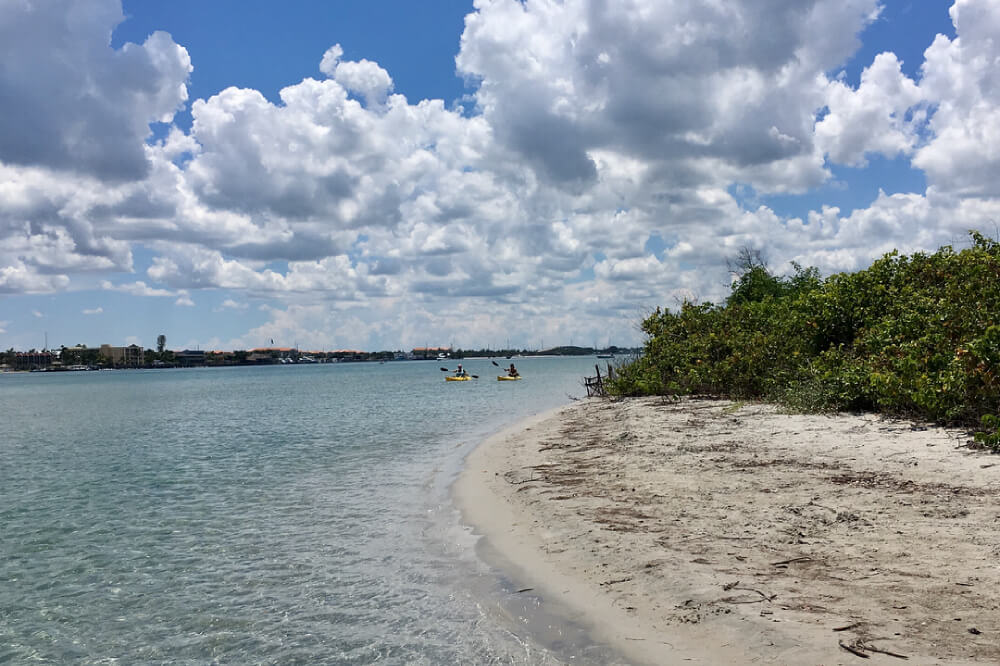 Ken Gruden, Executive Director of the Indian River Land Trust, a land conservation organization in Vero Beach, Florida, is also an avid hiker and sailor and greatly enjoys connecting people with nature. Visit www.irlt.org. Follow Ken on Instagram @naturespeaks4me
Leave a Reply
Your email address will not be published. Required fields are marked *
You may use these HTML tags and attributes:
Name *
Email *
Website
Save my name, email, and website in this browser for the next time I comment.