You'll find five outstanding art galleries within a leisurely three block stroll in Downtown Vero Beach. Mingle with other art aficionados, meet the artists and sip on wine and cheese during the First Friday Gallery Stroll or explore on your own.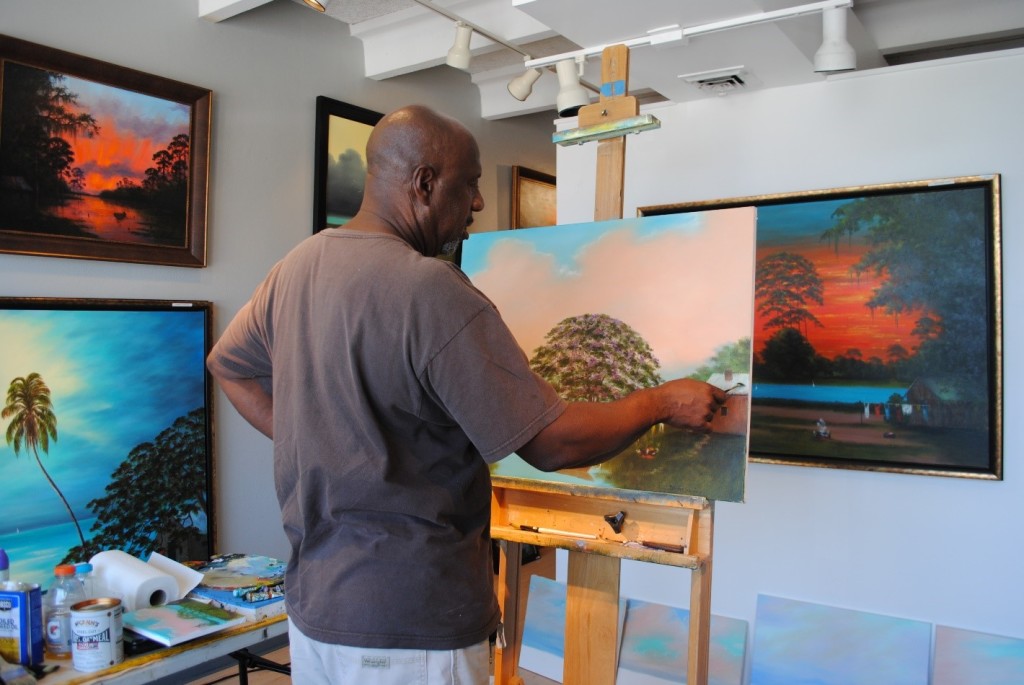 Florida Highwaymen Landscape Art Gallery features bold and colorful Florida landscape paintings by Ray McLendon. Ray's father, Roy A. McLendon, was one of the original Florida Highwaymen and Ray has carried on the family legacy of capturing the brilliant Florida light on canvas. Original Highwaymen paintings are also available for purchase.

Flametree Clay Art Gallery was founded in 2011 by five local clay artists as a place where Treasure Coast clay artists and potters can show their work. Today the gallery is not only home to the artists who show their work but also a popular place where fans of clay come to shop. You'll find everything from the whimsical clay faces, to lifelike sea creatures and colorful water fountains, all created by local artisans.

The Artists Guild Gallery is a cooperative gallery of several artists displaying works of diverse style and media. Paintings in watercolor, acrylic, oil, charcoal, pen, and ink, line the walls and are accentuated hand painted glassware, and hand sculpted ceramics. The inventory is constantly changing as consignors and members add hand-made jewelry, pottery sculpture, basketry, cards, books, and prints.

Gallery 14 is owned and operated by eight artists offering an exceptional selection of art in oil, acrylic, watercolor, collage, mixed media, jewelry, sculpture and photography. The gallery exhibits work of distinguished emerging artists as well as those already established in the region and beyond. A step inside Gallery 14 will awaken your inner creativity and give you the experience of finding your individual tastes.

Tiger Lily Art Studios and Gallery is owned by six women artists who envisioned an environment that supported and encouraged each artist's unique process. The public is invited to visit the gallery and see the artists at work, creating and perfecting their individual art forms. As advocates for the arts, leaders in the community, professionals, and educators, the women at Tiger Lily are deeply committed to impacting their community through their art and their life's work.
While you are visiting the galleries be sure to stop in the Cultural Council located within the Flametree Gallery lean more about all the arts and culture in Indian River County. Their sole purpose is to illuminate lives through the power and inspiration of Art and Culture and to support, promote and highlight the working artists in our community