Indian River County is a birding paradise! Whether you're an experienced birder or just a beginner our native birds are sure to delight. In addition to being part of the
Great Florida Birding Trail
, Indian River is also home to Pelican Island National Wildlife Refuge – America's first wildlife refuge. Over thirty species of birds use Pelican Island as a rookery, roost, feeding ground, or loafing area. For any birding excursion, remember to bring a hat, water and sunscreen for the strong Florida sun. And of course, don't forget your binoculars!
Pelican Island National Wildlife Refuge
A visit to the first national wildlife refuge in the nation, signed into law by Teddy Roosevelt in 1903, is always a treat. Located on Jungle Trail off Hwy A1A, 2.5 miles north of the Wabasso Causeway (State Route 512), you can walk a network of trails and see restored coastal wetland habitat here. But, as a birder, the highlight of this visit will be to take a short stroll on the Centennial Trail and out on the boardwalk to view the historic Pelican Island in the Indian River Lagoon. This island rookery was once protected from plume hunters in the late 1800's by Sebastian resident Paul Kroegel, with his shotgun in hand. The island, a National Historic Landmark, is typically filled with dozens of herons, egrets, roseate spoonbills, and also white and brown pelicans in late fall and winter. Up to sixteen species of birds have been identified in the Pelican Island colony, the most active of its kind in Florida.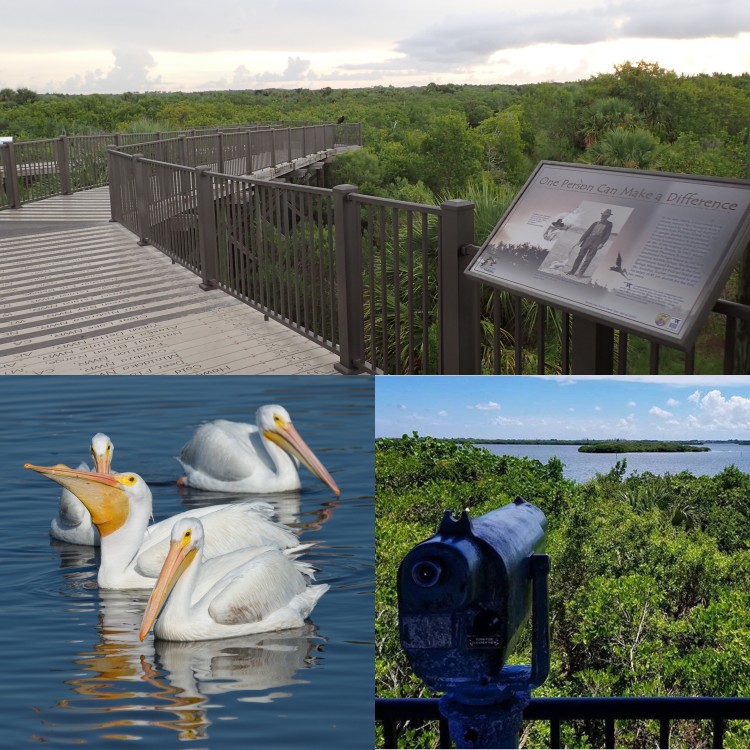 Photo credit: Ned Dayton
Sebastian Stormwater Park
This 166-acre bicycle and pedestrian park located in the City of Sebastian was created to filter stormwater from the surrounding neighborhoods before entering the St. Sebastian River. Over two miles of trails meander through the property where Florida scrub jays and gopher tortoise can be observed. There is an abundance of wildlife; a variety of wading birds and some ducks are typically visible in the ponds and wetlands.
Dogs on leash are permitted in the Stormwater Park, but please remember to pick up after your pooch. Two small parking areas providing access to the trails lie on the south side of Englar Drive approximately 0.7 miles west of Schumann Drive.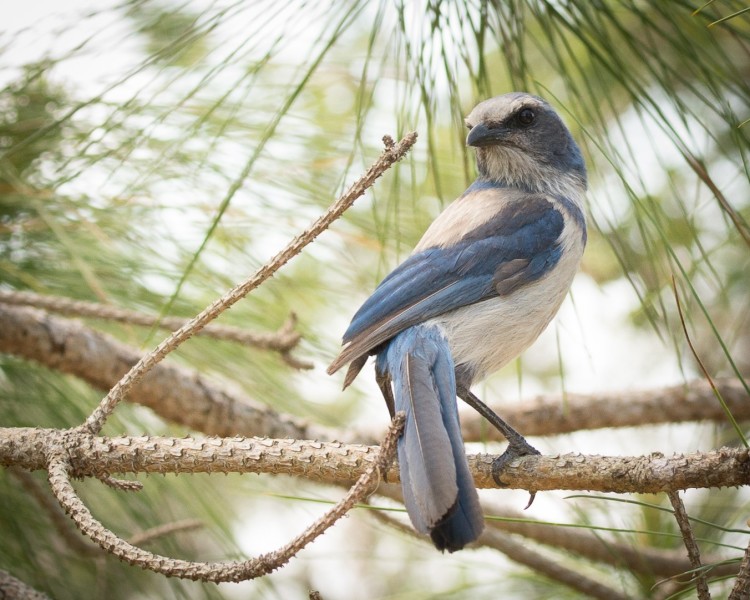 Photo credit: Ned Dayton
T.M. Goodwin Waterfowl Management Area
The T.M. Goodwin Waterfowl Management Area is accessed from the northern reaches of Indian River County about a 50-minute drive from Vero Beach including six miles on a dirt road, but it is well worth the visit. This 3,870-acre state managed area lies at the edge of the edge of the 52,000-acre Three Forks Marsh Conservation Area, and features several wetland impoundments managed for waterfowl, wading birds and shorebirds. You can walk along the extensive dikes from an hour before sunrise until an hour after sunset. Bicycling, horseback riding, and boating are also permitted for those more adventurous souls. There are composting toilet facilities in the parking lot adjoining the waterfowl management area.
Expect a wide range of ducks in late fall/winter, as well as shorebirds and hawks in migration. As you walk the dikes look for good views of dabbling duck species in the winter including shoveler, wigeon, teal, pintail and gadwall. Mottled ducks are found year-round. You'll also see wading birds such as herons, wood storks, limpkins, ibis and egrets. Northern harriers fly regularly over the marshes in winter and, during hawk migration in October , you may see red-shouldered and red-tailed hawks, peregrine falcons, merlins and kestrels. You may also spot white-tailed deer, otters, wild hogs and the elusive bobcat as you traverse this expansive wildlife area. The management area is closed to vehicular traffic except for some areas for limited hours on Mondays and Thursdays. The area is also closed to birders during hunts. Contact the Florida Fish and Wildlife Conservation Commission in advance for info: http://myfwc.com/viewing/recreation/wmas/lead/tm-goodwin/planning-your-visit/.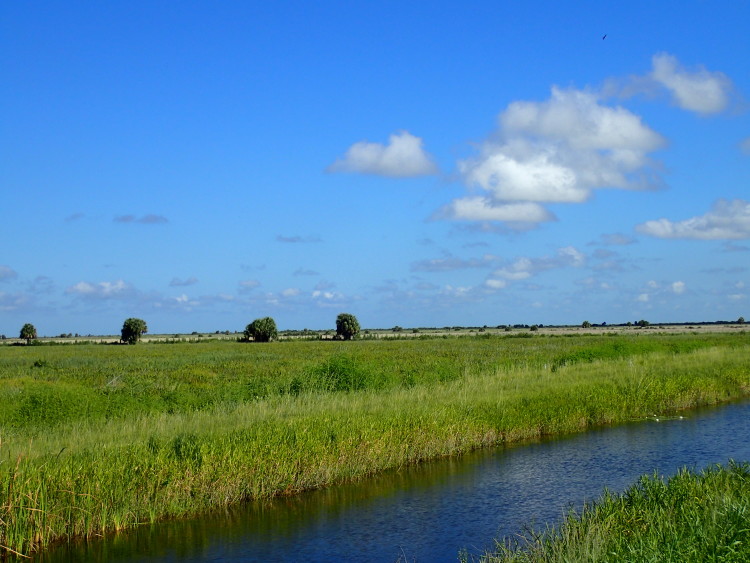 West Regional Wastewater Treatment Facility – Wetland Reserve
For something a bit closer to Vero Beach, a visit to the West Regional Wastewater Treatment Facility provides surprisingly excellent birding. The wetlands on this 135-acre property were created to filter wastewater from surrounding areas of the county, after which it is used for irrigation and other reuse needs. Only a 15-minute drive west of Vero Beach, the preserve contains a boardwalk and covered overlook about a ½ mile jaunt from the small parking area off 8th Street, allowing comfortable viewing of wading birds such as herons, egrets, and ibis. Several duck species can be seen during different times of the year, as well as water and shorebirds such as moorhens, purple gallinules, king rails, snipe, stilts, and both yellowlegs. Two bald eagles have been hunting in the wetlands and are sometimes seen soaring above the preserve. The Wetland Reserve is open daily at 7:00 a.m. closes 3:00 p.m. on weekdays and 2:00 p.m. on weekends.
Photo credit: Ned Dayton
St. Sebastian River Preserve State Park
This 22,000 acre state park preserves open grassy forests of longleaf pine that were once a dominant throughout Florida. The pine "flatwoods" form a backdrop for other biological communities, including cypress domes, sand hills, and a picturesque strand swamp. These habitats include over 50 protected plant and animal species. Bird-watchers can explore miles of trails on foot, bicycle, or horseback.
The Preserve is part of the Great Florida Birding and Wildlife Trail and has been identified as one of the top birding locations in the United States. Many different species of birds use the preserve during migration, such as the swallow-tailed kite, various songbirds, hawks, and hummingbirds. You can ask for a bird checklist at the Visitor Center. The Preserve is well known among local birders for its red-cockaded woodpeckers located predominantly in the NE quadrant of the Preserve. More common sightings include sandhill cranes, wood storks, southern bald eagles and American kestrels.
You can access the south entrance of the state park from State Route 512 in Sebastian only 20 minutes from Vero Beach, using the entrance to the North County Pool complex. From here try the blue trail which has pastures and fields with good opportunities for sighting raptors, shorebirds, Eastern Meadowlarks and Northern Bobwhites. The main entrance, and Visitor Center, can be accessed off Babcock Road in Brevard County, north of Fellsmere, about a 45 minute drive from Vero. This entrance provides access to a greater variety of trails and habitats. The Preserve is open every day from 8:00 a.m. to sunset. Visit www.floridastateparks.org/park/St-Sebastian-River for more information.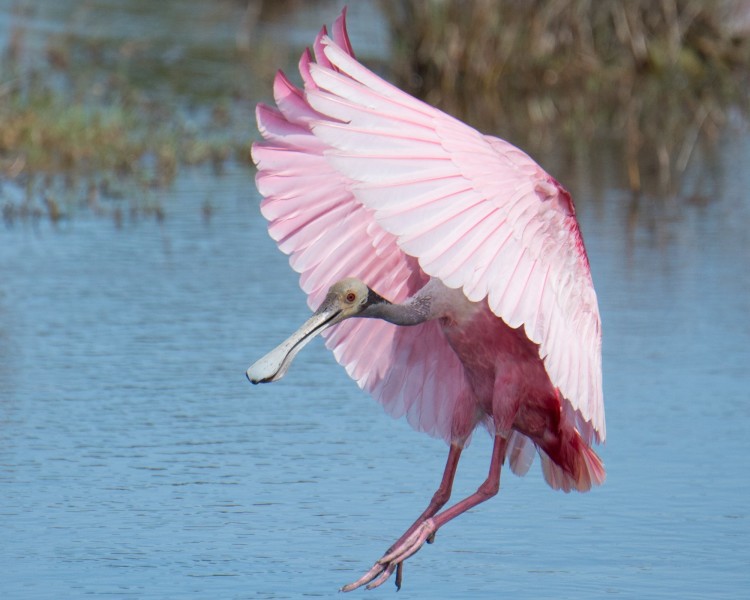 Photo credit: Ned Dayton
Ken Grudens, Executive Director of the Indian River Land Trust, a land conservation organization in Vero Beach, Florida, is also an avid hiker and sailor and greatly enjoys connecting people with nature. Visit www.irlt.org. Follow Ken on Instagram @naturespeaks4me