Relax And Reset In Indian River
Looking to relax and reset?
Set aside some time to do what makes your soul happy. Sometimes you can get so caught up in daily life that you actually put what you enjoy on the back burner. Life is about balance. Many of us work so much that we forget how great it feels to make time in your life for things that make you happy. Find time for some fun and play in your life and do more of what you love! If you are looking for a mental and physical reset, I encourage you to embrace the serenity that comes with island living, by soaking up our tropical beaches, breathing in the fresh ocean air, and taking on a more intentional pace of life for a few days.
Here are a few ways to nourish your mind, body, and soul on your vacation to Indian River.
Clear your mind
Trees, flowers, grass, wildlife, and sunshine all help you to automatically relax, de-stress and feel nourished right down to your soul. Getting some fresh air and Vitamin D is a great way to feel more refreshed. We have 26 miles of pristine beaches to choose from.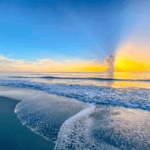 Sunrise on the Treasure Coast is a show worth waking up for. Whether you're sipping coffee on your balcony, searching for shells, or finding your zen with a sunrise yoga class, the glow of the sun and crash of the waves invigorates the senses, leaving you ready to conquer the day.
Insider Tip: Costa d'Este offers sunrise yoga classes on the beach. Contact the resort for times and availability.
Relax Your Body
Rent a kayak or paddle board and spend an afternoon on the Indian River Lagoon. The lagoon is home to over 700 fish and 300 bird species.
Take a hike on the jungle trail or visit the nation's first wildlife refuge Pelican Island.
Stroll through McKee Botanical Gardens. Listed on the National Register of Historic Places, McKee Botanical Garden is an 18-acre tropical garden with over 100 varieties of water lilies that grow in the garden each year!
Indulge in local arts and culture by visiting a museum or gallery. The Vero Beach Museum of Art is the largest cultural arts facility of its kind on Florida's Treasure Coast featuring five art galleries, two sculpture parks, Museum Art School, auditorium, great hall, art library, museum store and a museum café. Downtown Vero is a great place to take a stroll and visit local art galleries.
Nourish your soul
La Tabla Located within Royale Palm Pointe is truly a hidden gem in Vero Beach. Owner, Santiago Ares, says "The key to eating healthy is to balance your lifestyle with clean food & drink and a good exercise program". They feature nutrient-dense, wholesome, mostly organic foods simply prepared and sourced from local farmers as much as possible.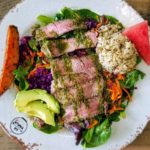 Counter Culture is located in the Boulevard Tennis Club. Membership is not required to eat there and they do have a large outdoor dining space where you can watch the members play tennis. offers many different vegetarian, vegan, and keto-style dishes.
Insider Tip: They are a scratch kitchen too, so just ask Chef Anthony to modify the dish to your personal preferences.
For more suggestions on healthy eats in Indian River, click here.
Leave a Reply
Your email address will not be published. Required fields are marked *
You may use these HTML tags and attributes:
Name *
Email *
Website
Save my name, email, and website in this browser for the next time I comment.