Vero Beach, Florida: Takes home a Gold, Silver and Bronze
Vero Beach, Florida: Takes home a Gold, Silver and Bronze
Walking Tree Brewery is Number One in Florida
(Indian River County – Spring 2017) The votes have been tallied from Florida's most prestigious, professional beer competition the 2017 Best Florida Beer Professional Championship awards. Vero Beach, Florida is now a must stop on Florida's ever-expanding "brew trail map" as Walking Tree Brewery receives top honors for Best Florida Beer award and Best Small Brewery Award in the state of Florida.
With over 111 Florida breweries competing and a total of 811 beers of various styles entered, newcomer Walking Tree Brewery takes home a gold, silver and bronze award. The medals represent best in class to include a gold, for Barnacled Manatee barlywine ale, a silver, for Duke Snider's imperial stout and a bronze. for White Talking Tree IPA – quite impressive considering the brewery has been opened less than a year.
The brewery is representative of the destination; welcoming, community-focused and on trend. Visitors to the Vero Beach brewery will experience:
– A robust tasting room offering 10-14 brews on tap in addition to their award-winning brews
– The brewhouse just added a new growler machine allowing guests to enjoy their favorite drafts in a 32-ounce can while back home.
– The brew house's signature kettle corn is some of the tastiest popcorn in the area: lime cheddar, sea salt caramel: cookies and cream, dill pickle and others.
– This is "the spot" for a brewtastic yoga and monthly painting classes.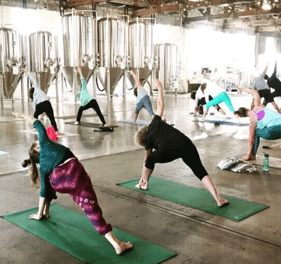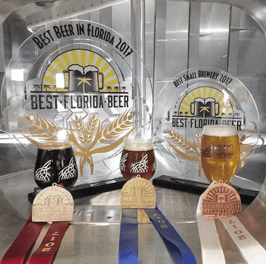 Beer aficionados can sample pints of Walking Tree Brewery's beers is in more than 100 bars and restaurants across the east coast of Florida. Look for them to enter the large brewery category in next year's competition as the brewhouse has plans to expand distribution.
News of Note: The area continues its craft brew expansion with American Icon Brewery, located in the iconic diesel plant in the heart of Vero Beach's downtown district. The brewery will offer craft brews, a restaurant and offers event space. Plans are now underway to include a mezzanine to allow visitors to view the brewery in action, while a glass elevator will provide panoramic views to the second floor. The plant was placed on the National Register of Historic places in 1999, and the owners have every intention to incorporate memorable from the historic diesel plant in support of its heritage and place in the community.
Florida's Treasure Coast, Wine and Ale Trail has recently launched winding its way through Indian River and St. Lucie Counties. There is bounty at the end of the trail! Visitors collect a gold doubloon from each designated establishment and at the last stop they present their stamped map to collect their bounty. This is a fun, way to explore the area, and note; most brewhouses welcome children and pets. Travelers can pick up a treasure map at area tourism centers, at participating breweries and Summer Crush Vineyard or visit www.TCWineandAleTrail.com to learn more and download a printable PDF treasure map.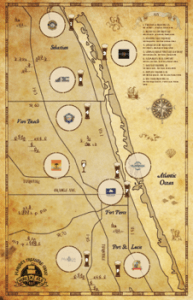 About:
Indian River County is also home to Orchid Island Brewery, a grove to glass kind of place. With citrus infused brews, citrus forward IPA's and a commitment to a family run organization, this brewery is unlike any other. Visitors will also want to try a pint at Pareidolia Brewing, Sebastian. This unique brew pub/eatery invites guests to connect from the inside out as the brewery window located behind the bar providing guests a window into the heart of the brewery. It's so worth a 20% tip! This brew pub is family friendly until 8PM.
All photos courtesy of Walking Tree Brewery, American Icon Brewery and Indian River County.
Leave a Reply
Your email address will not be published. Required fields are marked *
You may use these HTML tags and attributes:
Name *
Email *
Website
Save my name, email, and website in this browser for the next time I comment.