The Best Ways to Explore Our Waterways
Vero Beach, Fellsmere and Sebastian are filled with beautiful waterways and extensive areas of native wetlands and forests that we so carefully protect. There are numerous opportunities to explore a myriad of native habitats abounding with birds and other wildlife. Whether you enjoy hiking, bird watching, taking an exciting eco-tour, or quietly paddling with family or friends on an "Old Florida" river our county is the place to visit.
Take off with Treasure Coast Seaplanes
To experience the wonderful waterways and expansive natural areas of Indian River County from above, try a spectacular ride on a seaplane with Treasure Coast Seaplanes. This outstanding tour, owned and operated by the highly experienced Michael and Sheena Hoover, provided me and my companions with a whole new perspective. Flying at only 500-1,000 feet, we were high enough to fly over hawks and vultures circling gracefully in the thermals, but low enough to spot sharks, manatees and alligators in the various water bodies below.
In little over an hour we gracefully flew right over the heart of Vero Beach, then along the beautiful blue-green Atlantic coastline. We buzzed over large expanses of native pine forests and cypress domes, and then landed on the 6,555-acre Blue Cypress Lake where we were awed by the remoteness of this serene, wild respite. Reaching a speed of nearly 60 mph and then lifting off from the water is indescribable – you'll have to just try it for yourself.
The plane is not climate controlled, so dress appropriate for the outdoor air temperatures. Bring your own water and a snack if you need one; there are not any in-flight services aboard this four to six seat aircraft. However, you will never forget an amphibious flight-seeing tour with Treasure Coast Seaplanes. Visit their website for more info.
Treasure Coast Seaplanes, Sebastian Inlet State Park
Glide over the marsh on an airboat tour
Explore Florida wetlands teaming with wildlife on an hour-long airboat tour. If you've never been on an airboat, you won't be disappointed. As a matter of fact, you'll be awed and likely ask yourself why you waited so long to try it. I know I did. It is truly a wonderful feeling as you powerfully skim across beautiful marshland only a half-hour west of Vero Beach. The marshland is part of a vast system of wetlands that, together with the adjoining Blue Cypress Lake, make up the headwaters of the St. Johns River. This important river flows north 310 miles from Indian River County, through the City of Jacksonville, and into the Atlantic Ocean.
The wetlands you'll experience were restored from farmlands that were drained for agricultural uses more than 100 years ago. They are now home to as many as 7,000 alligators, dozens of bird species and a variety of wetland habitats to support them. Captain Lawrence, who has been exploring the swamps of Florida for over 40 years, brought us to an alligator nest to reveal one-week old alligators with heads no bigger than your thumbnail living in close reach. He knows every nook and cranny of this watery world and will take the time to share his deep love and knowledge of it. This is one eco-tour everyone should try – Florida Cracker Airboat Rides are the real thing! Click here for a complete list of airboat tours.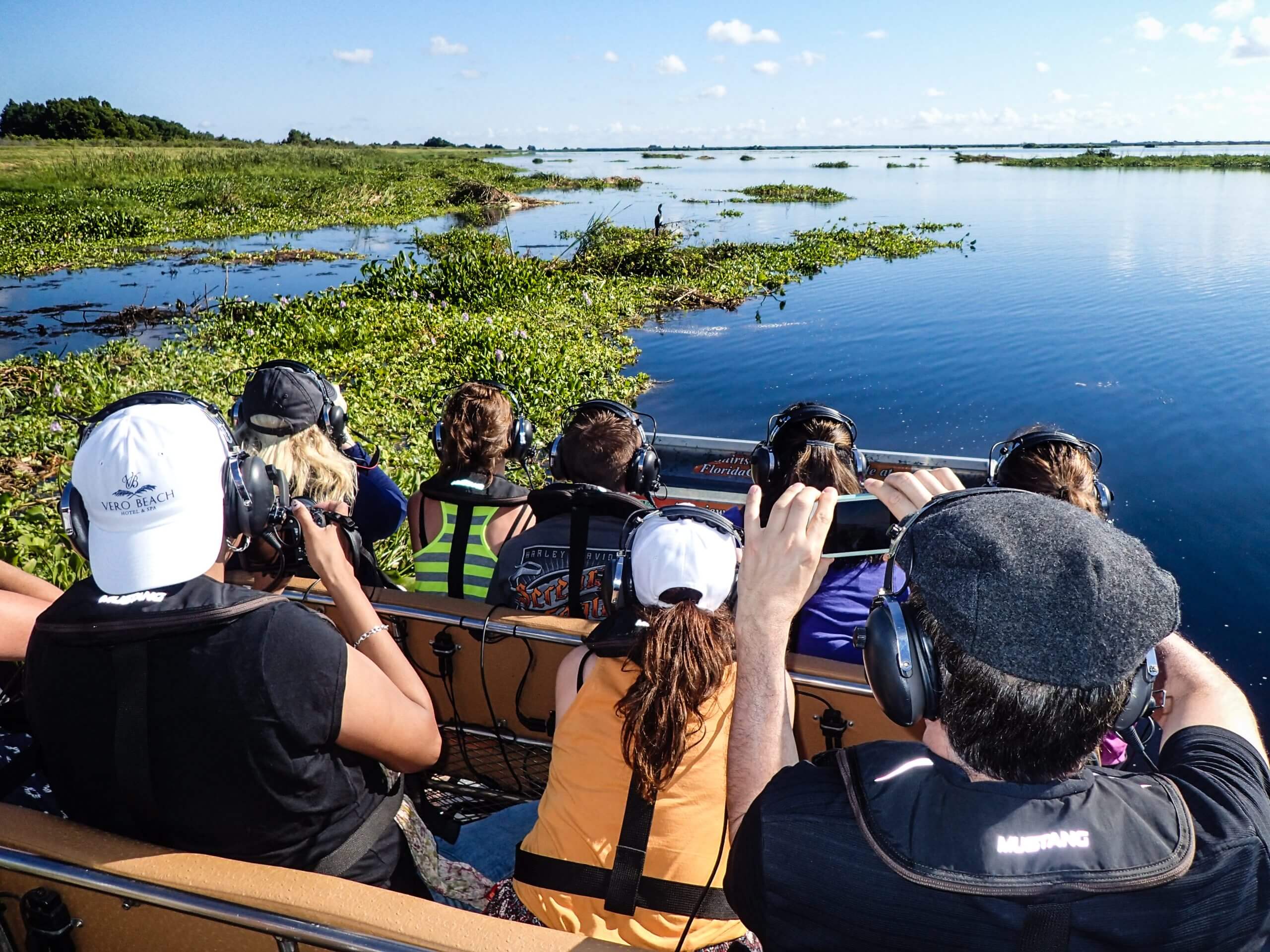 Blue Cypress Conservation Area – Vero Beach, FL, Photo: Tammy Lee Bradley
Go afloat with a paddle board tour
If motors and boats are not your style, try your hand at paddle boarding in the peaceful Indian River Lagoon with Paddle by the Sea. This outfitter is conveniently located on the docks behind Riverside Café at the base of the Barber Bridge. One of their knowledgeable staff will guide you on a safe and rewarding experience past coves and islands that's hard to match anywhere in Florida. For those of you who think it might be too difficult to balance yourself, do not fret. I thought Iwould not even be able to stand my first time, but within 20 minutes was cruising with confidence across the open water on the stable board, looking for dolphins and manatees which are almost a given on every trip.
Paddlers from ages 5 to 85 can enjoy the simplicity of paddling on the water; it's surprisingly easy to steer and standing up gives you a better vantage point to see below the water's surface, especially with a pair of polarized sunglasses. You're free of the constraints of a kayak or canoe as you glide easily along. If you become fatigued, you can always kneel or sit for a spell and then get right back up again. It's an innovative way to get exercise while enjoying all the wildlife the Lagoon has to offer. Many tour operators offer sunrise, sunset and yoga paddle board tours.
Paddles by the Sea provides everything you need to enjoy your excursion, including a clear waterproof case for your phone and car key. For a complete list of tours click here.
Indian River Lagoon – Vero Beach, FL. – Photo: Paddles By the Sea
Enjoy a relaxing pontoon boat tour

There is not a more peaceful and relaxing way to enjoy the beautiful Indian River Lagoon than on a two-hour tour with River Explorer Boat Tours. Set sail from the docks behind Riverside Café at the base of the Barber Bridge and leave your worries behind as you learn about the Lagoon and its myriad of uninhabited islands. Your captain and first mate will weave the pontoon boat through hidden waterways that manatees and dolphins frequent year-round. On one tour, we saw herons, egrets, spoonbills and pelicans up close fishing and roosting on the "bird" islands set aside by the state for our feathered friends. We also learned some of the colorful history of Vero Beach while kicking back for a leisurely cruise on this comfortable vessel. The Indian River Lagoon is the most biologically diverse waterway in North America so you won't return without seeing something fascinating.
The boat is fully covered from the sun and has plastic windows, which can be strategically zipped up if there is an unusually cold breeze. River Explorer typically offers tours in morning and afternoon, as well as a sunset cruise. You can bring your own food and beverages, but they also have water and snacks available at a reasonable price. Click here for more info.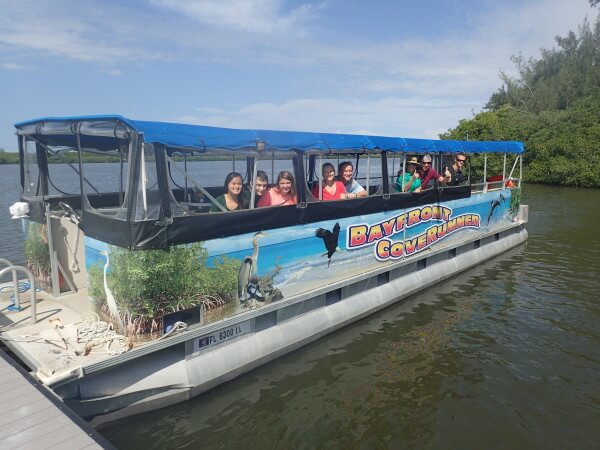 Kayak through Old Florida
The St. Sebastian River is a hidden natural treasure amidst the hustle and bustle of Sebastian. Located right across the street from the river is About Kayaks, a friendly outfitter that will provide you will everything you need you experience this black water river. They will transport you and your kayak to a small launch a short distance away and within minutes you'll be transported back in time as you paddle through old oak forests and past ancient cypress trees on your way downriver. In only two and a half hours we reached our destination right across the road from where we first parked. On the way, we experienced a plethora of wildlife. During our paddle, which included a stop to stretch our legs on a small sandy beach, we saw a few small alligators before they ducked below, two manatees moving upriver, turtles sunning themselves on a log, and some birds hunting the shallow river. If you're lucky, as we were, you may catch a glimpse of the prehistoric looking gar fish with its long "snout" complete with a full set of teeth. Don't worry, all of these creatures are more afraid of you than we are of them. They don't even stick around for selfies.
For your excursion, be sure to bring water and a snack in a small cooler bag that you can fit between your knees. I brought my phone, in a ziplock bag, and a waterproof camera as well. Sunscreen is always a good choice for the Florida sun. About Kayaks also offers guided tours of the river, but going on your own with a friend or small group is a safe and relaxing venture – it's difficult to get lost. For more information click here.

Ken Grudens, Executive Director of the Indian River Land Trust, a land conservation organization in Vero Beach, Florida, is also an avid hiker and sailor and greatly enjoys connecting people with nature. Visit www.irlt.org. Follow Ken on Instagram @naturespeaks4me
Leave a Reply
Your email address will not be published. Required fields are marked *
You may use these HTML tags and attributes:
Name *
Email *
Website
Save my name, email, and website in this browser for the next time I comment.