Sea turtle nesting season in Florida is from March 1st through October 31st. During that time, you can watch sea turtles nest and watch sea turtles hatch on the shores of Vero Beach and Sebastian.
Indian River County is the perfect location to experience sea turtle nesting season for yourself! Female sea turtles return to the beach where they were born to lay their eggs. Quiet, dark beaches allow them to lay their nests uninterrupted. They also give baby sea turtles the best chance of returning to the ocean soon after hatching. With Indian River County's low beach traffic and emphasis on conservation, sea turtle nesting season thrives at Sebastian Inlet State Park.
Usually, while its dark out, adult female turtles will crawl onto the beach. After finding a good spot, where there is little light or noise to distract the turtle, she will dig a hole to drop her eggs into. On average, sea turtles will nest two to three times per season and will drop about 100 eggs each time. Once the eggs are securely in their new nest, the sea turtle will cover her eggs by throwing sand over them with her flippers. She then makes her way back to the ocean, slipping into the waves.
The most common type of sea turtle to nest in Florida is the Loggerhead. Other common Florida nesting sea turtles include the Green Turtle, Leatherback, Kemp's Ridley, and Hawksbill. On the three mile stretch of beach at Sebastian Inlet State Park, over 1,000 sea turtle nests were laid last year!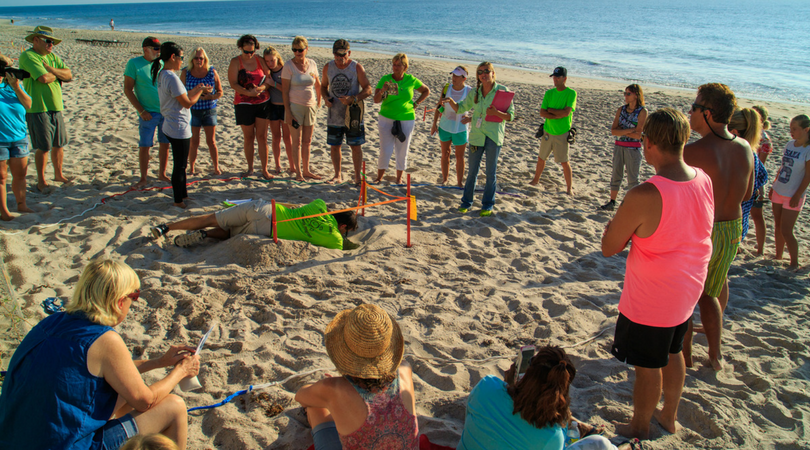 After a sea turtle lays her nest, certified sea turtle experts such as park rangers and conservationists will will mark the nest to protect it from beach-goers. Sometimes they will dig up the nest to count how many eggs were laid and then gently return the eggs back to their original nest, allowing them to hatch naturally. They will also record the date that the nest was created. This allows them to track when the new baby turtles should emerge.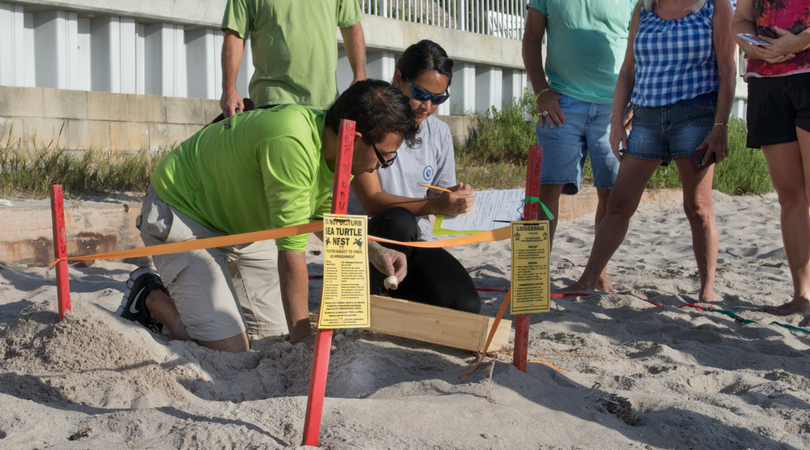 At Sebastian Inlet State Park, you can watch sea turtles lay their nests by taking a Turtle Walk. Turtle Walks happen throughout June and July and are offered for free by the Friends of Sebastian Inlet State Park, Inc. The walks are limited to twenty people per walk, ensuring that you get a close up view of these amazing animals. They are also a great way to see sea turtles in their natural habitat, a once in a lifetime experience!
Before the walk, participants will watch a brief presentation on sea turtles, learning more about the creatures they are about to encounter. They will then head out onto the three mile long beach, in search of a nesting Loggerhead sea turtle! Because sea turtles lay their nests at night, the Turtle Walks begin at 9:00pm.
Visitor Tip: Each year the walks "sell out," with reservations booking up for all of June and July! Those interested in going on a Turtle Walk can begin making reservations on May 1st. For the first time this year, you will be able to make a reservation online through the Friends of the Sebastian Inlet, Inc.'s website.