There is nothing better than reading a good book on a beautiful day at the beach. Vero Beach and Indian River County is proud to be home to many celebrated authors found on the New York Times Best Sellers list for thrillers, mysteries, romance, children's books and more. There are also many other local authors who have passionately written about our rich history, art, nature conservancy and more. Sure you can purchase most of these books on-line, but it is much more exciting to discover these treasures among our local shops. Regardless of your interests in books, our local shops have you covered. Here are solid recommendations to enhance your vacation in Vero Beach and unique specialty shops to visit along the way: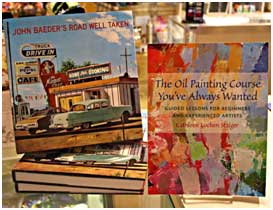 The Vero Beach Museum of Art is known as the cultural heart of our community and has an extraordinary art collection that should not be missed. In the Museum Store, you will find the following books: John Baeder's Road Well Taken by Jay Williams, If Rocks Could Sing by Leslie McGuirk and The Oil Painting Course You've Always Wanted by Kathleen Lochen Staiger. The Museum is located at 3001 Riverside Park Drive, Vero Beach Florida 32963. www.verobeachmuseum.org
The Ocean Grill is an iconic restaurant that has a curated gift shop loaded with local flavor. The Ocean Grill is a must visit culinary destination while in Vero Beach and the gift shop has a diverse assortment of art, books, souvenirs and specialty food items. Recommended books to consider are Food For Floridays by Janie Gould and Tales of Waldo E. Sexton by George W. Gross, P.E. It is located at 1050 Sexton Plaza, Vero Beach, Florida 32963. www.ocean-grill.com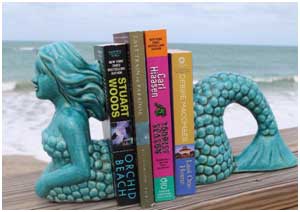 The Vero Beach Book Center is an independent book store that has been in business for 40 years. You can count on the Book Center to have an impressive lineup of authors visiting the store and an expert staff to point you in the direction of the best local authors. Notable books available for purchase include Stuart Woods' Orchid Beach (takes place in Vero Beach), Carl Hiaasen's Tourist Season, Debbie Macomber's Last One Home and Les Standiford's Last Train to Paradise. The Book Center has the biggest selection of books available and a delightful children's book section to enjoy. It is located at 392 21st Street (Miracle Mile), Vero Beach, Florida 32960. www.verobeachbookcenter.com
M.maison Vero Beach is an Ocean Drive boutique filled with a collection of luxuries and a nod to local clothing and jewelry lines. Among the beautiful decor, you will find paintings from local artist, Rene Guerin and several books about her work. M.maison Vero Beach is located at 3403 Ocean Drive, Vero Beach, Florida 32963. www.mmaisonvero.com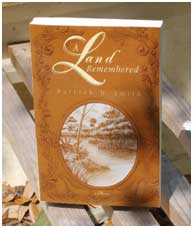 The Heritage Center and Indian River Citrus Museum, located in downtown Vero Beach, has many local historical books along with historical photographs, displays and artifacts. With numerous awards, A Land Remembered by Patrick D. Smith has become Florida's favorite novel and recommended as a must read for those fascinated with Florida's rich history. For more information, contact the Heritage Center and Indian River Citrus Museum at www.veroheritage.org. Be sure to stop by at 2140 14th Avenue, Vero Beach, Florida 32960.
The Environmental Learning Center (ELC) is a 64-acre island campus with natural habitats for birds, fish and mammals of all kinds. Inside the Visitors Pavilion is the Nature Nook, a nature-oriented gift shop where the proceeds help fund the educational programs. Among the various regional books, you will find Treasured Waters The Indian River Lagoon by Richard A. Kelly and Camille S. Yates that documents the valued habitats of the Indian River Lagoon. Explore the Environmental Learning Center located at 255 Live Oak Drive, Vero Beach Florida 32963 or visit their website at www.discoverelc.org.
Kelly Holm is passionate about making a positive difference, family, Vero Beach, UCF, the Mets, planning fun adventures, hashtags# and champagne. Follow her on Instagram @kghverobeach